Derek Barnett vs Myles Garrett: Who has the edge?
Both Derek Barnett and Myles Garrett are considered two of the nation's top defensive ends. However, which of the two comes out on top?
There are enough attention-grabbing matchups between the Vols and Aggies to excite every rabid college football fan on Saturday, but no two players will play under a tighter microscope than Tennessee's Derek Barnett and Texas A&M's Myles Garrett.
Both defensive ends have dominated SEC offensive lines over the past two seasons. So far in 2016, that dominance has only continued. As a result, they've drawn comparisons along the way.
Ask anybody in College Station and they'll side with Garrett as the best. Ask anybody in Knoxville and they'll crown Barnett.
But putting aside the maroon and orange lenses, which of the two supremely talented defensive ends is actually better?
Stats
Both Barnett and Garrett earn high marks for their productivity despite receiving an enormous amount of attention from opposing offensive lines. In 28 career games, Garrett has recorded 119 tackles, 37 tackles for loss and 25.5 sacks. Meanwhile, in 31 games, Barnett has recorded 165 tackles, 41 TFL and 23 sacks.
Barnett is clearly a more productive player when observing the raw statistics, especially in SEC play, where he edged Garrett in sacks (21 to 11) and TFL (32.5 to 17).
Edge, Barnett.
Athleticism
Although Barnett deserves more credit for his athletic abilities, it's no contest here: Garrett is the superior athlete. At 6-foot-5 while weighing 262 lbs., Garrett alleges he runs a 40-yard dash of 4.45 seconds and even wants to bring that speed down to 4.3. Assuming his claim isn't fabricated and he reaches his goal, Barnett doesn't stand a chance in this area.
Film
Numbers don't lie, but they don't tell the full story. The film does. Watching Barnett and Garrett on film was a treat, as both players perform with high motors and are disruptive forces of nature.
Starting with Garrett, his performance against Arkansas was a clinic. No matter what the Razorbacks threw at the junior, Garrett responded with impressive technique and jaw-dropping athleticism. Despite drawing so much attention, Garrett finished with six quarterback hurries.
To show how much opposing offenses fear Garrett, here's a look at Arkansas' first offensive play.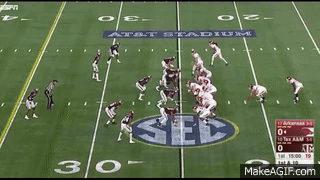 The Razorbacks' didn't put three guys on Garrett throughout the game. However, Arkansas deployed this tactic to avoid making the same mistake Auburn did the previous weekend on its first play.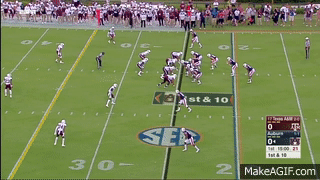 What the Tigers' offensive coordinator was thinking on that play and how many licks it takes to get to the center of a tootsie pop have the same answer: The world may never know. Auburn tried to block Garrett with the same tactic later in the game, but his quickness off the snap made it impossible for the pulling right guard to cover enough ground in time.
What makes Garrett so dangerous is his ability to play along the defensive line. Because Garrett is such a versatile talent, the Aggies lined him inside on a few occasions. On this play, Garrett does an excellent job at positioning himself inside the center in order to execute a beautiful spin move, which then turns into pressure on Austin Allen.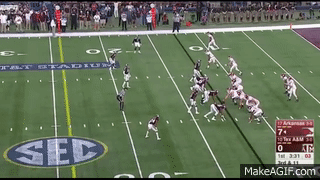 Garrett is no one-trick pony. Not only does he possess the athleticism, skill set and wide array of moves to rush the passer, but he's also effective at stopping the run.
This tackle proves why Garrett is avoided so often in run situations.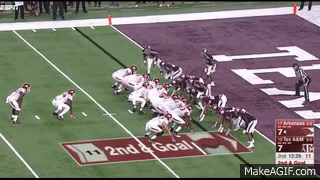 Notice how quickly he bounced off his block and delivered a sure-fire tackle in open space. Not only can Garrett execute quick tackles, but his athleticism allows him to chase down running backs.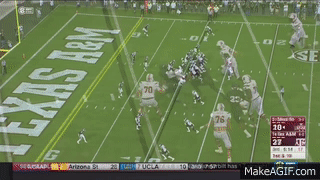 Perhaps the most impressive tool in Garrett's repertoire is his ability to stay on his feet. There is nothing more embarrassing for a defensive end than being on the receiving end of a pancake. Garrett doesn't have that problem. His aforementioned athleticism and raw strength makes it nearly impossible for offensive linemen to push him forward. What's more impressive is that Garrett excels at overcoming chop blocks by remaining low during the initial contact. On this play, Garrett bounces off the attempted low block and recovers a fumble in the process.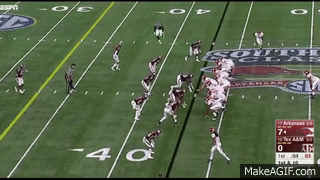 Barnett is no slouch on film either. Although he doesn't consistently impact a game the way Garrett does, when Barnett hits his stride, he is just as unstoppable. In the second half against Florida, Barnett played like a man possessed, seemingly always disrupting a play.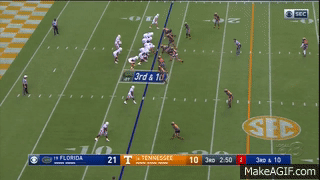 On the ensuing Gator possession, Barnett blew up the first play after beating a lineman to the inside and immediately collided with the Florida running back well behind the line of scrimmage.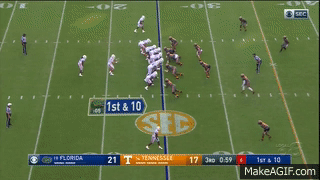 In late-game situations, there is arguably no better defensive end in the country to have than Barnett. Even if he falls victim to a pedestrian first-half performance—which he did against both Florida and Georgia—Barnett's high motor trudges the junior forward, especially when his team needs a shift in momentum like they did late against the Bulldogs.
An area where Barnett really excels that is often overlooked when evaluating defensive lineman is his knack for getting off the block when his initial move doesn't work, which allows him to pursue the ball wherever it may be.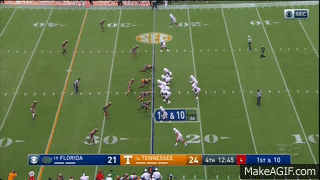 A problem with Barnett that was obvious on film was his overall inconsistency. While he completely took over both games late against the Gators and Bulldogs, maybe Tennessee avoids having to overcome double-digit deficits if Barnett and the defensive line play at a high level from the jump. This play against Florida was indicative of how the first half went for Barnett.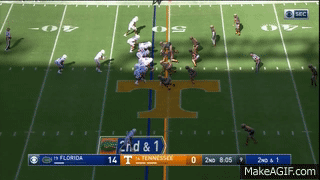 Notice how high Barnett's pads are, which eliminates his leverage. It doesn't happen often to Barnett, but it proves a point that Barnett's 2016 season has been largely up-and-down, while Garrett has performed at a dominant level in each game.
Pro Prospect
The clear answer is Garrett. Not only does he possess a stronger football skill set than Barnett, but his athleticism puts him over every defensive lineman in the 2017 draft class. That's not to say Barnett is a scrub as an athlete or a a prospect, but considering a number of factors that go into evaluating an NFL prospect, Garrett is singing "anything you can do, I can do better."
Playing defensive end is more than collecting sacks.
Can they apply pressure consistently even if it doesn't result in sacks? Garrett through four games has collected 26 total pressures, which is an astronomical number considering the immense attention he receives. Barnett is also an excellent pass rusher, but is more streaky than consistent.
Are they getting bullied by offensive linemen in the running game? Blocking Garrett with one offensive lineman is a fireable offense. He has to have at least two bodies on him at all times. While Barnett also deserves the special attention he receives, there have been moments where his technique has broken for elongated stretches, especially in first halves.
Do they have an arsenal of moves so they can attack different offensive linemen in different ways? Garrett has developed a number of lethal moves throughout his career. He can bull rush, spin, swim, move side-to-side and use his hands. Barnett doesn't possess a variety of moves. He's excellent at bending around tackles, but in the NFL, being one dimensional doesn't cut it.
Garrett and Barnett check a lot of boxes. It's just that Garrett checks more and at a higher level.
Although he isn't as complete an edge rusher as Khalil Mack and isn't quite as athletic as Jadeveon Clowney, Garrett is a prototypical edge rusher who'll transition smoothly into the NFL.
Who Is Better?
Fans on Rocky Top won't want to hear this, but Garrett gets the nod in this situation.
Although Garrett isn't as productive in the tackles, sacks and TFL department as Barnett is, he consistently impacts a game with his blend of football skills and athletic prowess. Barnett has admitted himself that his technique needs fine-tuning and consistency. Meanwhile, Garrett continues his upward trajectory. He's shown growth in every area he struggled with over the previous two seasons.
Regardless of who is better between the two, both Garrett and Barnett will have a profound impact on Saturday's game.
Edited by Dalton King 
Featured image by Alison P. McNabb, courtesy of Tennessee Athletics
Follow me @DavidJBradford1 on Twitter, email me at dbradfo2@vols.utk.edu for any questions.