Kyle Alexander's post presence propels Tennessee over Kansas State
Thanks to Kyle Alexander's performance in the post early, Tennessee outmuscled Kansas State, 70-58, on Saturday afternoon.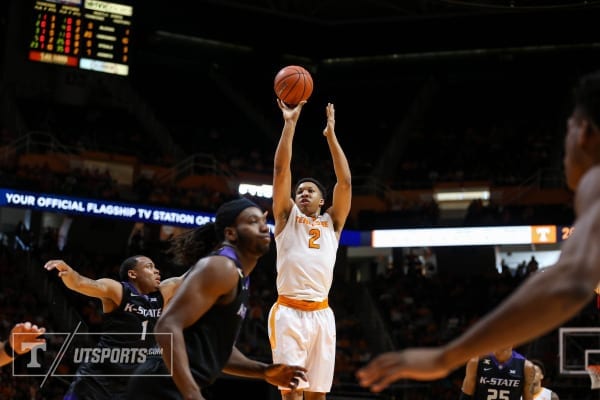 Kyle Alexander spent most of Saturday afternoon navigating through a crowd of Kansas State players, corralling missed shots and gifting the Vols extra possessions.
It wasn't as flashy as Lamonte Turner's ankle-breaking crossover later in the game or Lew Evans' 3-pointer that sent Thompson-Boling Arena into a frenzy, but Alexander's performance below the rim set the tone for Tennessee's 70-58 victory over Kansas State during Saturday's SEC/Big 12 challenge.
The sophomore's stat line featured a modest eight points and nine rebounds, but included five critical offensive rebounds that helped Tennessee avoid a let-down performance after its upset over Kentucky earlier in the week.
"I'm really happy and proud of Kyle Alexander," head coach Rick Barnes said. "…he was going after it…we won today against a really good basketball team. We told our team in some ways this is the toughest team we've played."
From the opening tip-off, Alexander wasted no time establishing his presence down-low, which was instrumental to Tennessee's quick start. With the Vols up 6-2, Alexander grabbed his first offensive rebound and followed it with a tip-in. On Tennessee's following possession, Alexander grabbed a pair of offensive rebounds, which eventually resulted in a Jordan Bowden layup that gave the Vols a 10-2 advantage.
The sequence of events was symbolic of the afternoon, as Tennessee edged Kansas State in total rebounds (43-29), offensive rebounds (16-7), second-chance points (23-6) and points in the paint (34-20).
After the home team took a 39-22 lead into halftime, Grant Williams scored the Vols' first eight points in the second half the suddenly scorching Wildcats and their barrage of 3-point shots. Williams finished the game with a team-high 17 points. Both Jordan Bowden and Robert Hubbs III reached double figures in scoring, finishing with 13 and 10 points respectively.
But despite valuable contributions from a number of players, Tennessee's lead was threatened on multiple occasions thanks to Kansas State's outside shooting. After converting on zero 3-pointers in the first half, the Wildcats drained five shots from beyond the arc during the first chunk of the second half. Luckily for Barnes and company, however, the Vols' offense refused to let their lead slip.
"When we were up…we told the guys it wasn't going to be easy," Barnes said. "…it's never going to be easy. If you think you're gonna blow somebody out, it's not gonna happen."
Tennessee saw its double-digit lead slip when the Wildcats cut the lead to 57-48 later in the second half, but after a long period of silence from the team's tone-setter, Alexander grabbed another crucial offensive rebound, drew the foul and knocked down a free throw to bring Tennessee's lead back to ten.
Williams later mimicked Alexander with a layup after hauling in an offensive rebound of his own, putting Tennessee up 62-50 late in the game. While Alexander didn't make the play, his performance earlier in the game boosted his team's energy.
"He set the tone for us offensively and defensively," Williams said of Alexander's play. "…he inspired us to play for him."
Tennessee (12-9, 4-4) travels to Auburn, Alabama next to take on the 13-7 Auburn Tigers next Tuesday. Tipoff is scheduled for 9 p.m. ET.
Edited by Quinn Pilkey

Featured image by Hayley Pennesi, courtesy of Tennessee Athletics
Follow me @DavidJBradford1 on Twitter, email me at dbradfo2@vols.utk.edu for any questions.