New Year's resolutions for Tennessee football
With a new year officially beginning, it's time to list the New Year's resolutions for Tennessee football.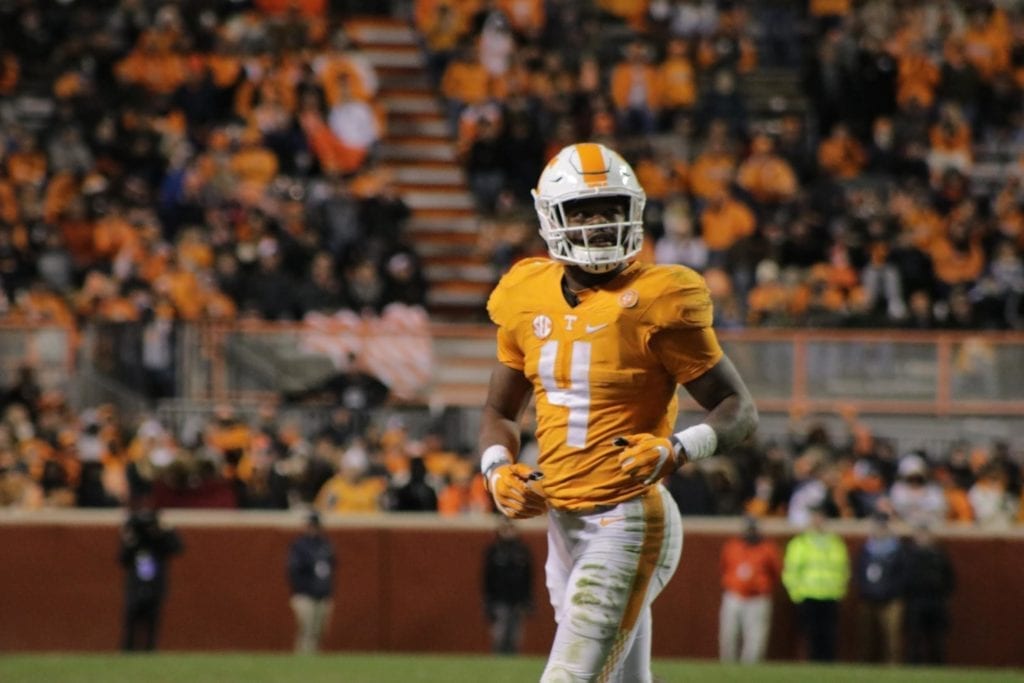 New Year's resolution are paradoxes, a tradition whose goal is to establish a new tradition, only for said newfound traditions to rarely be practiced.
Although most human beings are dreadful at keeping up with their resolution, that doesn't mean they shouldn't try. For fans of Tennessee football, a popular resolution for 2017 might look like "fire Butch Jones and offer Chip Kelly the entire state of Tennessee."
While I'm not necessarily opposed to that idea, it isn't happening, so here are six realistic New Year's resolutions for Butch Jones and the Tennessee Volunteers.
No. 1) Change the mindset
Jones' obvious goal is to win championships, but his rhetoric hasn't always exemplified that desire. Jones has the right to say whatever he wants, and when he dishes out unbearable clichés such as "champions of life," his heart is in the right place. However, there's a reason that particular quote took a life of its own on the mean streets of Twitter, and not in a positive fashion.
The fan base was justifiably furious at the prospect of its head coach appearing complacent with the team's underachieving record of 8-3 at the time. The high hopes Team 120 possessed are well documented, and it's no secret that the team failed to live up to those expectations. To further put salt in the wound, the Vols immediately followed that infamous quote with a loss to in-state rival Vanderbilt, a game in which the Commodores play-by-play announcer Joe Fisher stated, "Vanderbilt defeats Tennessee, 45-34. And while the Volunteers may be the self-proclaimed champions of life, they're not champions of this state."
Programs that hold impeccably high standards find no satisfaction in underperforming. Nick Saban rarely appears satisfied despite constructing the greatest dynasty in college football history. Urban Meyer wasn't satisfied that Ohio State made the College Football Playoff, only to be shutout by Clemson, 31-0.
Optimism is important in any program, but it appears Jones needs a dose of reality. Given the team's progression over the previous three seasons and the seemingly perfect blend of returning experience and talent heading into 2016, a 9-4 season with a win over a depleted Nebraska team in the Music City Bowl isn't anything to brag about.
It's time for Jones to change the mindset of the program. One that doesn't simply say it wants to be the best, but acts that way when the performance isn't up to snuff. Imagine Alabama or Ohio State going 9-4. That's right, you can't. Because if they did, Saban and Meyer would slaughter everybody. And if I know people, I know that people don't like being slaughtered.
No. 2) Start Dormady
Vol Nation is drooling over the idea of Jared Guarantano starting at quarterback next season. After seeing dual-threat quarterback Joshua Dobbs dazzle at times with his mobility over the past four seasons, fans are desperate for an enhanced reincarnation, which they believe Guarantano is.
However, the truth is, Guarantano is purely a wild card at this point in his collegiate career. Next season, he'll be a redshirt freshman with zero career passes. As much as Rocky Top wants to fantasize about Guarantano maneuvering through SEC defenses with his legs and carving up secondaries with his arm, nobody truly knows how good he is. Meanwhile, Quinten Dormady has patiently waited in the wings over the past two seasons. He hasn't received a boatload of playing time, but still has enough in-game reps to be a safe option. With 2017 potentially being a make-or-break season for Jones, his hands are tied. He has to opt with the veteran given the circumstances.
This isn't to say Guarantano won't be included in the offense. He'll certainly see playing time in lopsided games, and Jones —if he has the offensive imagination to do so— might occasionally incorporate Guarantano in unique packages during competitive games.
Sorry, Vol fans, but Guarantano is the future, while Dormady should very much be the present.
No. 3) Learn how to manage timeouts
Due to the seemingly infinite amount of details that go into a football game, the power and significance timeouts hold is at times lost in the shuffle. A coach who can properly manage his timeouts can turn a high-pressure situation —like a two-minute drill, for example— into a more relaxed one, while coaches who utilize them improperly can place their respective teams in difficult situations.
No coach in the country uses timeouts in a more reckless manner than Jones does. Simply reference the 2014 Missouri game, 2015 Florida game and this past season's contest against Vanderbilt. Jones took timeouts at improper points in the game, thus lessening the chance of success for his team.
A coach as experienced as Jones shouldn't suffer from such basic mental lapses. If he wants to justify his standing as an SEC-caliber coach, then he needs to pick his spots correctly in regards to timeouts.
No. 4) Stop wearing the Smokey Greys
They were worn for the right reasons during the Music City Bowl, but for the love of all things holy, stop wearing the Smokey Grey uniforms from here on out. They're awful. The classic mantra "if it ain't broke, don't fix it" has never been more appropriate. Stick with the iconic orange-and-white look, which is far and away the best color combination in all of college football. Meanwhile, the Smokey Greys look like oranges dumped in prison cement. That, my friends, is a depressing aesthetic.
No. 5) Cancel the Alabama series
Here's a little known fact about Tennessee football: They start every season 0-1. That's because as long as Nick Saban is ravaging the college football galaxy with his Death Star of a football team, the Vols will always have a guaranteed loss on their schedule.
Face it, the "Third Saturday in October" was a classic rivalry, but rivalries normally lose their shine when one team has a decade-long stranglehold on the matchup. Before everybody thinks of Florida's 11-year winning streak over Tennessee, it's important to note that the Crimson Tide are by no means slowing down. By all accounts, Saban has no interesting in retiring, and as long as he's on the sidelines terrorizing coaches to Conference USA, the Vols won't ever experience an opportunity for an undefeated regular season.
Unless they cancel the rivalry.
Cancel the rivalry, Tennessee.
It's been done before. Pat Summitt cancelled the Lady Vols' rivalry with UConn, although the circumstances surrounding that decision differ greatly than this decision. The point is, whether through conference realignment or bitterness between programs, rivalries have been cancelled. If it can save a team from starting every season 0-1, then it's probably a good idea.
Now, cancelling the series against the gold standard of success in college football might appear to go against everything stated in the first resolution. However, this resolution is simply for the purposes of winning the SEC East. If the Vols win the SEC East, they'll more than likely be facing the Crimson Tide, so they might as well minimize the damage to one loss instead of two.
No. 6) Treat John Kelly like a Heisman contender
There is no shortage of iconic players who have dawned the orange and white. However, for one reason or another, Tennessee has yet to have one running back whose name will forever be etched in college football lore.
John Kelly can be that guy.
Much was made of the Vols' three-headed rushing attack of quarterback Joshua Dobbs along with running backs Jalen Hurd and Alvin Kamara. It never materialized, which is a shame because the dynamics within that trio could've resulted in the SEC's most dangerous offense.
With all three aforementioned players gone, it's now Kelly's backfield and his backfield only. Despite receiving the majority of his opportunities during the second half of the season, Kelly managed to rush for 630 yards and five touchdowns on only 98 carries, good for a healthy 6.4 yards per carry average.
But with Kelly, it's more than the raw statistics. His ability to gain yards after contact is what makes him such a special back. While he must work on taking care of the football, an issue that could get him benched with young, talented backs waiting eagerly awaiting their opportunities, Kelly can shatter multiple Tennessee rushing records and put up Heisman-caliber numbers.
Edited by Nathan Odom
Featured image by Ben Proffitt
Follow me @DavidJBradford1 on Twitter, email me at dbradfo2@vols.utk.edu for any questions.