Roy Williams is facing a bunch of noobs in the Final Four
Roy Williams will make his ninth appearance in the Final Four today, while the other three coaches are all making their respective debuts. Here's some numbers to put the experience gap in perspective.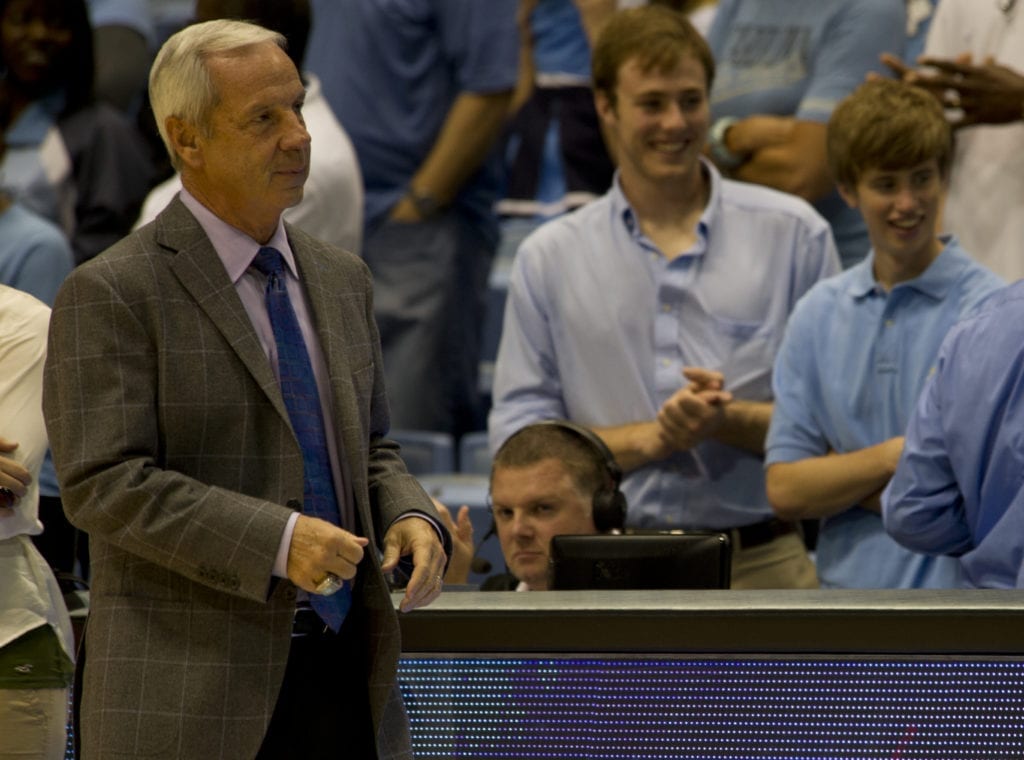 Let's pretend North Carolina head coach Roy Williams didn't exist prior to this season.
That means he would've impressively led the Tar Heels to the ACC regular season championship, a No. 1 seed and the Final Four, all as a newborn baby.
Conventional wisdom suggests that Williams' status as a newborn would automatically make him the least experienced coach left in March. But this isn't the case. Gonzaga's Mark Few — not a newborn — is making his debut on college basketball's biggest stage, as is South Carolina's Frank Martin — not a newborn — and Oregon's Dana Altman— also not a newborn.
Here's what I'm getting at: Before last week, newborn babies had as much Final Four experience as Few, Martin and Altman combined. According to science, that means that any random newborn was just as good a coach as Few, Martin and Altman, if not better.
SPOILER: Williams is actually an adult and is making his ninth appearance in the Final Four, meaning he's squaring off against a bunch of noobs.
Has there ever been a wider experience gap between one head coach and the other three in Final Four history? I'm too lazy to look up the numbers on that, but here are a few stats and facts I know off the top of my head that provides that question with an answer.
Where coaches were when Williams appeared in his first Final Four back in 1991

Williams: The Final Four (duh lol)
Altman: Head coach at Kansas State
Few: Assistant at Gonzaga
Martin: Assistant at Miami Senior High School
Now, let's dive into some numbers.
The closest galaxy to the Milky Way is the Andromeda galaxy, which is a short, 2.5 million light-year commute from Earth. Even though we have an endless stream of emojis, there's still no way to travel at warp speed. So in order to reach the Andromeda galaxy, you'll need a preposterous amount of gasoline. Thanks to Obama, gas isn't as expensive as it once was, but you still need a lot of it in order to travel 2.5 million light years without stalling.
That's where the Final Four's unique set of perks comes in.
Each Final Four appearance results in a coupon that provides 1 million light years of free gas. Teams either overcome or commit too much bracket-busting nonsense to receive anything less.
Amount of light years provided in free gas
Williams: 9,000,000
Altman: 1,000,000
Few: 1,000,000
Martin: 1,000,000
Prior to his days on Chapel Hill, Williams led Kansas to Final Fours back in the 1990s and early 2000s. Those were the days the Jayhawks actually won in the Elite Eight (@BillSelf).
But here's an alarming stat that should worry North Carolina fans.
Number of Final Four losses
Williams: 6
Altman: 0
Few: 0
Martin: 0
Few, Martin and Altman are a combined 0-0 in Final Four play. In addition, they've also never allowed perennial choke artist Jay Wright to execute a game-winning shot in a championship game.
Number of Villanova buzzer beaters allowed in a championship game
Williams: 1
Altman: 0
Few: 0
Martin: 0
Williams also faces a gigantic disadvantage academically. It's no secret North Carolina basketball should be banned permanently, especially since I'm a Kentucky fan.
Percentage of real classes taken by players
Williams: 0 (No, that SnapChat of Luke Maye doesn't convince me)
Altman: 100
Few: 100
Martin: 100
Williams does hold one distinct advantage over the other three coaches. An advantage so substantial that it's enough to overcome all the adverse situations Williams is up against.
Number of years coached at a university where Michael Jordan is an alumnus
Williams: 14
Altman: 0
Few: 0
Martin: 0
There you have it, folks. All the numbers you need to know in regards to Williams' Final Four experience. It took hours upon hours of groundbreaking research and I appreciate all the support.
Featured image from wikimedia.org, courtesy of Creative Commons
Follow me @DavidJBradford1 on Twitter, email me at dbradfo2@vols.utk.edu for any questions.