SEC picks: TNJN roundtable for Week 13
The divisions are already locked up, but a pair of classic rivalry games and an in-state rivalry with major bowl implications highlights what looks to be an exciting week of SEC action.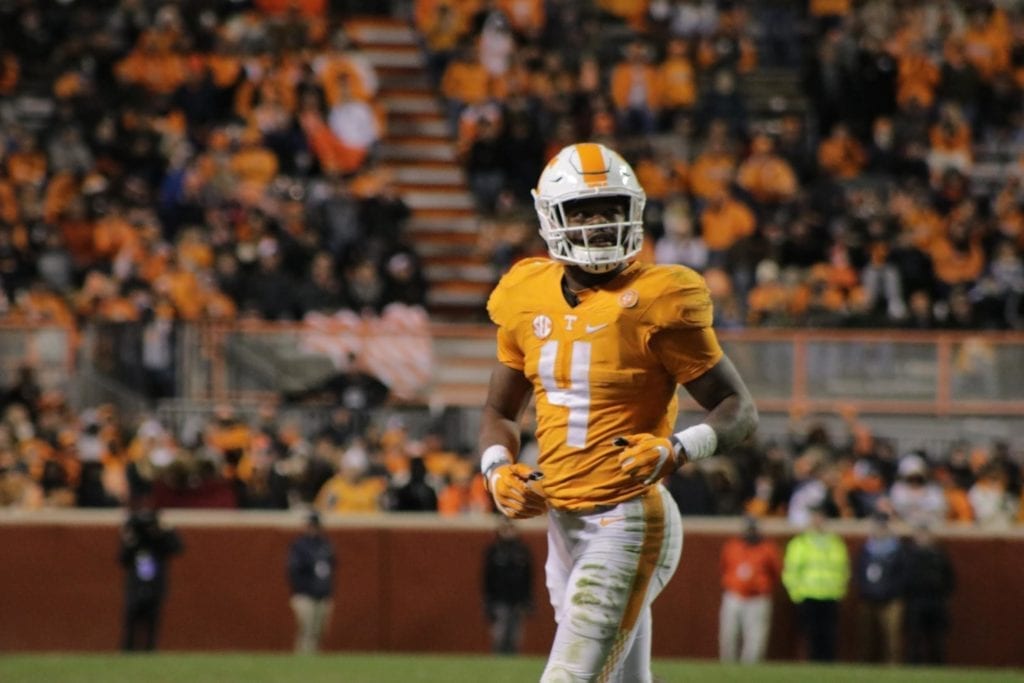 No. 16 Auburn at No. 1 Alabama
Bradford – Alabama. Even though I represent War Eagle like no other, this game is simply a matchup nightmare for my Tigers. Sure, it's a rivalry, which means anything can happen, but Auburn's inability to pass the ball won't bode well against the nation's top defense. In fact, Alabama will force Auburn to beat them through the air. With Sean White severely banged up and the combination of John Franklin III and Jeremy Johnson being an absolute dumpster fire, the Crimson Tide will stack the box, neutralizing the Tigers' ground game. Jalen Hurts and Alabama's offense won't have its way with one of the top defenses in the nation, but they'll score enough to win this game comfortably.
King –  Alabama. Can anyone beat Alabama? Auburn won't be one of the Crimson Tide's blowout victims, but uncertainty at quarterback against the nation's best team isn't exactly a recipe for success. Alabama came out "flat" against UTC last week (won 31-3), and Saban won't let his troops slip up again. The Iron Bowl is always exciting, but Auburn isn't even its best self heading into this one.
Odom – Alabama. Auburn's No. 5 ranked rushing attack might keep the Iron Bowl respectable for a few quarters, but Alabama is on a collision course with the College Football Playoff. Auburn's ever-changing quarterback backfield won't score enough points to keep the Tigers in the game for 60 minutes.
No. 13 Florida at No. 15 Florida State
Bradford – Florida State. What a disappointing season for Florida State. They returned most of their starters from last season, but thanks to injuries on the defensive side of the ball and a shockingly underperforming offensive line, they've stumbled to an 8-3 record. Against Florida, the Seminoles right the ship. While the Gators have an elite defense, their offense is questionable. Meanwhile, freshman quarterback Deondre Francois has been one of the most underrated players in the nation and will make enough plays to ensure a Florida State victory.
King – Florida State. The Gators have already won their season, clinching the SEC East last season in Death Valley. A meeting with Florida State before the looming matchup with Alabama is a perfect opportunity to get punched in the mouth while looking ahead. The Gator defense is depleted and Deondre Francois and Dalvin Cook are two of college football's most underappreciated players.
Odom – Florida State. Although I think this game ends up closer than the early-released -7.5 point spread in favor of the Seminoles, I'm not convinced that Florida's offense can lead the Gators to a win in Tallahassee. Florida State's defense has rebounded nicely after some early season struggles and should shoulder the load on Saturday.
No. 25 LSU at No. 22 Texas A&M
Bradford – LSU. The Aggies are the season's most overrated team. I understand Trevor Knight missed time, but the defense gets gashed on a routine basis and although LSU will be without the services of Leonard Fournette, they still have enough firepower in the backfield to win this game easily.
King – LSU. Trevor Knight's return is a huge boost for a team that has fallen from grace since their No. 4 spot in the first playoff rankings, but proven in its performance against Alabama, LSU can handle a dual-threat quarterback. And Leonard Fournette might be out, but the Tigers' leading rusher isn't. Derrius Guice isn't just a good backup to Fournette, he's a quality running back. We saw how Alvin Kamara carved up A&M's defense in Hurd's absence.
Odom –  LSU. The absence of Leonard Fournette and return of A&M quarterback Trevor Knight will make this game interesting, but the Aggies have looked lackluster since the Alabama loss. The Tigers are in Texas A&M's head (LSU is the only SEC West opponent the Aggies haven't defeated since joining the league), and that should prove helpful to a stingy Tiger defense.
No. 24 Tennessee at Vanderbilt
Bradford – Tennessee. Many are expecting a competitive game, but I don't see it. While it won't be a 53-28 thrashing like last season, the Vols will win by at least two touchdowns. Vanderbilt's defense is solid, but Tennessee has discovered its offensive rhythm. Plus, Joshua Dobbs is easily the most dynamic quarterback the Commodores have faced all season. Throw in the combination of John Kelly and Alvin Kamara in the backfield, Vandy doesn't have the talent to slow down this offense. Offensively, the Commodores are essentially Ralph Webb or bust. The Vols' rush defense is a national embarrassment, but Vandy doesn't have the balance on offense to complement Webb's prowess in the backfield.
King – Tennessee. Although the Vols hoped the Commodores would be the last team standing in their way of an SEC Championship berth, that is no longer the case after LSU failed to put away Florida. Nevertheless, with Tennessee at 8-3, and Vanderbilt needing a win for bowl eligibility, this in-state game has more implications than usual. But that doesn't mean it's going to be close. Vanderbilt has a tough defense, but the three-headed monster of Josh Dobbs, Alvin Kamara and John Kelly is hitting its stride and will be incredibly tough to slow down enough to steal a win. Not only are the Vols dominating in the run game, but Dobbs is playing close to perfect in the month of November. The Commodores might keep the Vols under 49 for the first time this month, and Ralph Webb might give Tennessee's weak rush defense fits, but the outcome won't be in question late in this game. Vanderbilt just won't have the offense to compete in this one.
Odom – Tennessee. The Vols' rush defense is horrendous, but the offense has more than made up for the slack. Vanderbilt saw what was supposed to be a high octane offense last week when Ole Miss rolled into town, but true freshman Shea Patterson looked like, well, a freshman. The Rebel defense lost its best tackler early in the third quarter to a targeting penalty and couldn't stop Vanderbilt on offense even if it knew what play the Commodores were running. Tennessee's offense is much more veteran-led, and the defense should play well *enough* to keep the Vols from suffering their first defeat to Vandy in the Derek Mason-era.
Other games:
Arkansas at Missouri
Bradford – Arkansas
King – Arkansas
Odom – Arkansas
Kentucky at No. 11 Louisville
Bradford – Louisville
King – Louisville
Odom – Louisville
Georgia Tech at Georgia
Bradford – Georgia
King – Georgia
Odom – Georgia
Mississippi State at Ole Miss
Bradford – Mississippi State
King – Ole Miss
Odom – Ole Miss
South Carolina at No. 4 Clemson
Bradford – Clemson
King – Clemson
Odom – Clemson
Edited by Adam Milliken 
Featured image by Sumner Gilliam
Follow me @DavidJBradford1 on Twitter, email me at dbradfo2@vols.utk.edu for any questions.