Vol soccer's offense continues to impress in win over Missouri
After struggling to find the back of the net to start the season, Tennessee soccer's ascendance on offense continued in Thursday night's 2-0 win over the Missouri Tigers.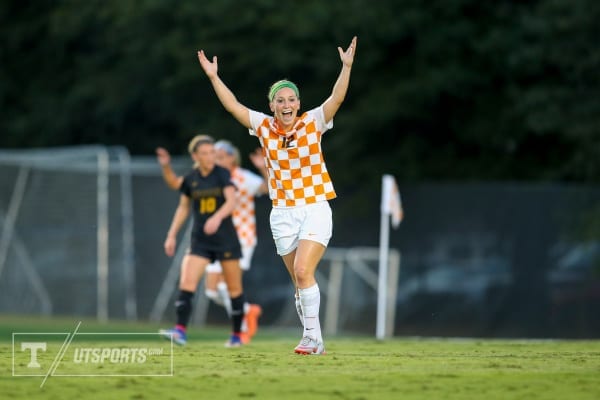 Tennessee soccer has had an uneven season so far.
In its first eight games, the Vols couldn't string two wins together, going 4-4 to begin the season. Their opponent Thursday night, the Missouri Tigers, were more dominant in their early games, going 5-2 overall.
Thanks in part due to some missing Tiger players—including the team's leading scorer Sarah Luebbert—Tennessee was able to accomplish its first set of back-to-back victories, topping Missouri 2-0.
Thursday night's victory marked the fifth time in the last six games the Vols (5-4, 1-1 SEC) scored multiple goals after the team opened the season with one goal in three games. Michele Christy opened the scoring in the 31st minute with a well-placed shot that found the back of the net. It was her first goal after missing on all 11 of her previous shot attempts this season.
"It felt great (to score that first goal)," Christy said. "I've kind of had a little mental block where I've been hitting some over. I've really been focusing on keeping it low…It was an amazing assists by Hannah (Wilkinson)."
M.A. Vignola doubled Tennessee's lead in the 67th minute with another goal.
The win also represented the Vols' second-consecutive clean sheet after surrendering five goals in a demoralizing loss to conference foe Alabama. Head coach Brian Pensky has made several defensive adjustments over the past few games. In last Sunday's win over Middle Tennessee State, Pensky elected to start sophomore goalkeeper Shae Yanez. Against Missouri, Yanez started the first half before switching out at halftime for Jamie Simmons.
"It was a predetermined decision [to put Simmons in at halftime]," Pensky said. "This week in training, they were both really good. We feel like we have two really good goalkeepers… Moving forward, we have to look at the film and see if we want to continue with this split situation."
Pensky also shook up the back line, starting Maya Neal and Danielle Marcano on defense despite their experience being in other parts of the field.
"Our whole back line was awesome," Pensky said. "Very athletic, hardnosed and disciplined in their defending… They were rock stars, all of them."
With a revamped defensive group, a pair of talented goalkeepers and a number of attacking players, Tennessee soccer is looking to take the next step toward being a great team as they move forward in the season. The Vols take the field again 7 p.m. ET next Thursday in Athens, Ga. when they take on the Bulldogs.
Edited by David Bradford
Featured image by Ruth Dudley, courtesy of Tennessee Athletics
Quinn is an assistant sports editor for TNJN and a sophomore majoring in Journalism and Electronic Media at the University of Tennesse. When he's not writing, he's probably doing something else. You can follow him on Twitter (@QuinnNotCook) or e-mail him at qpilkey@vols.utk.edu.