Three takeaways from Jon Gruden's QB Camp with Josh Dobbs
Josh Dobbs sat down with Jon Gruden for Gruden's QB Camp. What can we learn from the ridiculously fun segment between the two?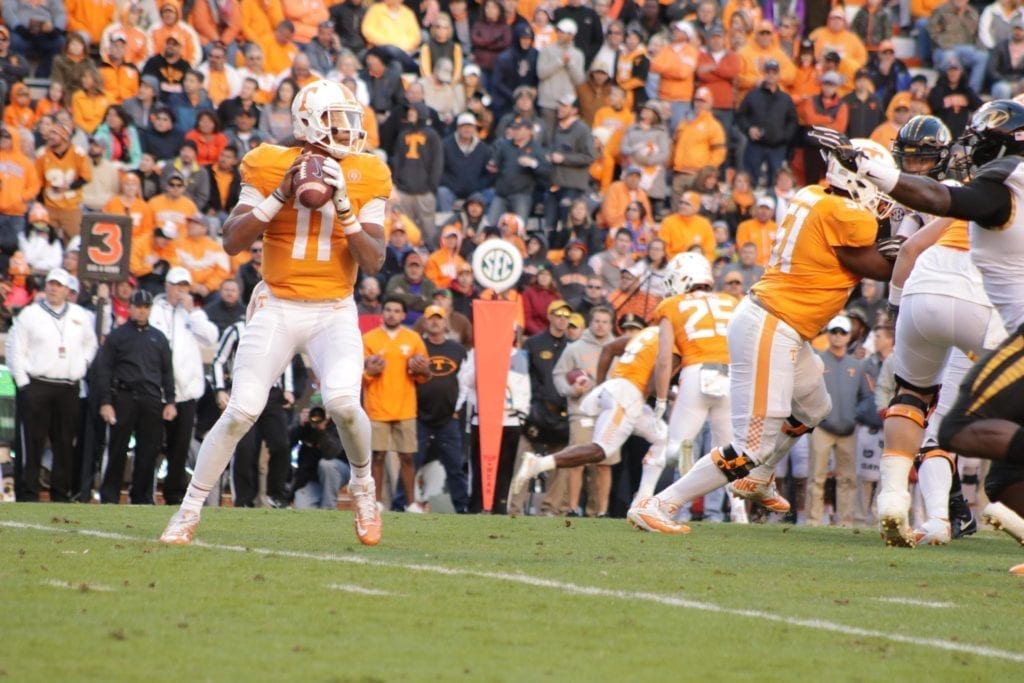 Former Tennessee quarterback Josh Dobbs joined former NFL coach/current ESPN analyst/huge football nerd Jon Gruden as one of the guests on Gruden's QB Camp, and it was as meaningless as it sounds.
Every year, Gruden selects a handful of incoming quarterbacks from the draft class and interviews them about their college careers before putting them through a series of drills. It's ultimately a pretty silly exercise that doesn't really show give any legitimate hints about the NFL careers of the players involved, but it makes for some fun videos and it's nice to be selected as one of the top passers in the year's draft class. Keeping in mind that not much actual information can be garnered by it, here are three takeaways from Dobbs' sit-down with Gruden.
Dobbs is seriously smart
This shouldn't come as a surprise, because unless you've been in a coma for the past four years, you're probably aware that he majored in aerospace engineering during his time at Tennessee. In case you were in a coma, though, there's some other stuff you should be aware of. For example: remember Donald Trump, the guy from The Apprentice? You'll never guess what he's up to now!
Anyway, Dobbs' intelligence was clearly conveyed in his interview with Gruden. They spoke for a while about his major before getting into some football-specific talk. The former Vol QB couldn't quite match the analyst's level of deep analysis – who can? – but he held his own and came out looking smart. Of course, the videos are edited in a way to make the quarterbacks look good, but it's still clear that Dobbs has the brains to succeed on the next level. As for the skill? It's unclear, but there's at least one person out there who believes in him.
Josh Dobbs is his own No. 1 fan
There was one short segment during the video in which Gruden and Dobbs discussed his actual shortcomings as a quarterback, specifically his ability as a pocket passer. The Monday Night Football announcer showed clips of Dobbs' 2015 performance against the Alabama Crimson Tide as an example of the quarterback's struggles in the pocket. Dobbs admitted he performed terribly before countering with some praise for himself.
"I'm right up there with whoever they're trying to praise," Dobbs said. "I've made throws from the pocket, I've won games from the pocket… I can do whatever you need and more."
The Alpharetta, Georgia native isn't wrong that he's won games from the pocket – the Florida Gators neutralized his running ability in last season's matchup, but were unable to respond when he showed his ability to throw the ball. Still, there are serious doubts about his ability to consistently throw the ball well at the next level. At least Dobbs has confidence in himself.
No one loves anything more than Jon Gruden loves quarterbacks
Seriously, it's crazy how much Gruden likes football and quarterbacks. You could kidnap his entire family and he'd still love you if you threw a tight enough spiral. It's admirable, honestly. After years around the game, he still turns into an excited puppy when he gets to talk about the game he loves. And everything a quarterback does is as impressive to him as pulling a rabbit out of a hat is to a small child. Literally everything. Just look at what he said as Dobbs was drawing up a play on the whiteboard: "You see his circles? This kid can draw circles."
Just incredible. Never change, Jon.
Featured image by Ben Proffitt
Quinn is an assistant sports editor for TNJN and a sophomore majoring in Journalism and Electronic Media at the University of Tennesse. When he's not writing, he's probably doing something else. You can follow him on Twitter (@QuinnNotCook) or e-mail him at qpilkey@vols.utk.edu.