Tennessee softball powers past Bradley
No. 15 Tennessee run-ruled Bradley in five innings on Friday night behind strong performances from freshmen Caylan Arnold and Chelsea Seggern.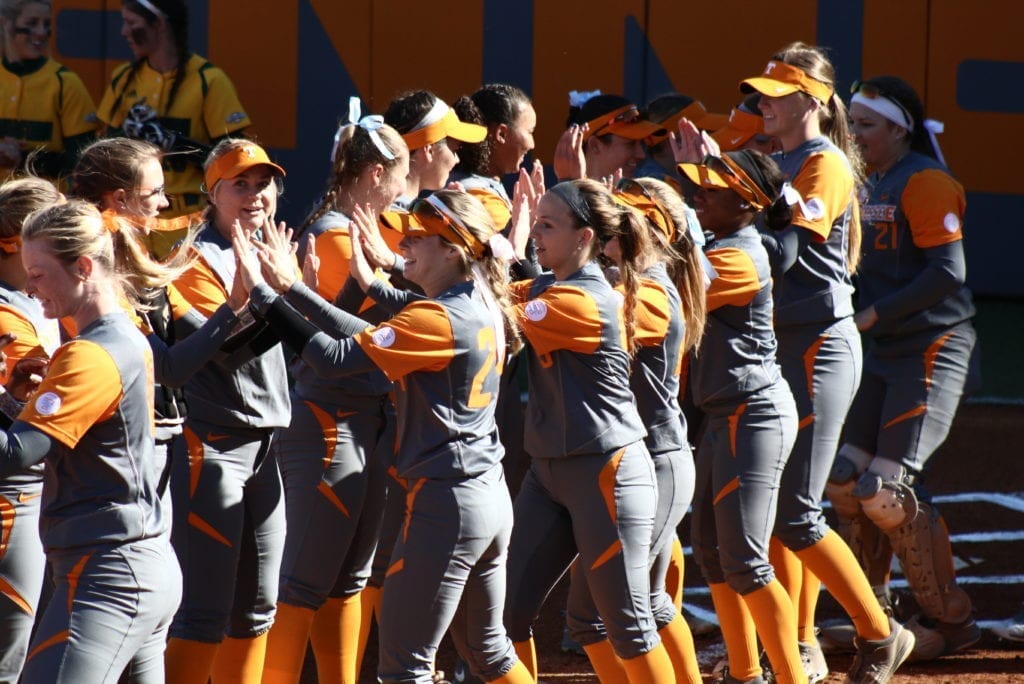 No. 15 Tennessee run-ruled Bradley (9-8) 10-2 on Friday night to improve to 16-2 on the season. It's the ninth time the Volunteers have run-ruled an opponent this season.
"We knew it was going to be tough and it was tough," Tennessee co-head coach Ralph Weekly said after the game. "We started five freshmen tonight and I was really proud of that."
Maryville native Caylan Arnold received the start in the circle for the Vols. Over 4.2 innings, the freshman didn't allow a hit until the fourth inning and surrendered zero earned runs while allowing only two hits and striking out four.
"It's so much fun, I love it," Arnold said of pitching in front of the home crowd. "I always love coming out and playing with this team and having these fans who are so supportive, loud, and excited when we do something good."
Arnold's production as a true freshman to begin the season has been remarkable and somewhat surprising.
"I think she's well ahead of where we'd like her to be," Weekly said. "She's a great young player."
The bats didn't come alive for the Vols until the third inning when Chelsea Seggern hit a single through the left side of the infield to score Meghan Gregg. Scarlett McSwain followed up with an RBI single, scoring Abby Lockman from third. With runners on second and third, Cailin Hannon singled to center field, scoring Taylor Rowland and Seggern.
Seggern had a career night against the Braves, going 3-for-3 at the dish with 3 RBIs, a double, walk and a run scored. Her three hits and three RBIs are career highs.
"I just came up there with an open-minded approach and just really tried to be aggressive," Seggern said after the game.
Tennessee struck again in the bottom of the fourth, scoring two runs to extend its lead to 6-0. Brooke Vines doubled in Leach, who led off the inning with a walk to make it 5-0. Bradley pitcher Jaelen Hull then walked Seggern with the bases loaded.
Bradley got on the board in the top of the fifth, scoring two runs on a single from Caitlyn McCarron. Tennessee sophomore RHP Matty Moss relieved Arnold, shutting down the Braves' threat in the inning.
Tennessee responded in the bottom of the fifth with four runs of its own. Gregg singled through the right side to score Jenna Holcomb and Leach. In the very next at-bat, Rowland drilled a pitched to the center field wall to drive in the winning run.
The bats continue to remain hot for the Vols, as they've now scored double-digit runs this season six times.
The Tennessee Invitational continues tomorrow as the Vols host Jacksonville State (10-4) at 4:30 p.m. ET.
Edited by David Bradford
Featured image by Brad Blackwelder