Tennessee's Coaching Hot Board: 1.0
Butch Jones was fired on Sunday morning following five seasons as the Vols head coach. These are the names you need to be on the lookout for as Tennessee looks to make another football hire.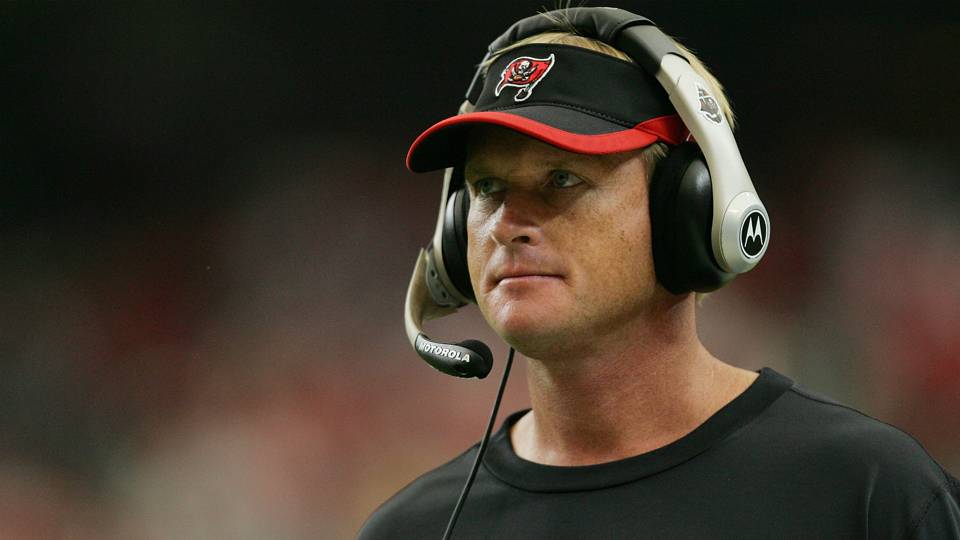 Following an embarrassing loss to Missouri on Saturday night in Columbia, Tennessee first-year athletic director John Currie relieved Butch Jones of his coaching duties.
Jones finishes with a 34-27 career record at Tennessee and a 14-24 record in conference play.
"An exhaustive search is underway for a person of the highest integrity and character with the skills and vision to propel Tennessee to championships," Tennessee's first-year athletic director John Currie said in a press release on Sunday afternoon. "This search will be my sole focus, and I will be in regular contact with Chancellor Davenport. I want to make clear that we are intensely committed to hiring the best coach for Tennessee."
As Tennessee prepares to hire its fifth coach in the last 11 years, it's time to fire up the coaching hot board. These are the names you need to know as Currie prepares to make his first key hire as the Vols athletic director.
Jon Gruden 
Yes, Jon Gruden is a realistic option to be Tennessee's next coach. Unlike five years ago when #Grumors were nothing more than a myth, there is some legitimacy this go around.
First things first though, I'm still in 'I'll believe it when I see it mode.'
However, Gruden is getting ready to move to Knoxville, even if it's not to be Tennessee's coach. His deep ties with Tennessee are well documented and Currie has spent the last several weeks gearing up to make a huge run at the former Super Bowl winning head coach.
Gruden has a comfy job in the booth every Monday Night for ESPN, but it appears the company may no longer be able to afford his outrageous contract. While Gruden could easily find a job with another TV network, the change could spark a desire to coach college football for the first time since he was a receivers coach for Pitt in 1991.
For Gruden, it'll come down to whether he wants to walk the daily grind of being a college football coach. If so, don't be shocked to see him and several former Vols roaming the sideline next season in Neyland Stadium.
In 11 years as the head coach of the Oakland Raiders and Tampa Bay Buccaneers, Gruden was 95-81.
Dan Mullen, Mississippi State
After Mississippi State almost knocked off the mighty Nick Saban last night, Tennessee fans are begging for Mullen if Gruden falls through the cracks.
Mullen has taken State to heights they've never reached before. The Bulldogs consistently finished in the bottom of the SEC before Mullen arrived, but under Mullen they climbed all the way up the ladder to be ranked No. 1 in the entire country.
In nine seasons at Mississippi State, Mullen is 68-45 and has taken the Bulldogs to eight bowl games after only attending 13 bowls prior to Mullen. While his 32-38 record in conference play isn't all that impressive, it can be attributed to the lack of resources Mullen has compared to those at LSU, Auburn and Alabama.
Mullen has a beautiful eye for identifying talent and develops quarterbacks with ease on a regular basis. With the resources Tennessee has to offer, Mullen would be an outstanding hire for Currie and the Vols.
Willie Taggart, Oregon
Nobody is talking about Taggart as a potential candidate to replace Jones at Tennessee because he's in his first season at Oregon, but don't be surprised if he jumps ships. The buyout Tennessee would have to pay Oregon for Taggart's services makes things even more interesting. Per FootballScoop, it would only cost the Vols $3 million to go snatch the Ducks head coach.
After four seasons at USF, Taggart is his in his first season as Oregon's head coach. After a 4-8 2016 season, the Ducks are 5-4 despite losing star quarterback Justin Herbert for much of the season. His offenses consistently flourish. Taggart can run a pro-style or a spread offense, and either would be a welcomed site to Tennessee fans.
As a native of central Florida, Taggart would be able to provide a recruiting pipeline to the state of Florida that few others can. Along with his recruiting ability, Taggart would hire an exceptional staff.
Scott Frost, UCF
After another tremendous year, teams are lining up for Frost's services. UCF currently leads the nation in scoring offense and after leading his team to a 7-0 start, Frost has his team in place to receive a New Year's Six bowl bid.
Frost served as Oregon's wide receivers coach and offensive coordinator from 2009-15, where he honed his offensive system under Chip Kelly.
Due to his ties with Nebraska, he's the likely No. 1 candidate for the Cornhuskers job that is likely to open. Frost is the former starting quarterback for Tom Osborne's undefeated Nebraska team. As the quarterback, Frost helped lead the Cornhuskers to a national championship before playing six years in the NFL.
Chip Kelly
Kelly has NFL experience, has had success at the college level and is one of the best offensive minds in all of football. While at Oregon, Kelly was 46-7 from 2009-12, leading the Ducks to a national championship game appearance while developing a Heisman winning quarterback in Marcus Mariota.
The question with Kelly is whether he would fit in the SEC and whether he would recruit at the level Tennessee is capable of.
In the NFL, Kelly was just 28-35 in two seasons with the Philadelphia Eagles and one season with the San Francisco 49ers. It's not the greatest of records, but hey, Nick Saban and Steve Spurrier weren't all that successful in the NFL.
At the end of the day, Kelly's college resume speaks for itself.
Mike Norvell, Memphis
Norvell is the next Justin Fuente. Not because he's going to be the next Memphis coach to take a massive leap in the coaching rankings, but because he's a really good coach. The Tigers haven't skipped a beat since Fuente left two seasons ago, and that's in large part because of Norvell's great offensive mind.
The second-year Memphis coach is 16-6 and has turned former Vols quarterback Riley Ferguson into a star and future NFL draft pick. Norvell is familiar with the region and most impressively, has the Tigers ranked in the College Football Playoff rankings.
Tennessee could be weary of hiring another coach without experience at a major college. It hasn't exactly worked out the last three times when they went this route. However, Norvell is no Derek Dooley, Lane Kiffin or Butch Jones.
Matt Campbell, Iowa State
Nobody was talking about Matt Campbell before the season started, but after big time wins over Oklahoma and TCU, everyone is talking about the second–year head coach. The turnaround in Ames has been magnificent. After Iowa State went 3-9 in his first year, Campbell has led the Cyclones to a 6-4 record in just his second year.
Campbell was at Toledo for four years where he went 35-15 prior to jumping to Iowa State. He's young at just 37 years old, making him the fourth youngest coach in the FBS. Just 20 games in at Iowa State though, he has people believing.
Campbell's energetic, young personality would provide a much-needed breath of fresh air for Tennessee and its fans.
We'll be adding to this list off-and-on throughout the coaching search.
Happy coaching search season, folks.
Photo courtesy of Getty Images