Takeaways from No. 12 Tennessee's win over No. 14 Texas A&M
Here's what you need to take away from No. 12 Tennessee's win over No. 14 Texas A&M.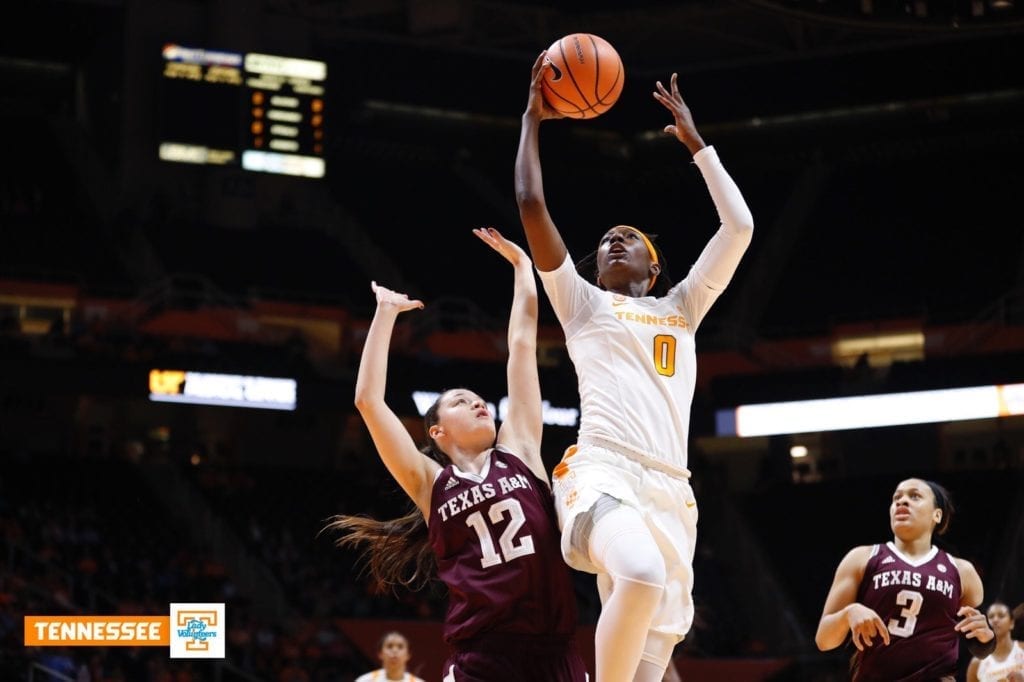 Seniors Mercedes Russell and Jaime Nared led the way for No. 12 Tennessee on Thursday night as the Lady Vols picked up a much needed 82-67 win over No. 14 Texas A&M. After losing to the Aggies in overtime last month, Tennessee received its revenge as Russell and Nared combined for 42 points.
Here's what you need to take away from Tennessee's win over Texas A&M as it improved to 18-4 on the season and 6-3 in SEC play.
Gary Blair stands up for Holly Warlick
Lady Vols head coach Holly Warlick has received a lot of criticism for the step back the program has taken since taking over for legendary head coach Pat Summitt.
As a friend of Warlick, Texas A&M head coach Gary Blair isn't a fan of the heat Tennessee's sixth-year head coach has received and he made it a point to let it be known following the game.
"Get off of Holly's case," Blair said as he ended his post-game press conference. "She is doing a great job. She had the number one recruiting class in the country last year, she has the number three coming next year. How would any of you guys like to replace a legend.? It's pretty hard.
"Get off her case; she is doing a great job."
After scolding the media and fans for the criticism that Warlick has taken, Blair did end on a positive note.
"I love your atmosphere," Blair said. "I love Thompson-Boling Arena."
As for Warlick, she's not paying attention to the criticism.
"It comes with it (the job)," Warlick said in response to Blair's outburst. "Everybody has an opinion, and I get that. … It motivates me."
Lady Vols pick up much needed win.
It's been a rough seven-game stretch for the Lady Vols. After starting the season off 15-0 and 3-0 in SEC play, Tennessee faced a miserable four-game stretch in which the team went 1-3. After an embarrassing loss to un-ranked LSU last weekend, the Lady Vols had fallen to 17-4 and 5-3 in SEC play heading into Thursday night's contest.
A loss to Texas A&M in overtime on Jan. 11 sparked the downfall, but the Lady Vols got their revenge in impressive fashion.
Much has been made of Tennessee's defensive woes of late, but the Lady Vols defense stepped up in the fourth quarter against the Aggies. After Texas A&M scored 59 points through three quarters, Tennessee held the Aggies to just eight points in the fourth quarter.
The Lady Vols offense was also clicking in the fourth quarter, as they scored 25 points following a rough third quarter. Tennessee's 25 fourth quarter points are the most Texas A&M has allowed to any SEC opponent this season.
Thursday night's win is the type of win that gets a season back on track. From here on out, it'll be all about consistency for Tennessee.
Mercedes Russell joins elite company.
Russell turned in yet another phenomenal performance on Thursday night. As a result, she's joined elite company.
Against the Aggies, Russell scored 18 points on 9-of-12 shooting and hauled in 13 rebounds to pick up her 40th career double-double. Russell is now one of just three players in Lady Vols history to record at least 40 career double-doubles.
"She is a pro," Texas A&M center Khaalia Hillsman said of Russell after matching up with her for the entirety of the game. "Mercedes (Russell) played with a chip on her shoulder, and I saw that from the moment we tipped off. I knew it was going to be a hard game for me."
"(Russell) has that 'Hakeem the Dream Sky Hook' that is impossible to stop," Blair added.
Chamique Holdsclaw (57) and Candace Parker (45) are the only other Lady Vols to reach that milestone.
Edited by Seth Raborn
Feature image courtesy of Tennessee Athletics