No. 18 Tennessee blows by Ole Miss to move into second place in the SEC
No. 18 Tennessee dominated Ole Miss on Saturday evening to win its fifth straight and move into second place in the SEC.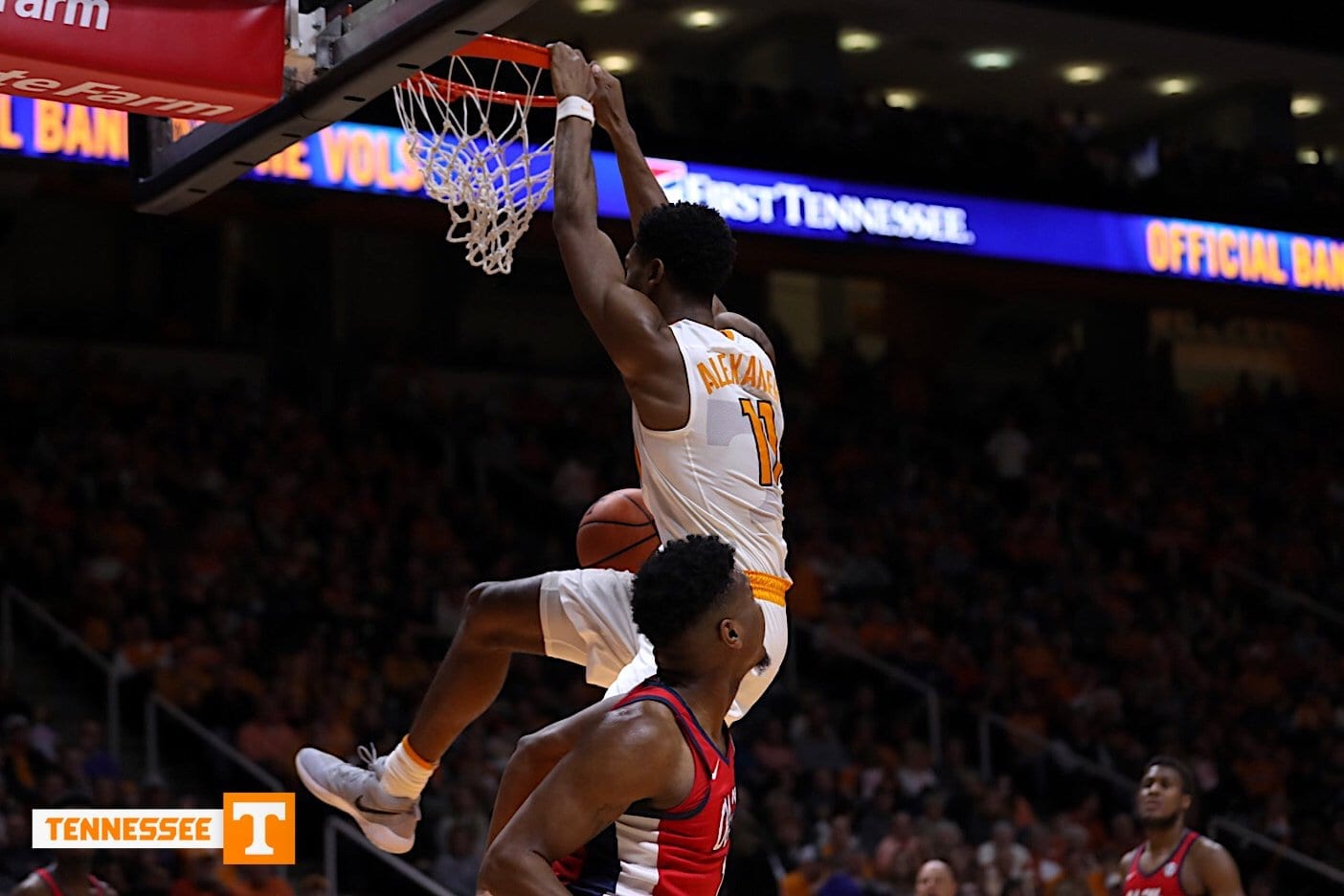 No. 18 Tennessee dominated Ole Miss from start to finish on Saturday evening to pick up a 94-61 win and move into second place in the SEC. The Vols out-scored Ole Miss 59-36 in the second half on their way to their fifth straight win.
"Probably the best half of the year we will play," Tennessee head coach Rick Barnes said of the Vols second half following the game. "We just started making shots, and when that happens, it just looks really good."
Barnes' squad never trailed in the game, but the Rebels went on a 7-0 run as the second half began to cut Tennessee's lead to three. To make matters worse, junior forward Admiral Schofield left the game after tweaking his ankle.
With momentum beginning to shift in the Rebels favor, Tennessee (17-5, 7-3 SEC) immediately punched back and wouldn't check the rearview mirror. The Vols went on a 14-3 run and from that point on, Tennessee led by 12 or more for the remainder of the game.
"We keep getting better with our defense," Barnes said when asked about what changed following the Ole Miss (11-12, 4-6 SEC) run to start the second half. "Admiral (Schofield), I thought when he got them in the corner there a couple of times, did a really good job of disrupting the rhythm, and then really getting into a flow on the offensive end."
Vols redshirt-sophomore point guard Lamonte Turner credits Grant Williams for getting the team going again in the second half.
"We just kind of were able to go inside to Grant (Williams)," Turner said. "He got us going. Our defense was able to get stops and we never looked back."
Tennessee made 20 of its last 26 shots to end the game on its way to shooting 71 percent in the final frame. On the evening, the Vols shot 53 percent and 13-of-29 from three to tie their season-high in 3-pointers made.
It was a group effort for Tennessee, as five Vols reached double-figures. Turner and Williams each chipped in 17 points to lead the way. Turner has now come off the bench in three straight games to reach double-figures.
"The one stat that gets me excited is 33 baskets and the assist on 27 of them," Barnes said of his team's balance. "We do have a group of guys that talk about sharing the ball, talk about wanting a good shot, better shot."
To help lead the way, Schofield would record his third career double-double despite the injury scare. Schofield scored 15 points on 6-of-12 shooting from the floor while hauling in 12 rebounds.
"It wasn't broken, and it wasn't bleeding, so I wanted to get back in the game," Schofield said of his ankle injury. "That's how I was raised.
"I was actually just worried about whether the guy made the shot, because I kind of fell asleep on defense and I didn't want to hear Coach Barnes running his mouth at me."
Luckily for Schofield, Coach Barnes didn't even see what happened.
"Admiral (Schofield) is one of those guys who can roll his ankle pretty good and bounce back," Barnes said. "When he told me he was ready, I was like okay he's ready."
Kyle Alexander has played extremely well in conference play this season, and that trend continued against the Rebels. Alexander tied his career-high with 14 points and grabbed four offensive rebounds. The junior out of Canada is now an astounding 27-of-30 from the floor in conference play.
Tennessee wasted no time getting to work against the Rebels. Sparked by a three from Yves Pons and James Daniel lll, the Vols jumped out to an early 12-3 lead.
Ole Miss would cut it to a two-point game midway through the first half, but once again, Tennessee immediately responded with a run of its own. The Vols went on a 10- 0 run on their way to building a 35-25 halftime lead.
Tennessee will be back in action on Tuesday night as it looks to build on its longest winning streak of the season. The Vols will look to sweep the season-series with Kentucky as they travel to Lexington. Tip-off is set for 7 p.m. ET on ESPN.
"Chemistry is good, but we are just now on the first game of the back half of the season," Barnes said. "We got more to do. We got to look at ourselves and see how we can get better."
Tennessee beat the Cats 76-65 back on Jan. 6.
Edited by Seth Raborn
Feature image courtesy of Tennessee Athletics