Florida-LSU cancellation a potential nightmare for SEC
Hurricane Matthew forced Florida to cancel its game against LSU. A postponement might be difficult, but the game has to be played to avoid one of the biggest controversies in SEC football history.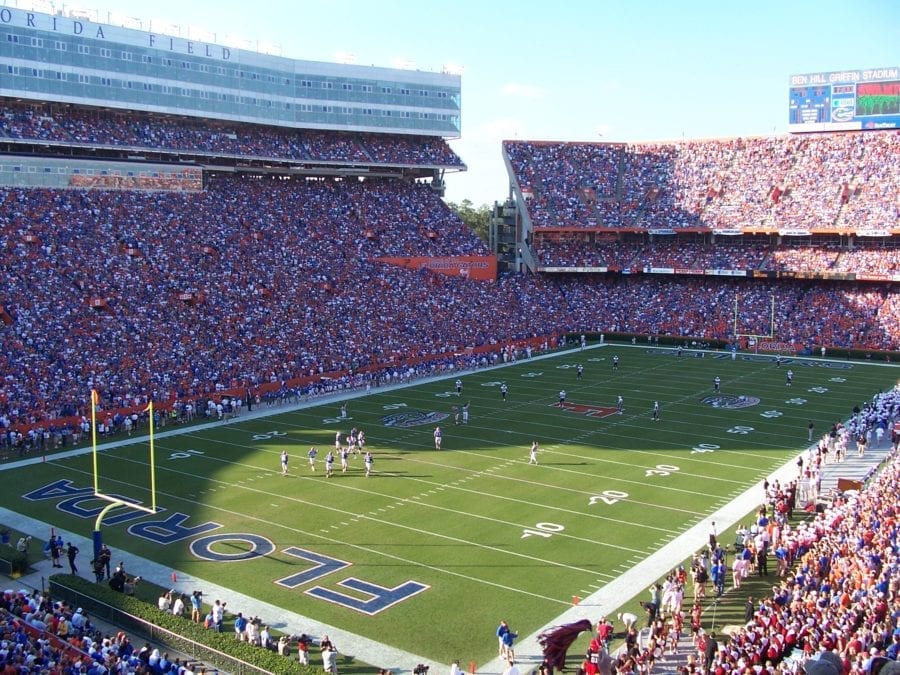 At the midway point of the college football season, the mightiest opponent in the SEC isn't Alabama — it's Hurricane Matthew. The storm led to multiple game postponements across the Atlantic, sloppy football (as seen in the Notre Dame-NC State game) and most notably, a cancellation of the LSU-Florida matchup.
Technically, the game between the Tigers and the Gators hasn't been cancelled and forgotten about. As of right now, however, no makeup date has been announced. The trio of LSU athletic director Joe Alleva, Florida athletic director Jeremy Foley and SEC commissioner Greg Sankey can't decide on an acceptable date to play the game.
For the short-term impacts: each team got a bye week of sorts — at least a chance to rest players and prepare for its next game. For Florida, it also allows time for evacuated fans to return home.
The long-term impacts: the SEC could implode.
The SEC is in a particularly sticky situation right now. Florida, with a 2-1 conference record, could win out and finish with a 6-1 SEC record. Likewise, LSU also sports a 2-1 conference record and would finish 6-1 in conference play if they were to win out the rest of its SEC matchups. This could make bids to the SEC Championship game incredibly complicated for the rest of the conference.
Tennessee plays Alabama on Saturday, a game in which the Vols are around a 13-point underdog. If Tennessee were to lose that game, that would put them at 2-2 in conference play. Assuming Tennessee wins the rest of its games this season after Alabama, the Vols finish with a 6-2 record against SEC foes. If Florida wins out, however, the Gators become the SEC East champions in this scenario because they have a higher conference winning percentage despite having lost to the Volunteers head-to-head.
But it's not just the East in peril. If LSU could beat powerhouse Alabama and currently undefeated Texas A&M and run the table this year, they could be snubbed of a chance to play in the SEC Championship even after beating both teams head-to-head. Remember, the SEC takes the team from each division with the highest winning percentage, not necessarily the team with the most wins. That means the Tigers, although finishing with a 6-1 conference record, could be surpassed by a 7-1 Alabama or 7-1 Texas A&M squad.
In either scenario, pandemonium would reign across the Southeast. How do you deny a team with the best winning percentage from a chance to play in the SEC Championship? On the flip side, how do you allow a team that lost head-to-head to surpass the victor?
All parties are (allegedly) trying to ensure that the game gets played. At this point, it would seem as though both parties could buy out non-conference opponents on Nov. 19. Florida is scheduled to play Presbyterian, while LSU is scheduled to play South Alabama on that date. The problem lies in that LSU would forgo a home game (on senior night, no less) and would, in turn, end its season with three straight conference matchups on the road. Alleva is vehemently determined not to allow that to happen. "One thing that we're going to hold very firm on is that we have a home game November 19," Alleva said on Monday. He didn't say the home game had to be against South Alabama, however. Keep that in mind.
Another possibility is to play the game on Dec. 3 after both teams' schedules are over. This creates another problem, however, because this is the currently scheduled date of the SEC Championship. This would delay the crowning of an SEC champion and the release of the final College Football Playoff rankings by a week.
Greg Sankey has to make this game happen. Too much is on the table to allow a complete cancellation. There are possibilities — albeit difficult ones — to ensure Florida and LSU play each other.
Things aren't looking good for the SEC right now. If the Gators and Tigers can't reach an agreement, it could get even worse.
Edited by Nathan Odom
Featured image by Randall Stewart