Kendrick Lamar Week: His best album
For Kendrick Lamar week, David Bradford, Quinn Pilkey and Robert Hughes list their favorite song from King Kendrick.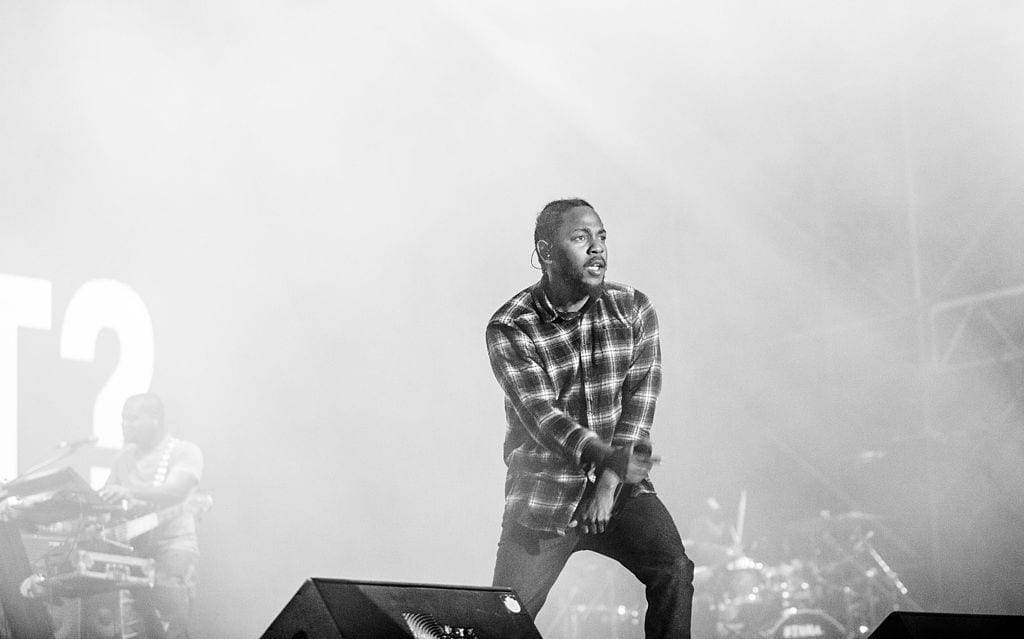 Kendrick Lamar — a.k.a. The King of Rap — is releasing his fourth studio album this Friday. So we here at TNJN thought that we would honor Kendrick's divine status by providing you all with our scorching Kendrick Lamar takes. David Bradford, Quinn Pilkey and Robert Hughes will reveal their favorite Kendrick feature, verse, song and album.
BEST ALBUM
Oh boy, here's the big one. Kendrick's best album. He's released three gems and a compilation of throwaways that are better than most albums. Simply put, there isn't a wrong answer here (that's a joke, David thinks both Robert and Quinn are egregiously wrong). But here we are folks, before DAMN. comes out on Friday, here's Kendrick's best album to date according to Robert, Quinn and David.
Hughes
All three of Kendrick Lamar's studio albums have been great, and each shows a clear evolution in Kendrick as an artist. For me, however, there's no debate; Kendrick's best album is easily good kid, m.A.A.d. city.
Don't believe me? Take a look at the tracklist.
Sherane a.k.a. Master Splinter's Daughter
B****, Don't Kill My Vibe
Backseat Freestyle
The Art of Peer Pressure
Money Trees (feat. Jay Rock)
Poetic Justice (feat. Drake)
Good Kid
m.A.A.d. city (feat. MC Eiht)
Swimming Pools (Drank) [Extended Version]
Sing About Me, I'm Dying of Thirst
Real (feat. Anna Wise)
Compton (feat. Dr. Dre)
B****, Don't Kill My Vibe (feat. JAY Z) [Remix]
Name one bad song. I'll wait.
SPOILER ALERT: There is not a single bad song on that album.
And what's even more impressive is that the album is not merely a collection of singles, but rather, 12 songs that can stand strong on their own, but are made stronger in the context of the album.
Each song takes on a different persona that has been beautifully crafted by Kendrick, but the songs fit together to tell the story of a young Kendrick Lamar Duckworth growing up in the streets of Compton, California, and the pressures and tragedies that come with growing up in a gang-ridden city.
The album, however, takes a positive turn in the last half of "Sing About Me, I'm Dying of Thirst," and shows how Kendrick was able to escape a potential life of drug dealing and gang-banging.
Like I said earlier, however, Kendrick continues to evolve as an artist, and all of his albums have been great. I'm beyond intrigued to see how his new album turns out, but if I had to guess, I'm guessing it'll be great, too.
Pilkey
To Pimp a Butterfly is a masterpiece, one of the most beautiful rap albums ever created. Despite that, Robert's right: good kid, m.A.A.d city is Kendrick Lamar's best album. It's incredibly versatile, and it's not quite as inaccessible as his most recent album is. TPAB is great, but it's not always as easy to listen to in short bursts and it doesn't have the same ability to do everything.
GKMC has enough bangers ("Backseat Freestyle" especially) that appeal to large audiences and are just pure fun to listen to. It has deeply emotional songs like "Sing About Me, I'm Dying of Thirst" that are chillingly beautiful every time. It has comedy, it has features from Jay Z, Dr. Dre and Drake, and it tells an incredible story that's both deeply personal and widely relatable. A variety of rapping and musical styles are shown off throughout the album, meaning there's a bit of something for every kind of hip-hop fan. And it's such a positive, uplifting message in the end.
Meanwhile, To Pimp a Butterfly is incredible, but it doesn't do everything that good kid, m.A.A.d city does. That versatility is what makes Kendrick's second studio album his best.
Bradford
Ignore the vitriol my two compadres just spewed. Their selection of good kid, m.A.A.d. city as the best Kendrick album is
This isn't to say GKMC isn't a masterpiece – the album is a classic – but because I live in this little thing called reality, it is pure objectivity when I say To Pimp a Butterfly is Kendrick's masterpiece.
It's also why I'm so damn excited for DAMN. Because when Kendrick released GKMC back in 2012, I asked myself, "How is he going to top that."
And then, he obviously did with TPAB.
I'm not sure DAMN. can surpass TPAB. After all, no album in the realm of hip-hop can rival it. Not 36 Chambers. Not Illmatic. Not My Beautiful Dark Twisted Fantasy.
What you have on TPAB is Kendrick using every weapon in his arsenal at an all-time level. It's like Russell Westbrook notching a triple-double on Citizen Kane. That makes no sense, but I dig the visual. And imagine if Kendrick released an album titled Rosebud.
Now when I judge rappers, I focus squarely on four qualities: Lyrical content, thematic content, delivery and instrumental selection.
GKMC earned extremely high marks in all categories – the lyrical content was diverse, the thematic content was encapsulating, Kendrick's flows and vocal inflections varied; and the instrumentals were a perfect blend of accessible and unique.
But TPAB accomplishes so much more.
While GKMC was an insightful tale into daily life in Compton, California, Kendrick really takes his lyrical and thematic choices to another level on TPAB.
In TPAB, the audience gets a vivid lends into Kendrick's world post-GKMC. It isn't a pretty picture. Kendrick deals with a number of issues that lead him to suicidal thoughts, such as being pimped by an industry he's supposed to love, suffering from survivor's guilt and being able to impact millions of strangers, but unable to impact his own. But as the album progresses, Kendrick becomes a self-confident powerhouse.
The journey is wildly emotional, and because so many emotions are at play, nearly every song feels like a climax. Songs such as "U" and "Alright" and "The Blacker the Berry" and "i" are so powerful in their emotional range that each song could be considered the album's apex.
But even the songs that aren't a climax and act as more of a transition from one emotional stage of Kendrick's life to another are excellent. "King Kunta" is braggadocios and challenges those around Kendrick, asking where they were when he wasn't a superstar. "How Much a Dollar Cost?" is a stunning tale where Kendrick refuses to lend a homeless man money, but once he learns that the homeless man is actually God, he fears he'll lose his spot in Heaven. "Mortal Man" – the album's closing track – continues off the theme of true friendship, but goes at it in a much deeper way.
And I haven't even mentioned the unique structure of the album. While GKMC is comprised of skits that carry the narrative along, TPAB features an album-long poem. Periodically, Kendrick will recite this poem, but not all the way through. Instead, with each reintroduction of the poem, Kendrick gets further and further into it. By the time "Mortal Man" fades out, we hear Kendrick finally finish the poem, which he was reciting for… 2pac.
Kendrick took snippets of a 2pac interview he was given while in Germany and treated it as if he was actually interviewing the 2pac in real life.
HOW. DOES. HE. DO. IT.
Instrumentally, this album is dense and diverse. The overarching instrumental pallet is jazz, but infused into it are elements of psychedelic music, funk, boom-bap and even some rock. Unlike GKMC, there isn't a truly accessible, radio-friendly instrumental – "Alright" certainly has the best case for one – and that's one of the album's highest net positives.
It's a challenging album to digest, which is one reason why I think a lot of people prefer GKMC over it. But with enough listens and full analysis into what's going on, it's the most rewarding listen of this decade. And not just hip-hop, but across every genre.
Featured image courtesy of wikimedia commons
Edited by David Bradford
When Robert isn't writing stories for the greatest online news site of all time, he enjoys playing the tuba, hanging out with friends, and opening the "T" on Saturdays in Knoxville. You can follow him on Twitter-@tnytuba09