Kendrick Lamar Week: His best song
For Kendrick Lamar week, David Bradford, Quinn Pilkey and Robert Hughes list their favorite song from King Kendrick.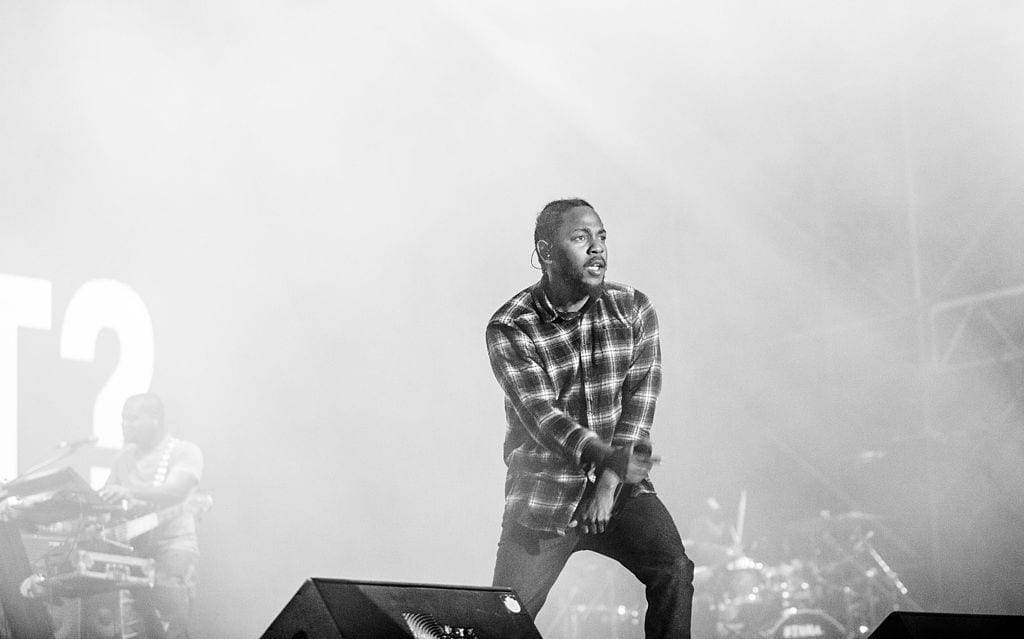 Kendrick Lamar — a.k.a. The King of Rap — is releasing his fourth studio album this Friday. So we here at TNJN thought that we would honor Kendrick's divine status by providing you all with our scorching Kendrick Lamar takes. David Bradford, Quinn Pilkey and Robert Hughes will reveal their favorite Kendrick feature, verse, song and album.
Best Song
Kendrick Lamar is a rapper who makes songs. And normally (read 100 percent) these songs are fire af. So it's obviously a challenge to pick his best song when so many of them get the juices flowing. But if a parent can select their favorite child, then Robert, Quinn and David can pick their favorite Kendrick Lamar song.
Hughes
Kendrick Lamar has put out more classics than I can count. There really aren't songs by him I don't like, but to me, there's a clear No. 1 when it comes to his best song.
"The Art of Peer Pressure" from good kid, m.A.A.d city is my personal favorite from King Kendrick because his storytelling within the span of just five minutes and 24 seconds is, simply, beautiful.
Like a painter uses a canvas, so Lamar uses a beat to create a masterpiece. "The Art of Peer Pressure" tells the story of a young Kendrick simply hanging out with his friends–or so he thought. It's not until the end of the first verse that he admits the influence his friends have when he says: "look at me/I got the blunt in my mouth/Usually I'm drug-free, but [expletive] I'm with the homies."
The same theme is repeated within the second verse. He begins to tell the struggles of living in Compton and how spending time with friends distracts him from those struggles, and inversely, leads him into gang temptations.
I can't say it better than Kendrick, so I'm going to let his lyrics speak for him.
"We seen three [expletives] in colors we didn't like then started interrogating/I never was a gangbanger/I mean I was never stranger to the funk neither/I really doubt it/Rush a [expletive] quick and then we laugh about it/That's ironic 'cause I've never been violent, until I'm with the homies."
As I listen to the song, Kendrick teleports me to Compton, a place I've never been. In the final verse, he talks about robbing a house and narrowly avoiding the police, all while avoiding his mother's advice.
"My mama called–'Hello? What you doin'? 'Kicking it'/I should've told her I'm about to catch my first offense with the homies."
I don't understand how he's so good at creating art in the form of music, but I will simply sit back and appreciate it in anticipation for his new album.
Pilkey
I wrote about Kendrick's best verse being the second on "Sing About Me, I'm Dying of Thirst," and the strength of that verse is a big reason why the song as a whole is his best. Yes, it's the obligatory 12-minute song that Kendrick seems to have on every album. But if the length has dissuaded you from listening to it, I urge you to immediately reconsider your decision.
The first half is hauntingly beautiful, going in-depth on the lives of the subjects of his songs and how they feel about their relationships with him. The third verse is Kendrick himself exploring those relationships and wondering if he's truly done enough. No matter how many times I've heard the song, I still get chills down my spine as Kendrick repeats the hook:
"When the lights shut off / And it's my turn to settle down / My main concern / Promise that you will sing about me"
It's an incredible way to summarize to the gut-wrenching story Kendrick has been weaving throughout good kid, m.A.A.d city, but it doesn't end there. The second half of the song is different musically but it's just as great. It opens with Kendrick explaining how tired he is of the life he's been leading to this point in the narrative of the album – one of gang-banging and peer pressure leading to deaths becoming an everyday occurrence. The sins are adding up, and Kendrick and his friends can't seem to escape them – they're dying of thirst.
Then, it happens. Kendrick and his crew are presented with a way to escape their past and find a new way forward: they are baptized by a neighbor and accept God. It's the incredible, hard-earned end to the story told throughout an incredible album. It's by far the most introspective Kendrick gets on good kid, m.A.A.d city, and it's absolutely beautiful.
Bradford
Wow, this is a brain buster. First off, picking an individual Kendrick song is difficult because his songs fit perfectly in the context of albums. Second off, he has a bunch of good songs. Third off, fourth off.
I ended up wrestling with about five songs before narrowing it down to two — "How Much a Dollar Cost?" and "The Blacker the Berry."
Although the former is his most creative story to date, I opted with the latter.
"The Blacker the Berry" is one of Kendrick's most visceral performance in terms of his delivery. He doesn't change his flow or alter his vocal inflection like he does in so many other songs. Rather, his flow is blunt and his voice is full of rage. Just check out these set of lines from the first verse.
"I'm African-American, I'm African/I'm black as the moon, heritage of a small village/Pardon my residence/Came from the bottom of mankind/My hair is nappy, my d*** is big, my nose is round and wide/You hate me don't you?/You hate my people, your plan is to terminate my culture/You're f***** evil I want you to recognize that I'm a proud monkey."
While listing off stereotypes and showing disdain toward a group of people trying to destroy his people, Kendrick complicates the message of the song in the final line.
"So why did I weep when Trayvon Martin was in the street?/When gang banging make me kill a n**** blacker than me?/Hypocrite!"
Using hypocrite as the last word is specifically powerful because Kendrick begins each verse with "I'm the biggest hypocrite of 2015," which also means this song is outdated. Haha jk.
The lyrics are worth diving into, but more than the lyrics, the instrumental is simple and effective. It's foundation is an emphatic boom-bat style beat with rising synths in the bridge that build the tension of the song perfectly. When Kendrick proclaims "hypocrite!" at the end, the song goes from a blunt-forced trauma to a soothing jazz outro, which gives the listener time to process everything that has just transpired over the song's 5:29 span.
Featured image courtesy of wikimedia commons
Edited by David Bradford
When Robert isn't writing stories for the greatest online news site of all time, he enjoys playing the tuba, hanging out with friends, and opening the "T" on Saturdays in Knoxville. You can follow him on Twitter-@tnytuba09