Tom Brady and Bill Belichick are the greatest coach-player duo in sports history
Their have been other great duos in the NFL, but Tom Brady and Bill Belichick proved on Sunday why they are the greatest coach-and-player duo ever.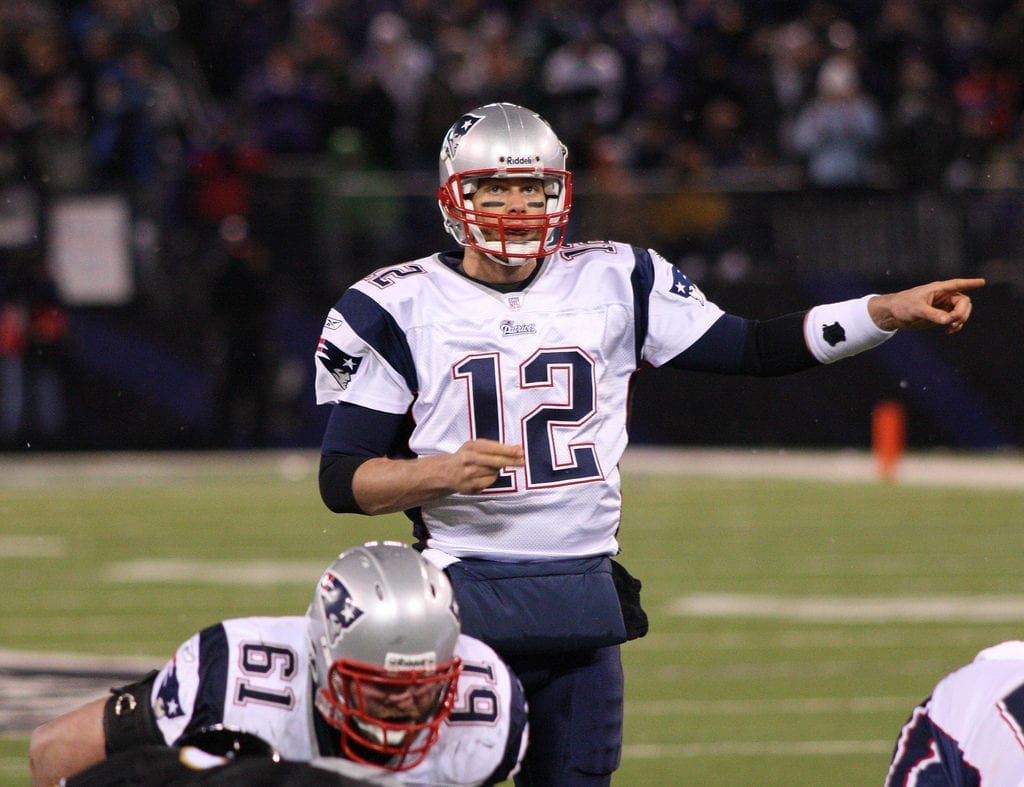 All-time Great Duos
Woody and Buzz Lightyear
Jim Halpert and Pam Beesly
Peanut butter and jelly
Tom Brady and Bill Belichick
Batman and Robin
While they aren't the greatest duo in history, Tom Brady and Bill Belichick are still in the top five. They are now, however, the greatest coach-and-player duo in the history of sports.
For Brady and Belichick, as with many of the other all-time great duos, a great deal of luck was required in joining the now-immortal pair. If Pam Beesly hadn't worked at the receptionist's desk and Jim Halpert didn't work in sales, the two wouldn't have sat just a few feet away from each other, and Pam would've married Roy instead.
What if Buzz Lightyear hadn't been the hottest toy on the market? What if Andy had decided to buy Stinky Pete instead?
If somebody, thousands of years ago, had not decided that he or she wanted a sweet-and-salty sandwich comprised of the butter of peanuts and the jelly of grapes (only grapes, not strawberries), lunchboxes would be obsolete.
Fortunately, for the sake of the human race, perfect timing brought those pairs together.
Belichick had been decent, at best, as a head coach for the Cleveland Browns from 1991 to 1995. After a stint as an assistant coach, including one season in New England in 1996 and three seasons with the New York Jets from 1997 to 1999, Belichick became a head coach once again in 2000, this time for the New England Patriots.
Brady had shown flashes of greatness during his college career with the Michigan Wolverines, but had to compete for playing time, even as a senior. Alas, even after posting a 5.24-second 40-yard dash, Tom Brady was drafted by the New England Patriots in the sixth round of the 2000 NFL Draft.
And so the duo formed.
It wasn't until 2001 that Brady got his first NFL start, and that only came because Drew Bledsoe was injured early in the season. But it didn't matter. Brady led his team to an 11-3 record in the regular season and took them to Super Bowl XXXVI, where they beat the St. Louis Rams. Brady was named Super Bowl MVP, and it was known from that point forward who would be the quarterback of the future for the New England Patriots.
Within the next three years, the Patriots would claim two more Lombardi Trophies, and Tom Brady and Bill Belichick already seemed like Hall-of-Fame candidates.
In 2007, the Patriots were primed for another Super Bowl run, this time at the hands of a perfect season. Had Eli Manning not been able to escape approximately 18.5 sacks and run around in the pocket for at least six millennia, and had David Tyree not defied all known laws of physics, the Patriots would've gone 19-0 for the first time in NFL history.

Fast-forward seven years. The Patriots have lost another Super Bowl to the New York Giants in the meantime, but Super Bowl XLIX does not feature a Giants-Patriots matchup. Rather, it is the Seattle Seahawks who will play Belichick and Brady for the championship. Malcolm Butler may have saved the game with his interception, which you can see here, but for the third time in his career, Brady is named Super Bowl MVP.
For the first time in ten years, Belichick and Brady had become Super Bowl Champions.
Finally, on Sunday, the duo did it again. Brady was named Super Bowl MVP for an NFL-record fourth time, and the Patriots had claimed their fifth Super Bowl victory as a franchise—all of which were earned with Belichick on the sideline and Brady under center. And this time, they had a logic-defying catch of their own.

Almost two decades of dominance have come from the duo of Tom Brady and Bill Belichick. Within their first five seasons together, the pair had won three Super Bowls, a jaw-dropping accomplishment we may never see again. Their ability to maintain that dominance, however, is why they are immortal. They didn't win Super Bowl XLII, but Tom Brady and the Patriots set individual and team records left-and-right during the 2007-2008 season.
After a decade-long drought, the Patriots brought another title back to Boston in 2015, and yet another here in 2017. In 18 total seasons together, Bill Belichick and Tom Brady have won five Super Bowls. That duo alone has more Super Bowl victories than 28 NFL franchises have had in their history.
Scandals have arisen during their careers. They lost two Super Bowls. One of them can't work a tablet. Brady and Belichick may not be perfect, but they're better than everyone else.
Edited by David Bradford
Featured image by Keith Allison, courtesy of Creative Commons
When Robert isn't writing stories for the greatest online news site of all time, he enjoys playing the tuba, hanging out with friends, and opening the "T" on Saturdays in Knoxville. You can follow him on Twitter-@tnytuba09