Tomato Head renovations give Knoxville an updated classic
An expansion at The Tomato Head has given Market Square a new bar and transformed a homegrown favorite into a renovated classic.
The Tomato Head began expanding in September 2013 and will be finished during the summer of 2014. The new area, which formerly housed a Marble Slab Creamery, has doubled the elbow room within the restaurant.
The renovations include a new kitchen separated from the dining area, new flooring, tabletops and an addition.
The classic feel of The Tomato Head is still noticeable within the restaurant, and is what the owners hoped for.
"We wanted to make it more comfortable and appealing for everyone. For our customers and our staff," Scott Partin, part owner of The Tomato Head, said.
The addition showcases a new bar, a section for the restaurant's bakery and pastry selections and an area for staff to place orders.
"Sometimes it would be crowded and we felt like it was an obstacle for our customers," Partin said.
The bar has seemed to shorten some of the wait times and eliminate the crowded feel the old area had.
"The waits could be long sometimes, and now customers can just come and sit down and get a good atmosphere," Paul Arena, an employee at the restaurant, said.
"I also like that we don't have televisions at the bar. It's not a sports bar feel. It's keeping with that Tomato Head, down at home feel."
The bar also boasts a new draft beer selection that is more extensive than the menu's previous choices and accentuates the restaurant's local ambiance.
"Every beer on draft is brewed in either Tennessee or a state that touches Tennessee, except one," Arena said.
The new beer selections were thought through and organized with more than just locale in mind.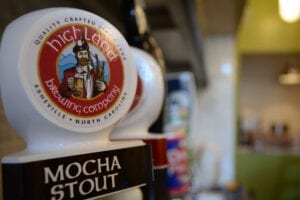 "Two of the beers we have are served in five ounce glasses, three in nine ounce glasses and the rest in a pint," Arena said.
"All of this is to do with the alcohol content and gravity of the beer so we can ensure a table is enjoying themselves but not a little too hard."
Although some beers are served in smaller glasses, each beer is priced accordingly.
The wine list is to grow in coming weeks as well, due to the addition of the bar.
Although it has had a new beginning, The Tomato Head will  keep its original desire of having a restaurant that gives back and will begin charity events in early 2014.
"Every month we hope to pair with a charity or non-profit," Arena said.
The restaurant will have specials, with a portion of profits going to the charity they are paired with that month.
"We just want people to feel at home here, comfortable, like they're well taken care of. Be able to relax and just enjoy themselves," Partin said.
Edited by Maggie Jones