Food trucks roll into Knoxville with local support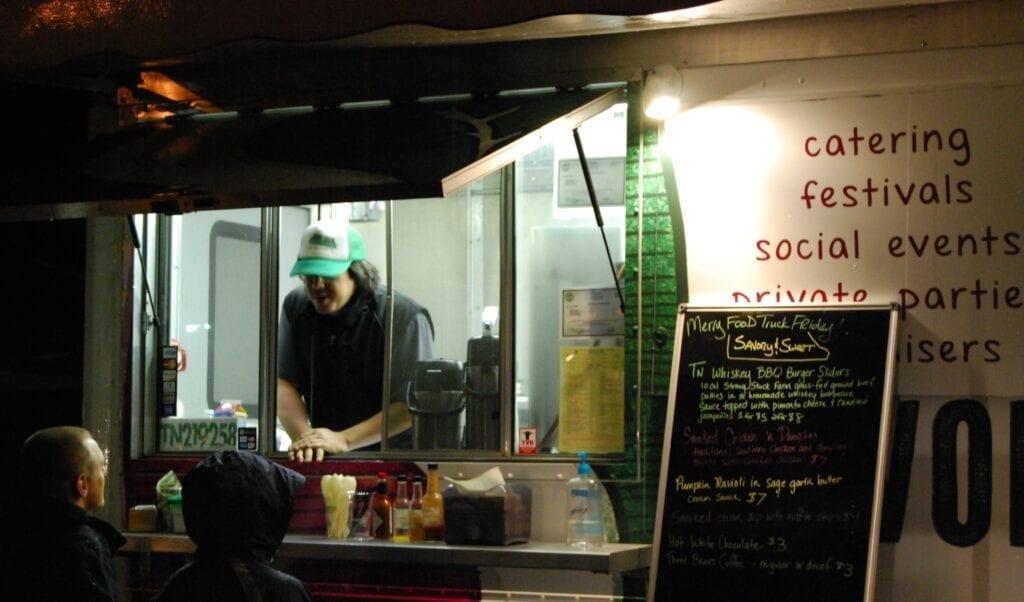 It stays predominately quiet where Jackson Ave. meets Broadway, but the first Friday of December brought a large caravan of food trucks and hungry patrons to a small patch of pavement between two buildings.
Although it was wet and a chilling 44 degrees, the trucks stayed busy. Nathan McDonough stood under a tent eating his chai chicken and sweet potato tamales from Good Golly Tamale.
"I'm enjoying the food," McDonough said. " I've never eaten from this particular stand, but I will be coming back."
"My sister told me about the tamale stand and where it was, but I didn't know where exactly. I walked from Barley's to Market Square, and back to get these tamales, it was worth it," he continued.
The food trucks offer a unique selection of original foods. Dale's Fried Pies serves original made-from-scratch pies.
"We sell sweet and savory fried pies in a large selection of flavors," Dale Mackey, the owner of Dale's Fried Pies said.
She enjoys her little stand, but hopes she will eventually have both a trailer and the stand for variety and convenience.
Although Friday was a seemingly good night for the owners, it isn't always that way.
A petition was put in place by certain local restaurants pushing for the removal of food trucks in downtown Knoxville. Though, Dale said Dazzo's allows her to use their kitchen to fry her pies and another commercial kitchen opens its doors to give her a place to prepare her pies.
Chris Watson, who helps operate Good Golly Tamale also feels his relationship with local restaurants is in good standing.
Watson didn't have a strong response toward the petition or the restaurants who implemented it, but he said, "We're a community of people, we're local people trying to start businesses and do the same thing that you're doing."
"We're using the kitchen at Aisle Nine in the Old city where we just started serving lunches on Thursdays. We have that as our home base, but we're still doing special events with the tricycle." he continued.
Good Golly Tamale serves tamales with an assortment of local fillings. Watson said they like to experiment with the different fillings and see what comes from it.
The trucks seemed to start at the Farmers' Market in downtown Knoxville and from there began popping up around the city with
locations and days posted on their social media sites.
This is similar to Roy Choi, the Korean restaurant owner who innovated curb-side dining in L.A. with his Kogi trucks. Like Choi, these local food stands are creating new, inventive dishes in a town begging for choices.
Although the owners hope to have a brick and mortar in the future, they seem content, even happy to be where they are now. Selling food that is convenient, fast and their own.
Edited by Jessica Carr