Club Week: Rock Climbing Club welcomes climbers of all experience levels
The rock climbing club is a place where new and advanced climbers can learn and progress together.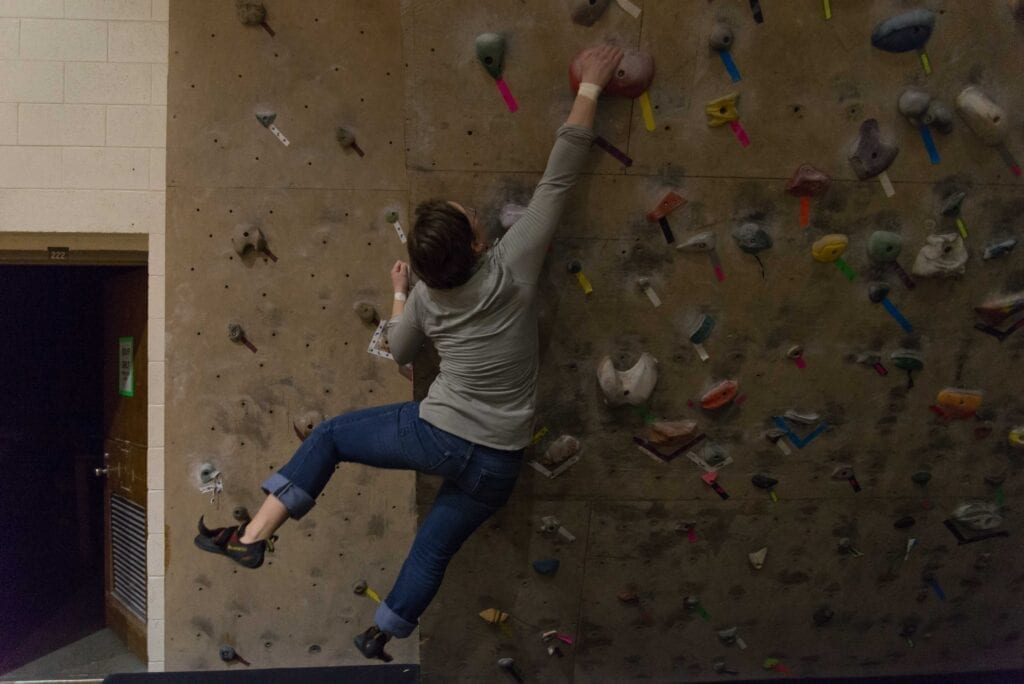 In the drab Health and Physical Education Building, the Vol Wall sits in a large room, stretching toward the ceiling. Mats lay on the floor around the climbing walls, and chalk-marks give hints to past climbers who have attempted to scale the obstacle.
Routes are marked by previous and current students with colored tape, allowing climbers to try the routes they find most enjoyable or challenging.
The UT Rock Climbing club takes advantage of the wall twice a week on Tuesdays and Thursdays from 8-10 p.m.
"Everybody's really great at the club and laid back," said President of the Rock Climbing club Mary Ferguson. "It's the first time I've really had coaches, and it's great; it's really helped me grow as a climber."
A typical night at a club meeting begins with news and sharing of ideas. The members then work on routes they've been attempting, warm-up and then move to workouts.
"It's a circuit workout, so we'll do ab workouts; we'll get on the wall and do endurance training, some stretching," said Ferguson.
The club competes outdoors during the fall at the Triple Crown Series while in the spring they compete in the college bouldering season.
But outdoor climbing for the club isn't limited to competitions.
"A lot of times on the weekends, the individuals in the club go out … we've got a really great place at Obed," said Ferguson.
While the club has advanced climbers, it also serves as a place where beginners are able to learn and progress in the sport.
"I was by no means an advanced climber … part of it is just always having another group of climbers that you're practicing with all the time. That's a really valuable thing to have to grow as a climber," said Andrew Dudenbostel, a senior and member of the rock climbing club.
Rock climbing can be a sport of solitude, seclusion, but with the rock climbing club, it's a group of friends, helping each other appreciate a sport and grow as climbers.
View additional photos of the Rock Climbing Club here.
Edited by Maggie Jones