MBA students put on hard hats for charity
With hammers in hand and hard hats on, a group of enthusiastic volunteers walked towards a blank foundation that is soon to become a home. The Tennessee Organization of Master Business Administration students (TOMBA), in partnership with Knoxville Habitat for Humanity began construction of it's eleventh home on Saturday.
Wanda Hines, who was accepted by Habitat for Humanity as the recipient of the house, was very thankful and excited to be there. "I sat there with my mouth open first. Then I asked if it was a joke because of my age," said Hines. Hines, along with her adopted daughter, son and grand-son will be living in the new, four bedroom home. "This is going to help my family because my kids can go outside and play without me just being there continuously," she said, "and I hope they keep the house after I'm gone. I'm praying that it will stay here."
"Little rest because of all the noise and police," said Hines on her previous home. "Now I can get up in the morning, rested, not complaining because I was up all night. So it will effect my job and work ethic because I won't be tired."
Habitat for Humanity has been constructing homes in Knox County since 1985. Bringing nearly 400 affordable homes for over 25 years to the Knoxville community and it's citizens. They partner with several groups, and have joined forces with TOMBA for this build. "I've built close to 30 homes with Habitat for Humanity and been with them for about 3 years," said Cliff Shadwell, the site's foreman.
The volunteers weren't just grad students and Habitat for Humanity employees, the Dean of the Business School at The University of Tennessee, Steve Mangum joined in. "I think it's really important when you've been blessed in your life to be able to give back to to her in a variety of ways," said Magnum. "This is an occasion to get together with people you work with on a regular basis and do something good for someone else," said Mangum. Mangum has built homes with family before, but this is the first time he has been involved in building a house for someone else.
Habitat for Humanity doesn't just throw four walls up and hand the keys over, they go out of their way to educate the recipients on home ownership through a series of classes based on budgeting and money management. "The classes you need to complete," Hines said. "The only way I would be able to afford this is the classes. I am not a budgeter."
The Tennessee Organization of Master Business Administrations is encouraged to organize philanthropic projects. With TOMBA entering its seventh year as a Covenant Partner with its primary charity, Knoxville Habitat for Humanity, TOMBA has been giving back to the community in profound ways. The president of TOMBA welcomed everyone with a smile and open arms. While pounding nails alongside everyone else.
Daniel Conrad is a first year MBA student. This is his third event volunteering, being with TOMBA for five years. When asked if he has made any friendships with the recipients while volunteering replied, "Never personal, but I've seen some of them around and said hi."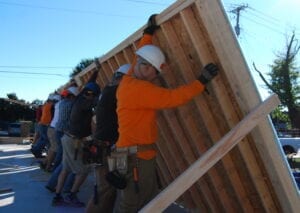 Hines counted to three as a line of volunteers raised the first wall around 9:45am to cheers and smiles. The house is expected to be finished in seven to nine weeks. Mrs. Hines was greatly appreciative as the wall was erected and being nailed in place, walking past the line of people to thank each of them.
The construction is to last most of the day with hopes for the major pieces to be set in place before the team goes home. With hours of work behind them and more ahead, volunteers were still heard saying how excited and happy they were to be there.
With the work Habitat for Humanity and TOMBA have conducted, many citizens of Knox County have been given homes and a place to raise a family for over two decades with no end in sight.
Edited by Zach Dennis