Valentine's Day alternative: Galentine's Day
Celebrate friendship with a night of relaxation this Galentine's Day with music, movies and more
Who said Valentine's Day is only for couples?
Thanks to "Parks and Recreation" character Leslie Knope, Valentine's Day does not look so unappealing anymore. She gifted women with a new option: Galentine's Day. Round up the gang and "treat yo' self" this Monday, Feb. 13.
Because Galentine's Day is Monday, there are limited options for college students with class the next day. Here are some tips to celebrate the day in an easy way:
Hosting a Galentine's Party:
A party may seem like an impossible option for those who live in a compact dorm room, but Galentine's parties are doable. All you will need is a study room or recreational room. You can invite your whole floor; the more the merrier.
This party will be a slumber party without slumber. Of course, no party would be without a perfect playlist. And though many songs are about love, there are plenty about female empowerment to get the party going.
"Independent Woman" by Destiny Child
"Wannabe" by Spice Girls
"Blank Space" by Taylor Swift
"(What Doesn't Kill You Makes You) Stronger" by Kelly Clarkson
"Hollaback Girl" by Gwen Stafani
"Formation" by Beyoncé
"Run the World" by Beyoncé
"No Scrubs" by TLC
After setting the playlist for the party, focus on activities. Being a student typically means keeping a low budget. There are plenty of options to chose from in the kitchen to make this the perfect party.
You can turn this Galentine's party into a spa night with a few ingredients from the kitchen: nail polish and a few bowls.
With first exams coming up, stress increases rapidly. These do-it-yourself face masks can help relieve the stress from that dreaded 8 a.m. class:
2 tablespoons of brown sugar
2 tablespoons of virgin coconut oil
½ a banana
1 teaspoon of honey
1/2 ripe avocado
1 teaspoon plain organic yogurt
1 teaspoon of honey
2-3 Tablespoons Greek yogurt
1 tsp. cocoa powder
1 tsp. buttermilk
¼-1/2 of a banana mashed
1 tsp. honey
1 tsp. lemon juice
Of course, a celebration of bestie love would not be complete without binge-watching amazing films.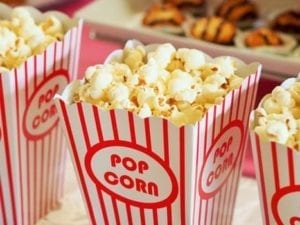 "13 going on 30"
Yes, the film is a romantic-comedy, but it is more than just a simple rom-com. This film reflects on the typical high school needs to be "cool" and date the most popular guy with great hair. But none of that matters in the future. All that matters are the friends who stick around, know the quirky side of you and will dance with you to "Thriller" like Matt Flamhaff (Mark Ruffalo).
2. "[500] Days of Summer"
This is another romantic-comedy with a dramatic and bittersweet twist. Not to worry, it is no love story (as it states in the first five minutes of the film). Gender roles are reversed as Joseph Gordon-Levitt plays the heartbroken Tom and Zooey Deschanel plays the romantic interest – a nice change from the usual love-struck woman leading role. This film shows that break-ups happen, but the next girl/guy might be a winner.
3. "Mulan"
Disney movies are beloved by many though a majority of Disney princess films are always empowering. Whether it be getting saved from the clutches of her evil step mother in "Cinderella" or being saved from a cursed slumber in "Sleeping Beauty," these films show women as needing to be saved. Disney is changing that motif in recent films like with "Brave" and "Frozen." But "Mulan" shows love is the last thing on her mind; no one needs to save her from battle.
4. "Legally Blonde"
This film may start out like a love story, but it is all about female empowerment.  Elle (Reese Witherspoon) enrolls at Harvard to get her boyfriend back, but that ambition becomes irrelevant when she proves she is more than the stereotypical blonde.
Happy Galentine's Day!
Featured Image: Pexels
Edited by Lexie Little