'Divergent Social Worlds': Amid COVID-19, Increased Violence Lays Bare Class, Racial Difference in Knoxville
This story has been updated to reflect additional information.
From Sept. 10 to 20,  a string of six unprecedented, fatal shootings plagued the Knoxville community. The shootings occurred in east, north, south and downtown Knoxville, areas that are less developed and face more poverty than other parts of Knoxville.
Notably, none of the shootings took place in the more affluent, suburban west Knoxville, perhaps a nod toward a trend of violence divided among wealth lines.
Not one suspect has been arrested for any of the murders, according to Knoxville Police Department Public Information Officer Scott Erland. One case has pending charges, and one has been referred to the district attorney's office for review. The other four remain open investigations.
The string of shootings occurred alongside, and was likely a result of, increased gang violence in the area. Oftentimes, gang-related shootings occur with other crimes, such as robberies.
"There are a small number of individuals who drive violent crime," Erland said. "Gang conflict is another part of it. There was a stretch there where we had seen an increase in gang activity, and of course, it revolves around the illegal drug trade as well in some capacity."
According to Erland, Knoxville has had 31 fatal shootings this year, higher than the three previous years' numbers, and Knoxville is not alone in experiencing an uptick in violent crime. According to the National Commission on COVID-19 and Criminal Justice, homicide and aggravated assault increased significantly throughout the summer months; homicide rates from June to August were up 53% compared to 2019.
Erland said it is too soon to determine if the current uptick in violence stems from the COVID-19 pandemic. Rates of gang activity naturally rise and fall, and it's not particularly clear what, if anything, is spurring the current increase.
Robert Durán, an associate professor at Texas A&M, studies criminology and researched Knoxville gangs during his time as a UTK professor from 2014 to 2018.
Durán said that in Knoxville, the gang drug trade is more individualized than community organized.
"I think when you're struggling for a job employment, drugs can be a way to make money, and so people try to use the gang to keep it more organized, but everyone has different individual pursuits," Durán said. "No gang I've seen, except for Chicago and Los Angeles and in Mexico with the cartels, were organized to have a gang specifically as their prime purpose."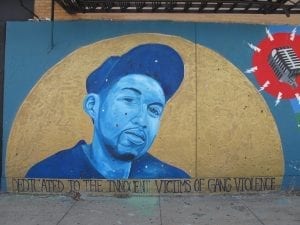 Erland said that long term drug conspiracy investigations decrease gang violence by removing individuals driving up the crime rate from the community.
"The commodity of gangs is drugs, illegal drugs, and there's obviously violent crime that's attached to that just by the nature of the business," he said.
Divides remain along racial lines
Durán said that Knoxville's gang problem, which certainly exists, stems partially from a division between white and Black communities.
"There's this concept called divergent social worlds, that the Black community and white community are still very segregated," Durán said. "So I think the experience between the Black and white sections of Knoxville also have very different social environments, interactions with law enforcement, schools, housing, treatment by the police, the ways to handle disputes."
"Divergent social worlds" is a term coined by sociologists Ruth D. Peterson and Lauren J. Krivo in their National Neighborhood Crime Study of the same name, which says that Black Americans are more likely to live in areas with very high disadvantage, while white Americans are more likely to live in areas with very low disadvantage.
The theory also states that racial and geographical separations maintain inequality in community crime rates, which may foster distrust in law enforcement in marginalized groups and impoverished areas.
As such, gangs often carry out their own retribution, Durán said.
"If you don't trust the justice system, and you have to have your own form of protection and to handle problems, (then) I think the state isn't usually always seen as the best way to be able to handle some of the problems that go — one, because that oftentimes does not lead to closure or correcting those social ails that exist in the community that often enhance some of the problems going on," Durán said.
The ebb and flow of gang violence can be a symptom of that divergent society, as violence within a gang community often begets more violence. The string of shootings in September may be an example of this phenomenon.
"Acts of violence often heighten other acts of violence, so reciprocate each other," Durán said. "When different points happen, retaliation, pressure to retaliate, a sense of trying to get justice, that doesn't necessarily come through the criminal justice system but through people's communities and friendships and family."
Young, Black men are most likely to be victimized by gang violence, Durán said. Typically, people join gangs as a result of where they live and the ties that exist within their close circles. Gangs develop locally and are separated geographically in Knoxville, such as by neighborhood lines and freeways.
Members usually fade out of gang activity with age, although aggravating circumstances, including incarceration or close proximity to rival groups, can increase involvement, Durán said. Most gang activity involves petty crimes and misdemeanors, such as vandalization or loitering.
The search for a solution
Gang activity, though incredibly common in certain communities, can lead to devastating loss. In 2015, 15-year-old Fulton High School football player Zaevion Dobson died after protecting three girls from bullets during a gang-related shooting. Three men were later convicted of his murder.
After this tragedy, the Knoxville community searched for a solution to the violence that claimed the life of the young boy, who was dubbed a hero by many.
"The community was really desiring more resources and more jobs and better housing and opportunities, too, for their kids in schools and communities, and I think a lot of the people listen but (are) really not being able to correct those issues that seem like they've existed at least since the 70s in Knoxville, those divergent social worlds of Black Knoxville and white Knoxville," Durán said. "It seems like that was a difficult topic to get city leaders to recognize."
Durán doesn't see a punitive approach as the solution to gang violence. The demographic most likely to be victimized by gang violence, young Black males, is also most likely to experience criminal punishment.
Because incarceration leads to retained gang membership, punitive measures may exacerbate the problem.
"The main approach that they've used in Knoxville is punishment," Durán said. "They think if they come down hard and lock a lot of people up that it will fix the issues, but I haven't seen that working, so I think they need to think of some more community development and resources and ending a lot of that inequality that exists between Black and white in Knoxville."
Erland maintains that long term drug investigations and the removal of repeat violent offenders from the community through the criminal justice system as solutions to gang violence and urges citizens to notify KPD of suspicious activity.
"Let us know and let us address it," Erland said. "We all just have to work collectively together for the safety of the community. These things shouldn't be tolerated — these shootings that happened, these bad actors in the community who are shipping in or allowing illegal drugs to do what they do to the community, because that's a whole other story, when you talk about the many ways other than violent crime that these illegal drugs impact the community."
Whether driven by side-effects of COVID-19, racial disparity or the combination of those, gang violence continues to pose a real threat to Knoxville.