Best outdoor study spaces on campus
Some safe and peaceful outdoor study areas on campus.
Wondering where you could study on campus next semester? UT's beautiful campus makes it so easy to find a perfect study spot. Here are a few you might fall in love with.
 Hess courtyard
This spot is a perfect distance from the library for a change of scenery during long study sessions. With only two tables and a swinging bench, it is a secluded introvert's dream. The courtyard is located between Pedestrian Walkway and Melrose Avenue. If you are walking from Melrose, go past the Hess entrance towards Hodges and through the arches. However, there is a basketball court nearby that could result in noise and interrupt studying. But if you catch this spot at the right time it is not only private but quiet.
Gazebo next to PCB
Ever catch yourself in need of a late-night study sesh? Then you should head over to the gazebo by PCB. If you're walking from Brown Residence Hall near the Chick-Fil-A Express entrance, just look to your right. This spot is perfect for portable hammocks as there are plenty of hammock stands. However, if you don't, there are still benches. This gazebo is pretty at night and during the day.
 Hammock central
Hammock Central, located right in between the Art and Architecture Building and the Humanities and Social Sciences Building is perfect for anyone with a hammock. Often you will find these trees full of college students hanging around and working hard. If you are a person who loves to study with a buddy, then encourage them to hang on a nearby tree too.
HSS
The HSS lawn and tent is by far the most popular study site on campus. If you love collaborative efforts then this is the place for you! You'll often find groups sitting in the amphitheater or even in the chairs under the tent. This is a campus appointed "outdoor study space" so if you do study here, it is respectful to keep the noise level low.
Waterfall Oasis
This small study space, also known as Blueberry Falls, consists of many tables and a great view. This spot is directly off Pedestrian Walkway, right across from the Haslam Business Building. The miniature waterfall allows for soothing background noise when studying. Not to mention, it is just a 15-second walk from Neyland Stadium. This space is perfect for group studying or to take a break on your own.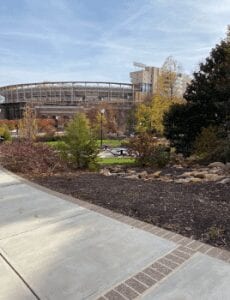 Student Union
Right by the Waterfall Oasis is the Student Union Courtyard. This spot has benches and tables for all to sit. The courtyard is another popular spot for students, so be prepared to be around groups. This location is perfect because it is right next to the Student Union Starbucks in case you need a caffeine boost.
Ayres Hall
If you're looking for a secluded study session, Ayres Hall is for you. Last, but certainly not least, this spot has everything. First, there is a beautiful view of the hall itself. Because this is a designated study space, it is respectful to keep the noise down when studying. You can choose to sit under a tent or even grab a blanket and sit on the beautiful lawn. This spot is perfect for time-management when studying because the clock goes off every 30 minutes.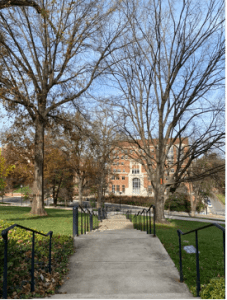 Edited by Maddie Torres and Gracie-Lee Strange
Photos Courtesy of Erin Sass.
Featured Photo Courtesy of Donna Mitchell.