Garth Brooks tour breaks Neyland Stadium record
Garth Brooks arrived at Neyland Stadium with 84,000 fans, breaking a Neyland record.
Garth Brooks made University of Tennessee history. Brooks performed on Rocky Top on Saturday, Nov.16.
"Our entire crew, when they heard we were coming to Knoxville, went crazy," Brooks said.
Prior to the concert, over 84,000 tickets were sold, breaking a Neyland record.
"When you're dealing with a stadium of this size, everything is bigger. The numbers are bigger, the production holds are bigger. The number of people who showed up today was bigger," Brooks said to WBIR. "I can only hope this means the fun in this stadium is going to be bigger than I can imagine!"
UT Student Soundcheck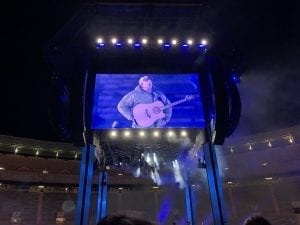 On Nov. 15, Brooks invited UT students to attend his exclusive soundcheck before the concert on Saturday night. Students RSVP'd to reserve one of the limited seats through the UT Student Rewards app.
Brooks, whose last performance in Knoxville was in Thompson-Boling Arena, was excited to perform in Neyland Stadium.
"Holy crap! I get to step inside Neyland Stadium," Brooks said during the show.
'The BEST night of the BEST week!'
Garth Brooks fans bustled around campus on the afternoon of Nov. 16. Fans tailgated, spent time on Cumberland Avenue and made their way to Neyland Stadium for the show.
Brooks, in a Tennessee orange button-up shirt, told the audience that his Neyland performance made it "the BEST night of the BEST week!"
At that moment, he was referencing his win of the CMA Entertainer of the Year award earlier that week. Brooks has won the award seven times, more than anyone else in the history of the award show.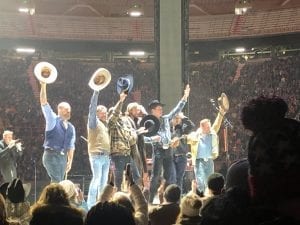 Jon Pardi opened for Brooks with eight songs including popular songs such as "Night Shift" and "Dirt on My Boots" and new releases like "Heartache Medication."
"I woke up and thought 'wow what a gorgeous, sunshiny day,' but there's gonna be thunder rolling tonight," Brooks said as he began "Thunder Rolls."
The setlist was packed with Brooks's greatest hits and covers of his favorite songs such as "Fishin' in the Dark" by the Nitty Gritty Dirt Band and "Two of a Kind" by Dennis Robbins.
At the end of the night, Brooks took song requests from fans as a part of his 'cleaning house' tradition at the end of each show. He performed songs such as "Wrapped Up in You," "American Pie," "She's Every Woman" and "Wild Horses." Brooks was joined by long-time fiddle player Jimmy Mattingly to perform the big orange anthem, Rocky Top.
Edited by Grace Goodacre and Ainsley Kelso
Featured photo by Madison Adkins