Opinion: "The Man Who Lives Here is Loony" boasts excellent storytelling, near-flawless star performance
Jay Malone analyzes "The Man Who Lives Here is Loony," which recently debuted at the Knoxville Museum of Art.
Many students around the University of Tennessee associate the name James Agee with the street that runs through Fort Sanders; but, in actuality, the man bearing the name is a highly regarded author, journalist, film critic and a host of other creativity-focused titles.
Back in the 1980's, fellow poet R.B. Morris wanted to capture the importance of James Agee, and proceeded to do so by writing a one-man play. Thirty years later, this play has been resurrected and is being performed at the Knoxville Museum of Art, with the star being Joe Casterline with musical accompaniment by bassist Taylor Coker.
The Man Who Lives Here is Loony is the name of the play, a phrase derived from an anonymous painting left on the door of James Agee's apartment in Brooklyn back in the early 20th century.
During the play, Agee ponders on why this was left on his door. Whether it is due to his consistent work effort, or possibly because he brought a goat to his apartment. With it being a one-man play, the entire show is a character study of what was going through Agee's mind as he lived through a tumultuous time in US history.
He begins with analyzing religion and what it takes to find beliefs that match your character. In between drags of cigarettes and glasses of whiskey, multiple questions are asked that dive into Agee's mindset and his constant struggle to find himself, all while being overly dedicated to his work.
As the play continues, the amount of whiskey poured into the glasses gets larger and larger, a subtle hint at an over reliance on alcohol, just one of the many thematic principles that arise throughout the entirety of The Man Who Lives Here is Looney.
Building a sustainable narrative throughout a one-man play has to be an intimidating endeavor, a goal that seems next to impossible. But, Morris has done a great job with The Man Who Lives Here is Loony by establishing an early connection with Agee through his struggles to get his work done and being overly critical of his own work. From there, the story bobs and weaves through more personal issues like marital status, ostracizing oneself from the outside world and even his scare of a nuclear war. During which he draws intriguing comparisons between the atom bomb and Adam and Eve.
Casterline has been performing in theatrical performances for over 20 years, and it shows. He embodies the character excellently, never stumbling over a line all while maintaining a connection with the audience in front of him.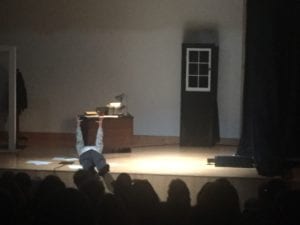 The times where he breaks the proverbial "fourth wall" and tosses items into the audience (paper, cigarette, etc.) are some of the most memorable, such a small action goes a long way. As you see Agee fall deeper into a manic state, Casterline roams around the stage, even laying down on his back while reciting lines. One would assume there's only so much energy you can give throughout a one-man play, but Casterline makes the work look elementary.
Casterline's performance was only built upon by Coker, who followed Agee's every move. His thumping strings accompanied every movement of the main character very well, and helped build an atmosphere around whatever the current topic was. Coker and Casterline worked together expertly, all without any clear communication between the two.
Informing the public of a figure throughout history is something many forms of storytelling try to accomplish, but doing so while keeping the viewer fully entrenched in the narrative is tough. James Agee is the perfect figure to form a one-man play about, and R.B. Morris did a great job bringing to life a figure filled with strength, drive, sadness and dedication.
The Man Who Lives Here is Loony is playing at the Knoxville Museum of Art. The remaining dates are:
Oct. 30 – 3 p.m.
Nov. 3- 7 p.m.
Nov. 6 – 3 p.m.
Photos by Jay Malone
Edited by Kaitlin Flippo