Beverly Davenport selected as next Chancellor at UTK
The University of Tennessee's next chancellor will be Beverly Davenport. The first female leader of UT will be formerly recommended by President Joe DiPietro on Dec. 15.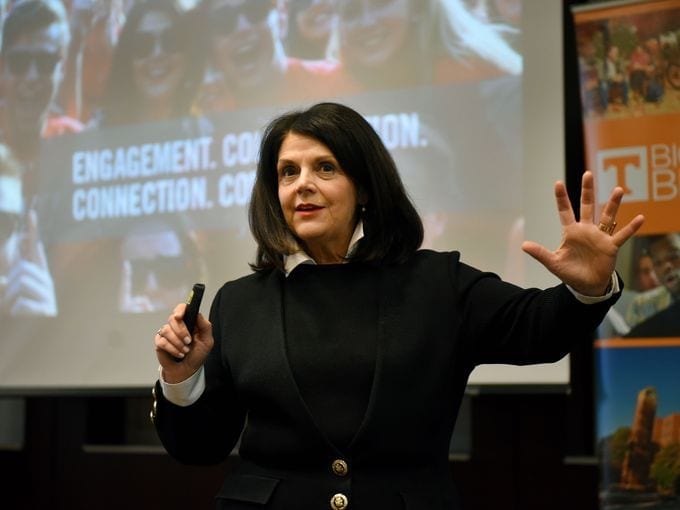 After a long process, Beverly Davenport has been selected to be the next chancellor of the University of Tennessee by President Joe DiPietro, with a formal recommendation coming to the board on Dec. 15. Davenport will be the first female to lead the University of Tennessee campus.
Since 2013, Davenport had acted as the interim president at the University of Cincinnati, a school with an enrollment of 44,000 students. During this time, the university saw graduation rates increase, as well as record enrollment numbers. On top of that, the number of female faculty members doubled during her tenure.
Davenport will head to the University of Tennessee after a chancellor search that led to three candidates being looked at closely. After all three visited the university, DiPietro concluded Davenport would be the best choice. The other two candidates were Alexander Cartwright, provost of the State University of New York system, and Pamela Whitten, provost at the University of Georgia.
In a statement released through UT, the new chancellor reassured that she will continue trying to make Tennessee a top public university.
"The excellence and energy on this campus are truly contagious — from record-breaking enrollments to stellar research and innovation programs, to one of the most recognized and respected athletic brands in the nation," she said. "UT's story of success is ready to be told in even bigger and bolder ways. I am inspired by their confidence in my abilities to help them reach their goal of becoming a top-tier public research university."
In an open-forum during her visit to the university, Davenport spoke on some of the recent Pride Center vandalization, stating that she "…can only work at a place where everybody feels welcome and safe."
She continued, "I am a person who has written about and studied civility for the last 20 years. If we cannot model and study and make our places, campuses, where everybody feels safe and welcome and vibrant — we must model that now more than ever."
Originally reported by the Knox News Sentinel, Davenport will be making a base annual salary of $585,000 per year, more than President DiPietro who sits at $513,344 per year.
Davenport will be seceding current chancellor Jimmy Cheek, who has been in the position since 2009.
Featured Image by Michael Patrick/News Sentinel
Edited by Kaitlin Flippo