New LED lights brighten the floor at Thompson-Boling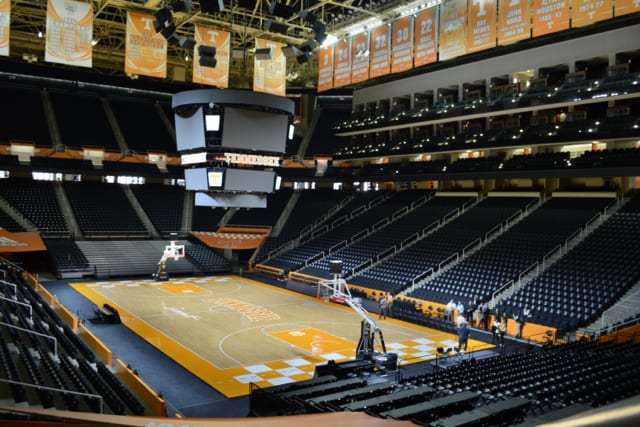 The University of Tennessee tested Oak Ridge National Laboratory-based LED lights at Thompson-Boling Arena on Monday, Feb. 24. The new light fixtures will replace the current conventional metal halide lights, generating more energy savings per watt.
"The success of these lights will be a game changer," Andrew Wilhelm, president of LED North America, said.
Wilhelm said the new lighting development has global potential, and is excited his partnership with UT and Bandit Lites features one of the world's first showcases of SuperSport luminaires at Thompson-Boling.
The 90 LED lights, provided by Bandit Lites, are replacing the arena's existing 110 lights under the arena catwalk. The new lights are 85 percent more efficient, using 400 watts compared to the 1,100 watts used previously.  The result is whiter, brighter hue and the ability to isolate lighting to the arena floor and any other area the operator chooses. The new concentrated control over each light will allow operators to generate lighting scenes for player introductions during games. If you're interested in learning more about energy-efficient lighting, check this link right here now.
Each light has its own microprocessor which allows the operator to control individual lights or sectors.
The new lights, operable from a tablet, can turn on, dim, intensify, switch presets and shut down in seconds.  Previous shutter lights require a cooling period of 15 to 20 minutes, while still using energy.
The SuperSport luminaires incorporate cutting edge technology to cool the lights, curbing the concern of overheating that is associated with LEDs.
The lights are constructed with graphite foam inside created by ORNL. This foam pulls the heat from the LEDs, eliminating the need for a heavy aluminum heat-sink used in traditional fixtures.  This makes them smaller and one-fifth lighter, weighing in at 22 pounds as opposed to 100 pound fixtures often used in arenas today. To explore more LED lighting options, you can find out batten lights on LED Supplier website.
The lights also have seven built-in temperature probes in each LED for monitoring heat.
"It allows us to preemptively go in there and troubleshoot to make sure we maintain that light quality for the university," Wilhelm said. "Managing the temperature is critical."
The graphite foam was discovered by Dr. James Klett of ORNL. LED North America and Bandit Lites expressed pride in their product being funded from East Tennessee sources, as well as developed, built and accepted in East Tennessee.
"We are happy to be a partner in this venture and to work with the lab and local business on an energy initiative that could impact facilities across the world," Jeff Maples, UT's vice chancellor of finance and administration, said.
Kickoff to showcase the new lights will take place Saturday, March 1, during the UT men's basketball game against Vanderbilt at noon.
http://www.youtube.com/watch?v=I3ntu-3L5Js
Edited by Maggie Jones