Arcomusical sextet performs at UT
The Arcomusical sextet performs at UT on Oct. 28 to demonstrate the sounds of the berimbau instrument.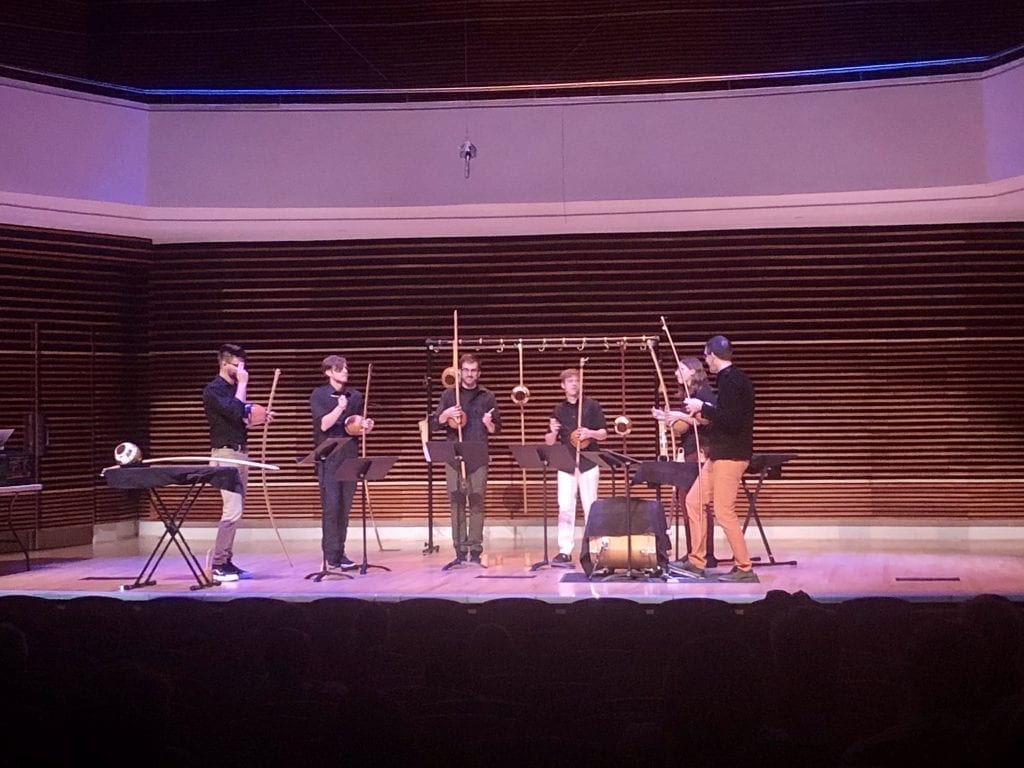 On Oct. 28 at the Sandra G. Powell Recital Hall, a sextet titled "Projeto Arcomusical" preformed their pieces from the Arcomusical repertoire.
Arcomusical played the Afro-Brazillian berimbau musical bow, the main piece used to create their music, as well as other small shakers to add to their sound.
The sextet played several pieces on stage, some all together and some individual or as a group of three.
In between each piece, the founder Greg Beyer talked about each set they preformed and the meaning behind them. He was able to describe to the audience that playing the berimbau was very "intimate" because the gourd is facing toward the stomach area allowing the player to feel the sound.
From the audience's perspective, this performance was able to reach them in many different ways.
"It was very educational for me," audience member, Amy Boles, said. "Learning what the instrument was, how they were playing it, and how it has traveled around the world."
Beyer invited the audience to join him and the other members on stage after the performance to play and learn about the instrument as well as ask questions and get to know the sextet.
One audience member named Jeff Hecht was playing the instrument on stage after the concert and had a few words to say about the Arcomusical performance as well.
"They were able to take this simple folk instrument that normally has one or two notes and turn it into something that sounds like a harp," Hecht said. "You're not just sharing the instrument, you're in a sense sharing yourself with this music."
This statement was a common theme in the audiences responses to this performance. The instrument involves the body to create some of the sound and it allows a connection to the person creating this sound.
Beyer was able to speak more on this connection.
"It is a kind of a spiritual connection. If we connect in such a positive way to so many people and give them a goof experience, well then those vibrations that come from the instrument spread through to people and touch people in a real way," Beyer said.
Edited by Grace Goodacre and Maddie Torres
Featured photo by Emilee Cronan