Lady Vols honor seniors and Mickey Dearstone during pregame festivities
Before Tennessee's matchup with LSU, the Lady Vols commemorated seniors, Alexus Dye's 1,000 points and Mickey Dearstone in front of those in attendance.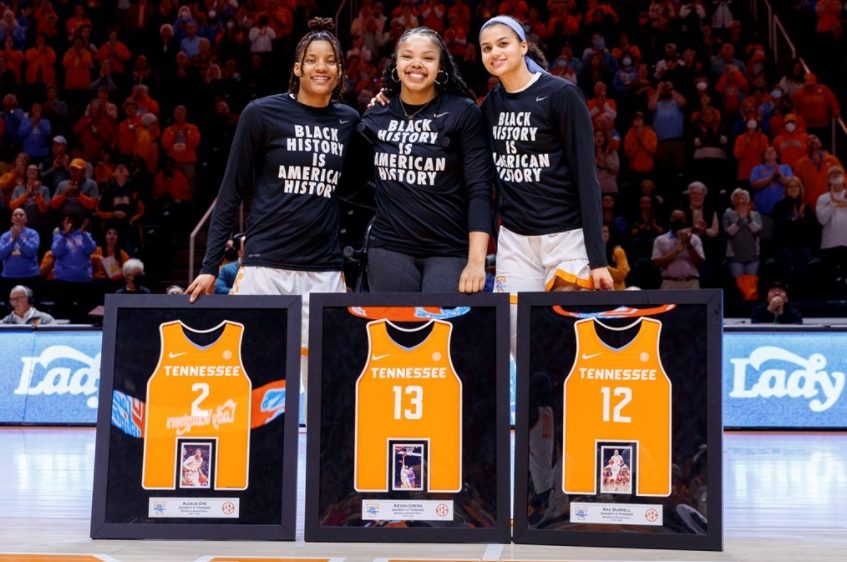 Prior to No. 16 Tennessee's (22-7, 11-5 SEC) 57-54 loss to No. 8 LSU (25-4, 13-3 SEC), the Lady Vols hosted a handful of pregame ceremonies honoring many for their hard work.
Senior Day
The final regular season game at home for Tennessee was an opportunity to reward the departing seniors for their hard work as Lady Vols.
With Jordan Walker's recent announcement of her decision to return for a final season, this left three seniors to take part in the festivities.
The first was Keyen Green. Green spent her first four seasons at Liberty where she made a lasting impact on the Flames' program. She started 91 of her 93 appearances and finished ninth in program history for points, 10th for rebounds and eighth for double-doubles and 20-point games.
As a Lady Vol, her career was unfortunately shortened due to season-ending injuries in both of her seasons. This resulted in just 23 appearances at Tennessee. However, it was the connections she made off of the floor that has made a lasting impact on everyone she has come in contact with.
"Thank you for being the momma bird," said Jordan Horston in a tribute video shown before the game. "Being the shoulder that I can lean on and talk to."
Green's vocal leadership and bond with the team were crucial throughout the season. It was a key component in the six come-from-behind wins Tennessee pulled off while trailing when entering the fourth quarter.
Off of the court, she is also working on obtaining a Ph.D. in leadership studies.
Keyen Green is honored as a part of Senior Day festivities: pic.twitter.com/IytgcmdY5l

— Ryan Sylvia (@RyanTSylvia) February 27, 2022
Following Green, was another transfer in Alexus Dye. Dye started her career at Gulf Coast State where she was named the MVP of the 2019 NJCAA National Tournament as a part of the Commodores championship season.
After two years with the program, she transferred to Troy to continue her career at a Division I level. While at Troy, she continued to excel. In her second season there, she was rewarded with Sun Belt MVP and Sun Belt Tournament MVP.
This led to Dye becoming a highly coveted transfer in the portal before ultimately deciding to become a Lady Vol. She started each game this season for Tennessee averaging 8.9 points and 7.2 rebounds.
Besides her on-court production, she also became a teammate favorite for her sense of humor and charisma.
"Snoop! My girl, thank you for being unconditionally you," said Walker in a tribute video shown before the game. "Whatever room that you walk in, you're always true to who you are and I think it's so important that you've shown us all that."
This combination of being a presence in the locker room and on the court is something that will be missed going forward.
Alexus Dye is honored as a part of Senior Day festivities: pic.twitter.com/eXPGlERgp5

— Ryan Sylvia (@RyanTSylvia) February 27, 2022
Rae Burrell was the final Tennessee senior to be honored. Burrell has spent her entire career as a Lady Vol and is the final player still on the roster who also played for Holly Warlick. She has been a prolific scorer throughout her career where she quickly became a fan favorite.
However, in this year's season opener, Burrell suffered an injury that sidelined her for a chunk of the season. She slowly has worked her way back into the starting lineup where she is once again finding her rhythm. With Jordan Horston's injury, Burrell has taken on a scoring load, leading Tennessee in points in big moments like their battle with South Carolina.
"I'm just really thankful for you because you've taught me what it means to be a Lady Vol," said Sara Puckett in a tribute video shown before the game. "You've been here for four years. You know what it takes to carry that chip on your shoulder and I'm really, really thankful to be able to learn that from you and learn the poise and control that comes with it."
Rae Burrell is honored as a part of Senior Day festivities: pic.twitter.com/ahqCFQ9p3s

— Ryan Sylvia (@RyanTSylvia) February 27, 2022
To wrap up Senior Day, Tennessee continued a long-standing tradition of honoring the opponent's graduating class, as well. Kellie Harper presented flowers to reward LSU's seniors for their hard work.
Alexus Dye's 1,000 Career Points
On top of being honored during Senior Day, Dye was awarded a commemorative ball celebrating hitting the 1,000 point mark in the win over Mississippi State. This total is her combination of points in her time at Troy and Tennessee, but does not include her two seasons at Gulf Coast State.
She is the third Lady Vol to reach the mark this season along with Walker and Burrell.
Mickey Dearstone Retirement
After 23 seasons as the "Voice of the Lady Vols", Mickey Dearstone has announced his retirement from his position as the play-by-play radio announcer for Tennessee women's basketball. He spent 23 years as the sole voice on the broadcast and 30 years as a part of the program.
As the "Voice of the Lady Vols", Dearstone was a part of five national championships (1996, 1997, 1998, 2007, and 2008), 10 Final Fours, 17 Elite Eights, 12 regular season SEC championships and 11 SEC Tournament championships.
Prior to the game, Dearstone was celebrated by those in attendance for his dedication to the program. Kellie Harper also presented him with a jersey as some of his iconic calls played over the speaker.
The Voice of the Lady Vols, Mickey Dearstone, is honored before the game after announcing his retirement.

Turn on audio to hear some of his iconic calls. pic.twitter.com/K3F4LjSd2X

— Ryan Sylvia (@RyanTSylvia) February 27, 2022
"I'll be a basket case," said Dearstone before the ceremony. "It's going to be tough. I'm 68 years old and I'm losing something I've done half of my life, almost. It's going to be tough. It already is."
This was the final regular season game for Dearstone but he will continue to call games through the SEC and NCAA Tournament before he hangs up the headset for good.
Featured image courtesy of Ian Cox/UT Athletics
Ryan Sylvia is the Sports Editor at TNJN. He is a senior at the University of Tennessee, Knoxville majoring in journalism and electronic media. Although he spent most of his life being raised outside of Philadelphia, he was born in Knoxville, and he is happy to be back home. Ryan has had a love for sports from an early age, and he found his love for writing in high school while taking journalism classes. He hopes to find a job involving both his passions as a sports journalist after graduation. To reach Ryan, email him at rsylvia@vols.utk.edu