Vol fans help Tennessee overcome Auburn in big win
Zakai Zeigler and Rick Barnes give props to the Tennessee fanbase after the Vols locked down the Tigers in the second half.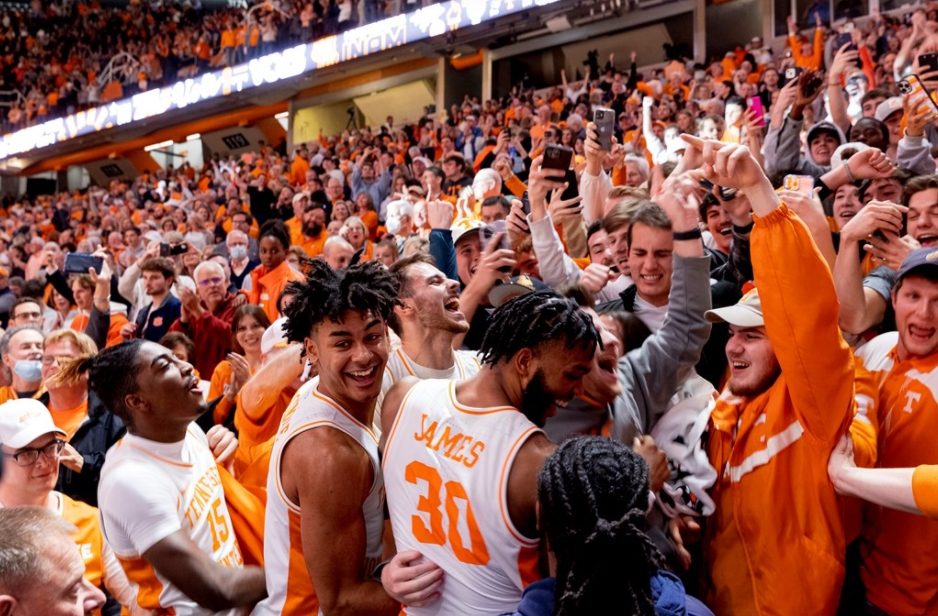 With 16 minutes remaining, Tennessee found itself down 11 to Auburn. Instead of letting this take the energy out of the team, the Vols responded with a defensive performance that flipped the game on its head.
This resulted in No. 17 Tennessee (21-7, 12-4 SEC) surging to a 67-62 win over the No. 3 Tigers (25-4, 13-3 SEC) on Saturday to stay undefeated at home.
The comeback was spearheaded by a smothering Volunteer defense that caused 12-straight missed field goals during an over nine-minute period of time in the second half. This led to a 17-2 run that catapulted Tennessee into a four-point lead.
Following the run, Auburn was never able to reclaim a lead. The Tigers largely continued to struggle from the field, ending the second half on 33.3% field goal shooting and 20% three-point shooting. Outside of Jabari Smith, K.D. Johnson and Walker Kessler, nobody on the Tigers was able to find the bottom of the hoop in the final half.
Tennessee freshman Zakai Zeigler played an important piece in silencing the Auburn offense. The 5-foot-9 guard was able to stay in front of the Tigers' speedsters Johnson and Wendell Green Jr. He was also able to get his hands on three steals while shutting down lanes and contesting shots.
However, Zeigler gives the defensive credit to the over 20,000 fans in Thompson-Boling Arena.
"It's just giving us a boost like we have another teammate on the floor," said Zeigler on the fans getting loud on defense. "That just makes us feel like now we know we're definitely going to get a stop."
The extra energy from the crowd was such an impact, even Tennessee coach Rick Barnes admitted it made a difference.
"I've never alluded to a crowd (to my team). I don't know if I've ever done it in my career, to be honest with you. I don't know why I did it today, but I did say that during a timeout," said Barnes. "I said, 'If you guys will come out of here and get it and turn it up on the defensive end and make some things happen, this place will come to life.' And it did."
This homecourt advantage is nothing new for Tennessee. The win moves them to 15-0 at home on the season. This includes wins over No. 6 Arizona, No. 13 LSU, No. 4 Kentucky and now No. 3 Auburn.
Vol players showed appreciation for the difference the fans have made by storming the student section after the game. This is the second time they have done this post-win, after they joined the students following their win over Kentucky, as well.
"It felt good," said Tennessee forward Brandon Huntley-Hatfield on the celebration. "Rocky Top is the best fanbase in the country. They were with us for the whole 40 minutes and we came out with a W."
On top of a win over a top-five opponent, this one may have possibly felt a little bit sweeter for Tennessee fans. The victory against Auburn comes over former Vols coach Bruce Pearl. Pearl has recently been a thorn in the side of Vol basketball as he was able to take down Tennessee in six-straight contests heading into Saturday's game.
Thompson-Boling Arena will open for the final time of the regular season on March 5 when the Vols host a rematch with No. 18 Arkansas. The game has been announced as a "Checker TBA" game and will tip-off at noon on ESPN.
Featured image courtesy of Andrew Ferguson/Tennessee Athletics
Ryan Sylvia is the Sports Editor at TNJN. He is a senior at the University of Tennessee, Knoxville majoring in journalism and electronic media. Although he spent most of his life being raised outside of Philadelphia, he was born in Knoxville, and he is happy to be back home. Ryan has had a love for sports from an early age, and he found his love for writing in high school while taking journalism classes. He hopes to find a job involving both his passions as a sports journalist after graduation. To reach Ryan, email him at rsylvia@vols.utk.edu