Notebook: No. 18 Vols complete commanding sweep of Iona
Iona provided no competition for Tennessee. The Vols swept the three-game series with an average margin of victory of over 21 runs.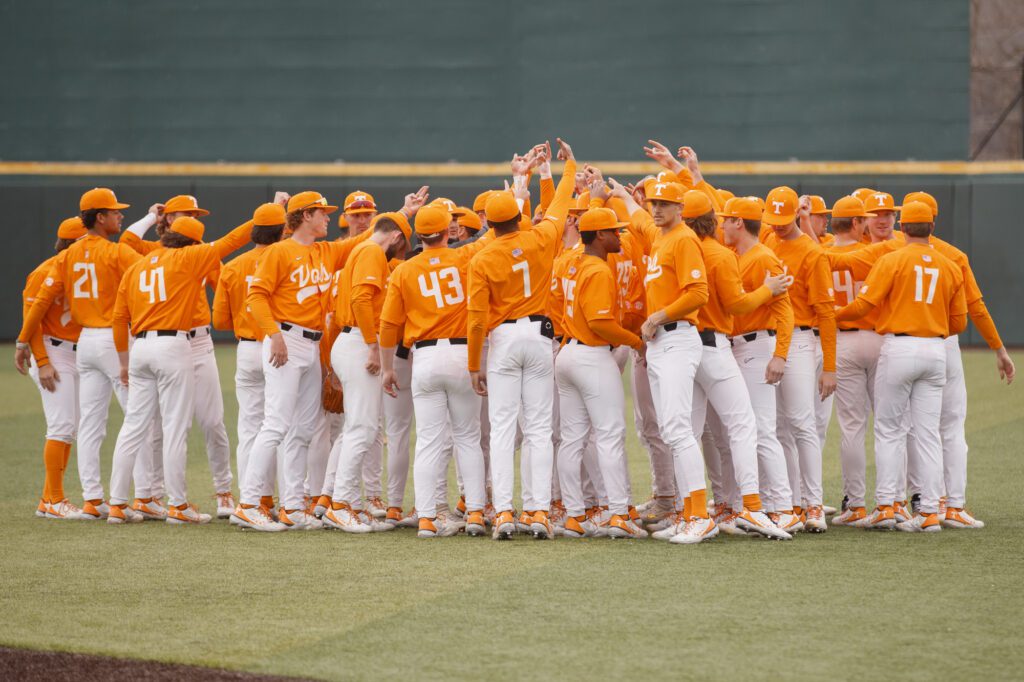 No. 18 Tennessee (7-0) completed a sweep of Iona (0-6) on Sunday afternoon with a 12-2 victory at Lindsey Nelson Stadium. This weekend was so dominant that a run-rule was implemented for game three, which ended after seven innings.
Runs, runs and more runs
Tennessee's offense broke a 113-year program record this weekend by scoring 68 runs over the three-game series. The previous program record for runs in a three-game series was April 1-3, 1909 against Tusculum University.
The bulk of the runs came in games one and two of the series. The Vols scored 27 and 29 runs in those games, respectively. This was due to Iona's pitching being not good enough to match up with Tennessee's bats.
"More than anything, it was fun to watch the guys cheer each other on," Vols coach Tony Vitello said. "They made it so easy on us as coaches the first two days to put all the pieces where we wanted, and you felt really good at the end of both games. …It's never gonna be a perfect weekend, but a lot of good stuff from this weekend."
What impressed the team the most, though, was how the team responded to having such big leads all weekend. No players took any at-bats off or lost focus during the games.
"The energy was unmatched (in the dugout). We were locked in every pitch through every game," redshirt freshman Jared Dickey said.
Tennessee racked up 164 plate appearances over the weekend. The team drew 44 walks and only struck out 21 times.
"It's a sign of more character than skill," Vitello said. "For our guys to do that as opposed to trying to launch home runs or whatever it is, it's certainly encouraging."
Players getting opportunities
Many position players and pitchers got playing time over the weekend hammering of Iona. Most starters were out of the game by the fourth or fifth inning in all three games of the series.
One of those players was Dickey. He had been known to swing the bat well, but could not find a place on the diamond to play defensively. The Mount Juliet, Tenn. native started at catcher on Sunday and went 3-for-3 with two walks and four runs scored in the leadoff spot. It was the first game Dickey spent behind the dish since middle school.
"In the summer, I was in Charlotte and coach Vitello called me and said, 'What do you think about getting behind the plate again?'" Dickey said. "I was like, 'OK, I'm up to anything if it's gonna get me some at-bats,' so the process has been so good."
Vitello said being able to give players those opportunities is helpful for the depth of the team. Even if the opponent does not match up well, it gives them real game experience.
"You're getting information every day, even if that's just on the bench, in pregame or in practice," Vitello said. "But it's hard to argue that the most valuable information is not in the midst of a competition against another opponent. It's good for those guys to get their feet wet."
Firing on all cylinders
The Vols have been putting together complete performances all season thus far. The offensive explosion against Iona somewhat overshadowed the dominant pitching on display.
Tennessee's pitching staff only surrendered two earned runs in 25 innings pitched. 15 different pitchers took the mound throughout the series and combined for a 5.83 strikeout-to-walk ratio.
The coming week will bring an upscale of competition for the undefeated Vols. They face ETSU on Tuesday before traveling to Houston where they will see No. 1 Texas, Baylor and Oklahoma at Minute Maid Park.
"Every week is a big week," Vitello said. "It'll be a good opportunity to get back out there on Tuesday."