Vols cruise past UNC Greensboro and USC Upstate
A record-setting defensive performance against UNC Greensboro and an offensive explosion against USC Upstate gave Tennessee confidence prior to a matchup against Memphis.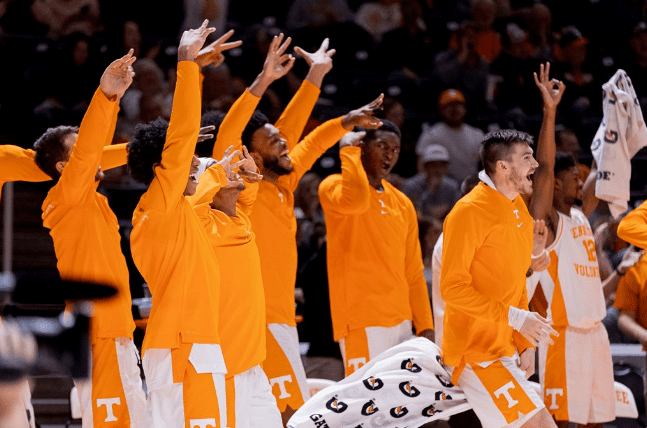 After Tennessee's disappointing performance in its loss to Texas Tech in Madison Square Garden, the Volunteers returned home to face UNC Greensboro and USC Upstate before their schedule picks up in intensity. Both games were dominated by Tennessee with 76-36 and 96-52 wins, respectively.
The two games concluded with big wins for the Vols by an average margin of victory of 42, but the results of each highlighted very separate aspects of this No. 18 Tennessee team.
Against UNC Greensboro, the 36 allowed points marked a Thompson-Boling Arena record for the fewest points given up to an opponent in a game. The Vols held the Spartans to just 37% shooting, but the real difference was the 25 turnovers UNC Greensboro committed. Tennessee applied heavy pressure, resulting in 13 steals and 32 points off turnovers. The Tennessee defense is currently ranked the No. 1 Adjusted Defense in the country from KenPom.com.
On the offensive side of the ball, Josiah-Jordan James and Brandon Huntley-Hatfield led the charge for Tennessee, and both players finished with 12 points on efficient shooting.
However, the real offensive explosion came just three days later in the Vols win over USC Upstate. The team's 96 points marked the most points scored in a game by Tennessee all season. The Vols shot a blistering 55.9% from the floor and 44% from 3-point land in the game.
This time, though, it was Olivier Nkamhoua leading the way for Tennessee. Nkamhoua finished just two points shy of a career-high with 21 points on a nearly perfect 9-for-10 shooting. However, his perfect shooting from deep is what stood out the most. He knocked down both of his attempts, bringing him to nine made long balls on the young season after making just one as a freshman, and not attempting any his sophomore year.
"I like (my 3-point shot). I think if I shoot it, it's going in. I work on it," said Nkamhoua.
This new ability to efficiently shoot 3-pointers could be critical for Tennessee. This allows Nkamhoua to unclog the paint while on the floor with John Fulkerson, who is inefficient from distance. As a team, Tennessee also began to fall in love with the 3-point shot, shooting the second-most deep balls in the SEC this season with 285. With this high volume of shooting, a consistent and efficient big man from behind the arch could be a game changer.
The most reliable player between the two games, though, was Kennedy Chandler. He combined for 24 points and 16 assists. He had the team-high +/- in both games and even notched a double-double with 15 points and 10 assists against USC Upstate.
He is the driving force behind an offense that is third in the SEC in field goals made per game. However, the schedule only gets more difficult from here, as Tennessee faces a tough gauntlet in the coming weeks.
The Vols start with a matchup in Nashville vs. in-state foe, Memphis. Then, they return home to take on No. 8 Arizona. Following that, the SEC slate begins with a matchup vs. No. 6 Alabama on the road. This stretch of games may be the toughest of Tennessee's season, and it could prove pivotal for this team filled with young talent.
This ramped-up level of competition made it more important for the Vols to take care of business against UNC Greensboro and USC Upstate. With both games ending in blowouts, coach Rick Barnes was able to empty the bench and give role players and reserves more minutes.
"Games like this really allow you to build your team chemistry," said Barnes. "The last two games we've been able to play guys. We have a very hard-working group of guys that care about each other. I think any coach would tell you when you have a group like we have, you wish you could play them all the minutes they'd like to play."
This experience could prove important later in the season for players who do not typically see big minutes. The long and grueling SEC schedule often calls for non-star players to step up in big situations. Next up for Tennessee is a bout with Memphis on Saturday at noon airing on ESPN.
Ryan Sylvia is the Sports Editor at TNJN. He is a senior at the University of Tennessee, Knoxville majoring in journalism and electronic media. Although he spent most of his life being raised outside of Philadelphia, he was born in Knoxville, and he is happy to be back home. Ryan has had a love for sports from an early age, and he found his love for writing in high school while taking journalism classes. He hopes to find a job involving both his passions as a sports journalist after graduation. To reach Ryan, email him at rsylvia@vols.utk.edu