A Bid to Open Access at UT's Sororities
As of August 2021, the University of Tennessee's Panhellenic Council began allowing students with disabilities to apply to be part of the recruitment process for the first time in the school's history.
Panhellenic recruitment at the University of Tennessee consists of a week-long detailed series of rounds that result in a values based process set to benefit both the new members as well as the 13 Panhellenic chapters. This process has often been stigmatized as an exclusive procedure consisting solely of young women who are considered to be privileged and advantaged.
Sororities at the University of Tennessee have been trying tirelessly to break down these stereotypes and become more inclusive. From cross council involvement to educational meetings, the Panhellenic community at UTK has been making an effort to be even more knowledgeable about diversity.
However, the biggest change came this recent semester prior to recruitment. Following the past 2020 Panhellenic recruitment process, students like Flora Mae Ayres decided it was time for a big change.
A junior majoring in special education, Ayres came up with the idea to include individuals in the schools' postsecondary education program, called FUTURE, in sorority recruitment. FUTURE is "a program that helps young adults with intellectual and developmental disabilities make a successful transition from high school to adult life," according to the university's website.
In order to ensure a beneficial process for everyone involved, recruitment is planned months and even years prior to the official start in August.
Ayres worked underground with the coordinator of the FUTURE Program Dr. Emma Burgin for months after the 2020 recruitment season ended to ensure the following year would be even more inclusive. Both Ayres and Burgin worked closely with the Panhellenic Community and Associate Director of Sorority and Fraternity Life, Jennifer Pierce, in order to accommodate the FUTURE program students.
"Basically our whole goal this whole year was to make sure that the girls got the same experience that everybody else does because that's truly what they deserve," Ayres said.
After working tirelessly throughout the year, by August 2021 the women were ready to join primary recruitment. Ayres explains how they were able to ensure recruitment ran smoothly with their new colleagues from the FUTURE program. "Basically this looked like the girls going through the whole recruitment process just as anybody else would of course, with a few accommodations, but everyone needs accommodations so that was just a simple thing to do to make sure the girls were as comfortable as possible" says Ayres.
The goal was to ensure that each woman going through the program would receive the same treatment and experience regardless of any disabilities. In order to do so, some accommodations had to be made aware of. Regardless of said accommodations, each woman was made to feel just as comfortable as the rest.
"Inclusion truly lives here at the University of Tennessee"
Abby Gatio, a junior in the Alpha Omicron Pi sorority, embraced the changes. "I enjoyed every second of it," Gatio said. "I've loved getting to know the FUTURE girls and just knowing my sorority has opened its eyes to be more inclusive and accepting is just one of the many reasons why I'm proud to be a part of this community."
As the 2021 primary Panhellenic Recruitment season commenced, three women with disabilities were inducted into three separate sororities on campus, those being Alpha Omicron Pi, Zeta Tau Alpha and Alpha Delta Pi.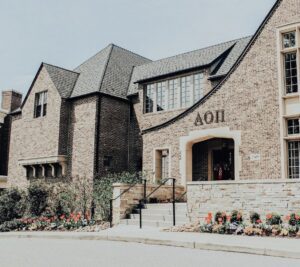 "I felt so honored to hand out our first ever bid to an amazing young woman in the FUTURE program," said Katelyn Sobral, presdient of AOII. "I love recruitment each and every year but this year will forever hold a special place in my heart. I'm so grateful to be a part of such an inclusive community that creates opportunities for every woman."
The experience was eye-opening for Panhellenic communities at universities across the nation. Not only was this experience a start to breaking down the stereotypes of sorority life, but it also began the transition into awareness and acceptance of those around us.
Tennessee Disability Pathfinder defines inclusion as accessible social, recreational, and creative programs that engage and inspire people of all abilities to become involved.
"From this whole experience I hope universities all around the world can look at what we have done and integrate the same experiences at their college. Inclusion truly lives here at the University of Tennessee," Ayres said.
Inducting each woman into one of the 13 Panhellenic chapters is not the end of this journey. Following recruitment, changes were made throughout the council, including the creation of a new leadership position encompassing mental health awareness, and education surrounding mental disabilities.
Alpha Omicron Pi inducted Ayres into the position of "Sunshine Chair".
"Here at Alpha Omicron Pi I am the sunshine chair, but that ultimately translates to the mental health and wellness of the chapter chair. So basically what that looks like is making sure that everyone is doing well mentally… And with that I have integrated some education ensuring we are doing things with a purpose and putting good energy out into the world past our inner circle of the sorority," Ayres said.
Moving forward, the hope is to see more inclusion throughout sorority and fraternity life. The University of Tennessee Panhellenic community plans to be one of the first of many who begin opening their doors to those with disabilities.