Carbon clad Vols dissect Gamecock defense with pace
Tennessee took one step closer toward establishing a tradition of crushing South Carolina while wearing black uniforms thanks to another dominant first half by the Vol offense.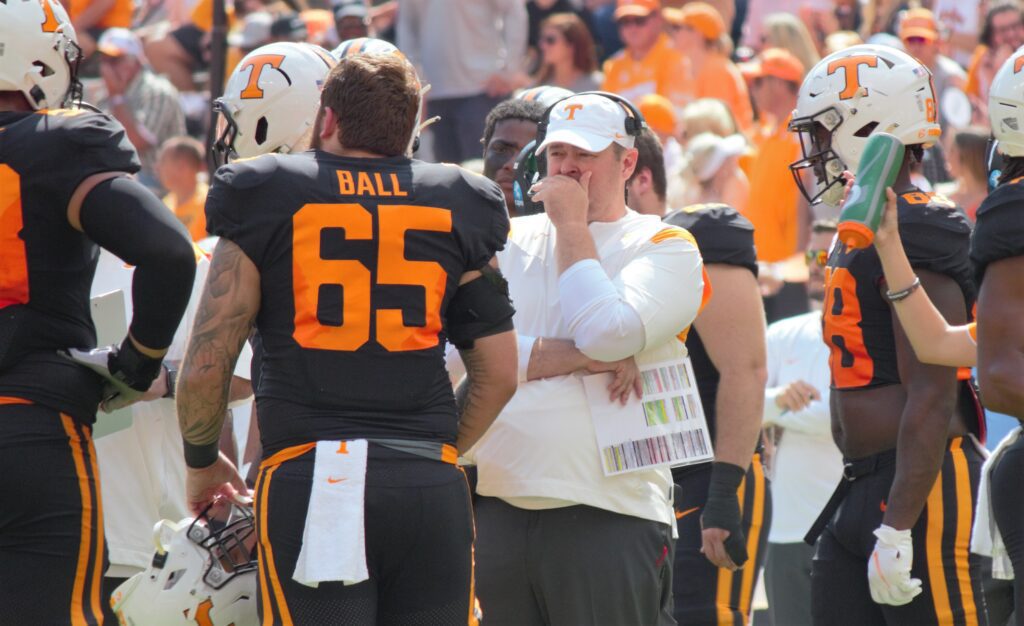 Tennessee (4-2, 2-1 SEC) took one step closer toward establishing a tradition of crushing South Carolina (3-3, 0-3 SEC) while wearing black uniforms by beating the Gamecocks 45-20 in Neyland on Saturday.
The Vols donned black Adidas alternates for the first time in nearly a century for their 2009 matchup with the Gamecocks, which Tennessee won 31-13, but the black alternates did not make another appearance until the Vols took the field on Saturday in black Nike uniforms.
The South Carolina defense was left scrambling in the first quarter once again as Vol ball carriers clad in black leaked out of the backfield or streaked open down the field on seemingly every play.
"I felt like a nighthawk," said Velus Jones Jr., who put up 91 yards and a touchdown on three catches and a rushing attempt in the first quarter.
Tennessee scored four touchdowns in the first quarter for the second week in a row, which doubled the team's first quarter output from the 2009 matchup with the Gamecocks. The Vols boast the No. 7 scoring offense in the FBS after six games (41.5 ppg) thanks in large part to coach Josh Heupel's high-tempo offense, which left the South Carolina defense in disarray.
"The tempo got us early and we had some guys misaligned on the big plays in the first half," South Carolina coach Shane Beamer said. "We had a couple communication issues on a couple long plays where we had a defensive back on one call playing one defense and the other guy's playing a different defense. That can't happen."
When paired with improved offensive execution on the field, Heupel's play-calling allowed Tennessee to pick up 227 yards on 25 first quarter plays while averaging just over six minutes per drive. Quarterback Hendon Hooker, who picked up 190 yards and all four touchdowns in the first quarter, said Tennessee came out energized and locked in from the jump.
"Having an upbeat tempo is our goal in every play. It's to go as fast as we can, literally, every play. When we do accomplish that, great things happen in the back end," Hooker said. "You can never get used to that on defense. It's impossible."
Heupel put the ball in the hands of his dual-threat quarterback early and often, particularly on first downs. Hooker dropped back on 10 first downs and ran the ball on five others before Heupel opted to hand the ball off to a running back to start a set of downs.
"It's a blessing," Hooker said on Heupel's confidence in him. "My teammates really help me out in the long run. The guys around me really elevate my game to another level, so with the ball in my hands and those guys around me, the whole team is feeling confident on the field."
Tennessee eased up on the pace after going into halftime up 38-7, and Hooker said the offense relaxed a bit in the second half. South Carolina used the break in the barrage to claw back to eventually lose 45-20 while holding Tennessee to just one second half score.
The Vols will not suit up in black when they face off against No. 13 Ole Miss (4-1, 1-1 SEC) at 6:30 p.m. this Saturday, but Heupel and Hooker will need to find a way to keep their whole offense locked in and energized for the duration of their upcoming dogfight with 2021 Davey O'Brien Award hopeful Matt Corral.
Edited by Ryan Sylvia