The Yak is back at UT
YikYak has returned following a four-year hiatus, but it remains unclear how YikYak will impact the campus community.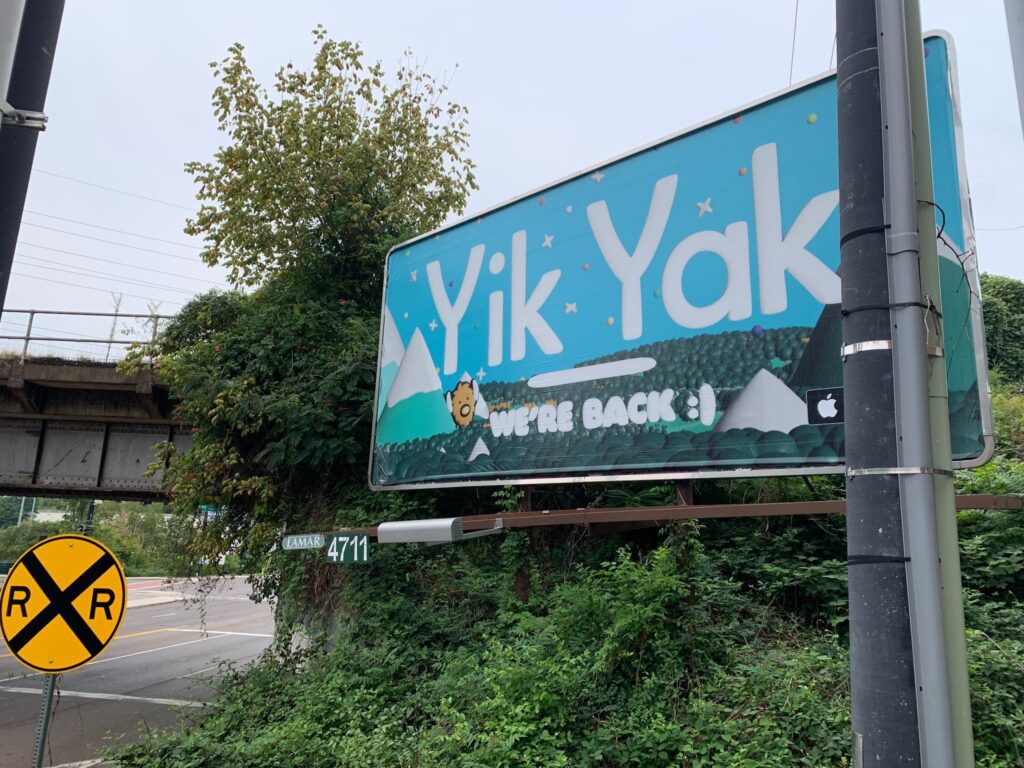 It's been four years since Yik Yak, an anonymous messaging app that displayed the power of gossip at college campuses around the country, was taken down. YikYak quickly became a sensation among students at the University of Tennessee, but it remains unclear how YikYak will impact the campus community.
Yik Yak is an anonymous messaging app that connects people within a five mile radius of each other. Users of the app have the option of upvoting or downvoting messages they see, which results in the posts with the most upvotes being featured on a special "hot" page for more to see. The format is simple, but the posts can be rather daring due to the anonymous aspect of the platform.
YikTak became hugely popular after it was launched in 2013. However, YikYak shut down in 2017 due to declining engagement. Now, Yik Yak is back with a new marketing plan.
Students on UTK's campus first began to notice marketing tactics from the company right before the Fall semester began. In order to reach more target audience, the company can also ask help from services such as Marketix Digital.
"We were at my sorority house when someone said we had a box addressed to us and we opened it and it was a bunch of promotional stuff addressed to our house. That's how I knew it was coming back," UT student Anna Scott said.
Along with the sending out of merchandise, a large billboard on Cumberland Ave. appeared to announce to students that the app is back. Yik Yak's marketing investments seem to be paying off, as posts are now streaming into the app constantly.
Some UT students said there were benefits to the app, but YikYak contains some content that could be harmful to certain individuals. Posts calling out people or groups in brash fashion are not uncommon.
"I do think it's good, especially for new freshmen being able to talk about things that might be awkward and they might not have friends to talk about with," Georgi Olson said. "There is a lot of negative talk on there as well. People will say stuff just because they're anonymous and will oftentimes put down people or organizations."
This pattern of negativity is not new to Yik Yak. Before the app was originally shut down, there were many serious incidents among different schools and college campuses. In 2015, a student at the University of Missouri was arrested after posting threatening messages on the app targeted towards black students. AtVirginia Tech, a student posted a message on Yik Yak threatening to repeat the 2007 shooting that resulted in the loss of 32 lives. Yik Yak has addressed these past events and discussed the importance of the bullying and harassment issue on their main website, making this a priority for their new era.
"On the new Yik Yak, it's against the Community Guardrails to post bullying messages or use hate speech, make threats, or share anyone's private information," the company website states.
As for the student engagement with Yik Yak on the UTK's campus, it seems to still be going strong after almost five weeks of school. Only time will tell to see if this new generation of YikYakers will continue on the legacy.
Edited by Christian Knox