Brian Maurer loves football through the pain
Brian Maurer's collegiate football career has been rife with struggles, both on the field and off the field, but the former University of Tennessee quarterback just wants to play the sport he loves.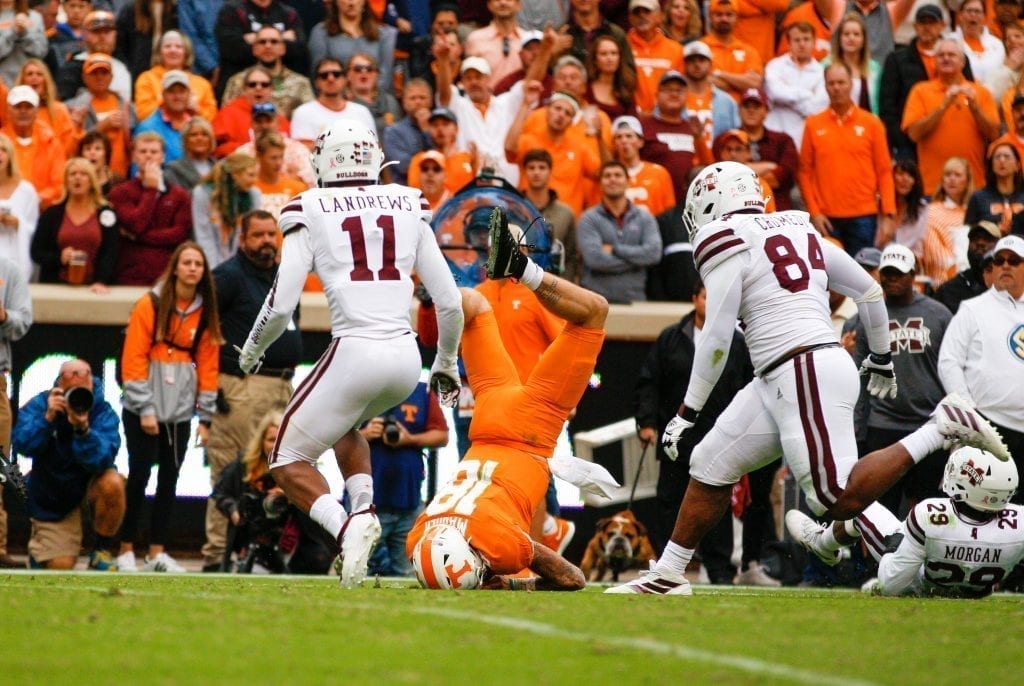 Brian Maurer is a soldier, at least in his mind. However, Maurer has not fought in any wars, nor is he enlisted in any army. His war is waged within the confines of his head. It is a war that pits mind against matter, and the further he pushes his matter, the more attrition his mind suffers.
The former University of Tennessee quarterback, who became a Stephen F. Austin Lumberjack in 2022, has dealt with depression and anxiety since he was 13. Playing quarterback at an SEC school brought its own set of problems to deal with, including a rabid fanbase and a surly head coach. He has also suffered numerous concussions in his football career, so many that a neurologist advised him to hang up his cleats. Despite all the problems football has brought him, the juice is worth the soft squeeze of a football in Maurer's hands.
"I feel I owe my life to the game of football," Maurer said in a December 2021 interview. "I consider it to be my happy place."
Before he fell in love with football, Maurer was a jiu-jitsu player and a junior national motocross champion from Ocala, Fla. His stepfather introduced him to football through some backyard pitch and catch, and by 10th grade he was a quarterback at West Port High School. Learning to play quarterback is not an easy task, but it was a much-needed distraction for Maurer.
"Where I come from, a lot of people don't make it out of the city, or they make it out and then they end up going back because they can't get rid of that lifestyle. And, you know, that almost cost me my scholarship just because I couldn't get out of that lifestyle that I was in," Maurer said. "From about 14 to 18-19 I was just caught up in a lot of bad things, wrong crowds, wrong people. Like I said, a lot of people don't make it out. They either rap or sell drugs or they end up in jail."
While Maurer combated the effects of his own decisions, he suffered from circumstances that were out of his control. When Maurer was 13, his father received his third felony conviction and was locked up for 25 years. A couple months later, his mother and stepfather split up. The man who taught Maurer to play football was no longer around and his mother was largely absent because of the long hours she worked. He could usually rely on his grandmother for help, but when she was absent, it was on Maurer to help his younger sister with tasks like getting to the bus stop in the morning. All of it led to mounting depression and anxiety. Then, he began losing friends to gun violence.
"The one that really hit me was my junior year my best friend, Dewayne Galloway. He took his own life and he was about a month away from graduating from high school," Maurer said. "I personally had no clue what he was going through and what he was fighting. I feel like that's because a lot of people, men especially, they stay silent just because they feel like they have to be the shoulder for other people to cry on, and that's what I did for a long time. When my sisters needed to complain and when my mom complained, I was there for them."
As Maurer grieved the loss of his friend, he tried to figure out where he would play in college. No athlete had ever signed to a Power Five school out of West Port High, but Maurer was heavily recruited by his junior year. He received invitations to multiple prestigious camps, including the 2018 Elite 11 quarterback competition. His performance on tape and in camps earned him offers from Texas A&M, Indiana and Pittsburgh. Despite all the ups, recruiting was a rocky road for Maurer.
He tried to commit to West Virginia as a sophomore but was told it was too early to commit. As a junior, he missed out on committing to in-state Central Florida because another quarterback committed five minutes before he picked up the phone. Maurer tried to commit to Ohio State going into his senior year, but coach Urban Meyer informed him that yet again another quarterback beat him to the commitment. Maurer considers himself blessed to have the opportunity to play at Tennessee in the end, but recruiting was just one more part of his life that made him grow up.
"It's a crazy world and you don't notice it until you're either in college athletics or you're being recruited. I had QB coaches who were recruiting me who were telling me 'Hey, come to Georgia' and then three days later saying 'Hey, I'm over at Colorado, now do you want to come take a visit?'," Maurer said. "Maturity is the key in all the recruiting process, because if you let your head get too big, you're gonna fail."
Tennessee may not have been Maurer's first choice, but it was an opportunity to compete for a starting spot as a freshman. He repeatedly faced physical roadblocks as he tried to craft himself into a starting SEC quarterback. He tore his knee up in his freshman fall camp, but opted to hold off on surgery until after the season. The injury did not stop the dual-threat from making athletic plays on the field though, as he scored a rushing touchdown in his week three debut against Chattanooga. He earned his first start two weeks later, and he completed 50% of his passes for 259 yards, two touchdowns and an interception against a dominant Georgia defense. Maurer started the next week against Mississippi State, but he started the game off by throwing two interceptions on seven attempts. He was knocked out of the Mississippi State game on a rush in the second quarter. Maurer took a hit to the knee while trying to juke a safety, and while his knee seemed to hold up, he suffered a concussion when he was flipped through the air and onto his facemask. The concussion was traumatic enough that bright lights would make the freshman cry.
"In order to play against Alabama, I would practice, Tylenol, Advil, whatever, straight to my room. They would leave food outside my door. I would have all lights shut off, nothing. I was sitting in complete darkness. My phone brightness was literally all the way down, and I would just walk outside, grab my food and go back to my room, and it was just complete darkness," Maurer said.
After recovering enough to start the next week against Alabama, Maurer suffered another concussion when he was hit in the backfield by an Alabama linebacker. Combined with an unknown illness that came on after the game, the second head injury did enough damage to keep Maurer sidelined for the next two weeks, but he returned to start against Kentucky in November. Maurer said he dropped around 25 pounds in his two weeks off.
"I've had a lot of concussions to the point where I went and saw a neurologist, after the one against Alabama, in Nashville. We drove up there, and they told me I should stop playing football and I was like 'No.' Well, then I learned that my brain has gotten so used to it that it recovers in two to three days from a concussion," Maurer said.
Maurer recovered from his concussions, but he attempted just four passes in the final three games of the 2019 season. He underwent surgery on his knee one week after Tennessee's victory over Indiana in the TaxSlayer Gator Bowl. Later in the offseason, his other knee required surgery after he injured it while rehabbing from his first surgery.
While battling physical injury as a freshman, Maurer's mental health struggles persisted. On Jan. 2, 2020, he nearly committed suicide, but a felicitous phone call from his mother saved him. He decided to get sober over the summer, and got a tattoo of a red heart and a semicolon to symbolize his new path in life.
"The red heart means the start of a new life for me. So, I've been sober, off of drugs. I was really heavy into pills and marijuana and stuff like that, and so it's the start of a new life for me," Maurer said. "The semicolon means suicide survivor. A lot of people know that I almost took my life multiple times, but it means I'm just a survivor."
The cessation of drug use helped to alleviate some of Maurer's problems behind the scenes, but playing quarterback at Tennessee came with its own problems off the field. He said sitting squarely in the public eye does not affect a player's mental health as long as they can remain in a good light. He also found that it is difficult to control one's public image in the age of social media.
"Being an athlete, in general, is crazy. You have high school kids who have millions of followers. Now you have college kids who are making millions of dollars with the NIL (name, image and likeness) stuff. Nothing you do is private," Maurer said. "Everything you do is going to be in the limelight, whether it's good or bad, or so you've got to make sure that the good outweighs the bad."
During his freshman season, a TikTok about Maurer created by sophomore Morgan Hood went viral. In the video, Hood mentioned all the ways that breaking up with Maurer made her life better, which included "no more girls in my dms (direct messages) telling me he's cheating." Hood maintains she did not create the video to get revenge on Maurer, but it was nonetheless more negative content about a high-profile athlete who regularly received criticism online. Maurer's grandfather passed away before a game against Arkansas, and he picked up his phone after the game to find a message telling him that the sender was glad his grandfather died. He has also received death threats, but Maurer said that message is the one that has always stuck with him. After his sophomore season, Maurer tweeted that his next move was going to be his best move. The quarterback, who has been public about his mental health struggles, was hit with a reply suggesting that his next move should be to a mental hospital.
"It's just annoying. Like, it's really annoying," Maurer said. "I've heard, you know you're a POS, you're this, you're that. People throw things at me out of their car window, and it just gets to a point where I just want to go sit in my apartment."
While Maurer's openness about his battle with mental health led to some negative comments externally, he was able to get help with his mental health from within the Tennessee program. Just a few close friends knew about his issues with anxiety and depression before he opened up publicly about them in an Instagram post. Within half an hour of posting about his struggles, athletic trainer Jeronimo Boche reached out to Maurer to offer help and direct him to a therapist.
"The therapy really helped me. It really gave me a clear headspace," Maurer said. "I was struggling for eight, nine years with mental health and I never sought and I never got help, but as soon as (the university) know you need help, they're very quick to act on it and they're very quick to motivate you to go."
Maurer got help with his mental health, but his struggles on the field remained. He failed to regain his starting spot during his sophomore season, and he attempted just six passes. Maurer was close with some of his coaches, and he referred to quarterbacks coach Chris Weinke as his father figure at Tennessee. However, he never talked much with head coach Jeremy Pruitt after he found that he could not separate Pruitt the person from Pruitt the coach.
"If you messed up, you knew you were either gonna get cussed out or you were gonna get benched. There was times where I was on scout team until Thursday. Friday comes, I'm in a team hotel, and I just learned that I'm the backup," Maurer said. "It comes to a point where you have to separate yourself from a coach and a person to where I can come talk to you in your office about family problems, but once you're on the field I know you're the coach."
Pruitt was fired after an internal investigation related to recruiting violations after Maurer's sophomore season. The quarterback found that he preferred successor Josh Heupel's "player's coach" style to Pruitt's unforgiving approach.
"It was a big adjustment because under Pruitt and his staff, you would mess up and you'd be punished for it. Under Heupel and his staff, you would mess up and they wouldn't yell and scream and cuss you out and do all this other stuff. They would really slow it down, teach it to you and then have you do it again. With Pruitt, they would teach it to you and then you'd probably be done for about six weeks and then they'd give you another shot."
Heupel, a former collegiate quarterback and Heisman Trophy runner-up, gave his quarterbacks more freedom to be themselves within the offense. The quarterback position is all about being comfortable, according to Maurer, and Heupel's approach was focused on making the quarterbacks comfortable. Maurer developed his skills further in Heupel's first offseason as head coach, but he was not comfortable with Heupel bringing in Michigan transfer Joe Milton III to compete for the starting spot alongside Maurer, Hendon Hooker, Harrison Bailey and Kaidon Salter.
"I found out in spring (about the Milton transfer), and I don't think that coaches like that I found out. So, it's just stuff like that. It just it took a toll on the mental obviously because I was like 'Damn, they really don't think we're good enough'," Maurer said.
Milton won the starting spot going into the 2021 season, but in the end, it was Hooker who was good enough. The Virginia Tech transfer completed 68% of his passes for 2,945 yards, 31 touchdowns and just three interceptions after beating Milton out. After watching most of the previous season from the bench, Maurer watched the 2021 season from home. He left the team in August but continued taking classes at the university until he was able to sign elsewhere after the fall semester. While he was on the team, he would have killed to get to live the life of a typical student for a week. Once he was a typical student, Maurer found himself restless.
"I got a lot of free time and I didn't know how to manage it because everything was on the schedule for me when I was playing. Everything was set in stone. I had to be here at this time, I had to do this at this time, I had tutoring then and then I'd go to another study session," Maurer said. "I don't think I'll ever be able to adjust to regular student life. To me it's boring. To others, it might not be, but to me it's boring. I don't like having free time."
Maurer spent fall gamedays sitting in his apartment and listening to fireworks exploding over nearby Neyland Stadium. Now, he is competing for a starting quarterback spot after signing with Stephen F. Austin in December. He has a chance to start over, but he may face many of the same struggles he dealt with at Tennessee. He may fail to produce on the field at times. He may receive hatred from members of a new fanbase. He might continue to struggle with his mental health issues. He could be injured again, and mounting concussions could begin to plague him. To Maurer, it is all worth it to be in his happy place. He will pay any price to be on a football field.
"I mean, just one concussion can give you CTE (chronic traumatic encephalopathy)," Maurer said. "That's the risk you take, and to us, it's a low risk for a high reward. So, it just depends on the athlete you ask, but me, I'm not concerned about it. I'm concerned about going out and playing football."