Artist Alley provides artists opportunity to display work
UT holds Artist Alley in the Student Union and allows student artists to show their work to the community.
Artists in Knoxville have many opportunities to showcase their art. There are local galleries, showcases and events both at the University of Tennessee's campus and in downtown Knoxville. This past week, UT gave students an opportunity to showcase their talents.
On Nov. 20, the Campus Events Board hosted Artist Alley in the Student Union Ballroom from 1:00-2:30 p.m. and 3:00-4:30 p.m.
Artist Alley brought the opportunity for students to showcase art. There were various mediums such as jewelry, clothing, prints, painting, calligraphy and photography. It also allowed students to sell their art for profit. This event was an opportunity for students to get exposure and get a taste of the practicing art world.
Paityn Webb, creator of Soda Pop Jewelry, shared some background about her passion for jewelry.
"My mom always made our jewelry in high school, like earrings, necklaces, everything. We would take my great grandmother's old pearls and repurpose them into new things, so it was always something that I was a part of and that I did throughout high school," Webb said. "I decided this semester that I was so tired of paying people money for overpriced jewelry for something that I can make myself. So I started making it all, then I started selling it on campus because people shouldn't have to pay thirty dollars every time they want something trendy."
Lyric Currin, rock painter extraordinaire, shared her art by painting and hiding rocks within the community.
"I actually started painting rocks in my senior year of high school. I'm from Pulaski, TN, and someone started a facebook group, and there were thousands of people in the community doing [painting the rocks]," Currin said. "After being tagged in a post, I started off by painting Disney characters, and when I put them on facebook I would do a little story. Just seeing people interact with the rocks makes you feel like you're giving back."
Thais Lloyd dived into what led her to create and share her art and map drawings.
"I've been drawing maps for about a year now, but I've been doing art since the seventh grade. In 2017 I created an Instagram that was initially just for my photography class in high school, but then realized it was a great platform for my paintings and drawings," Lloyd said. "These maps have all been gifts for my family or friends, and all of them have been a place where either my parents or my sister and I have lived. So they've all been important places in my life."
Other artists that showcased their art at included:
Tamara Castany, who started taking photos of her friends during a trip. Youtuber David Dobrik inspired her to start a disposable photo instagram.
Keerthana Duddy, who has been surrounded by her family's art her entire life. She does calligraphy and draws portraits.
Will Dorsey, a spray painter who has only been in business for 5 months. He started spray painting at the beginning of the fall semester and has his own Etsy shop called WillDStudio.
Overall, this event brought together the artistic community at UT.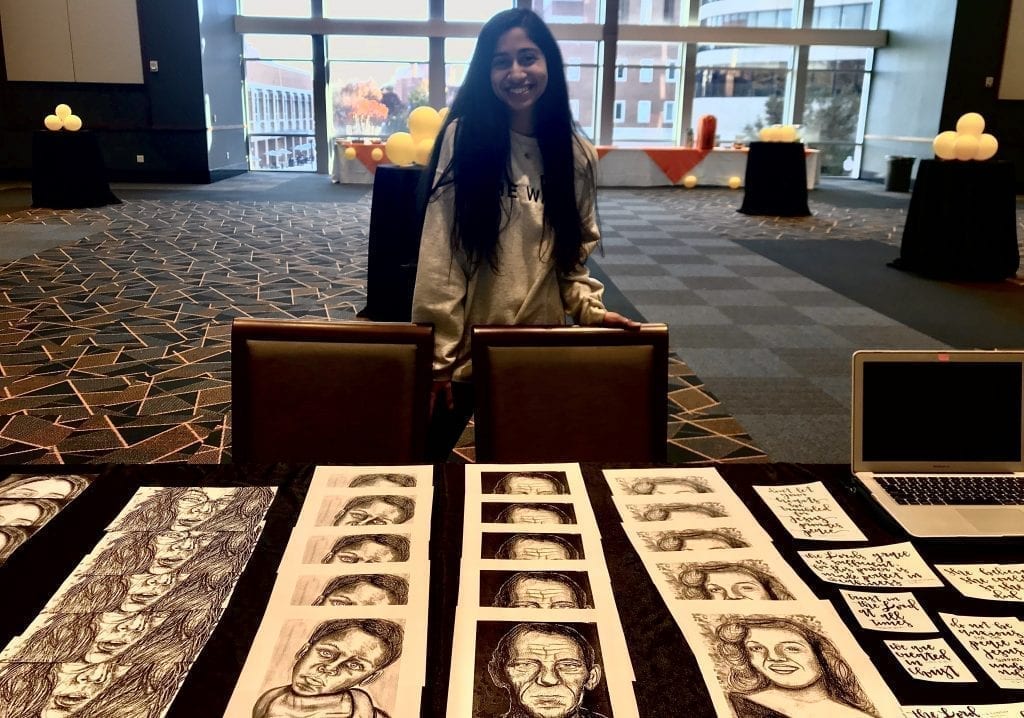 Written by Myria Pinkston and Julia Nadeau
Edited by Grace Goodacre and Ciera Noe
Featured photo by Myria Pinkston