Lady Vols send No. 20 Gators back to The Swamp with a loss
For the second year in a row, the Lady Vols knock off the nationally-ranked Florida Gators.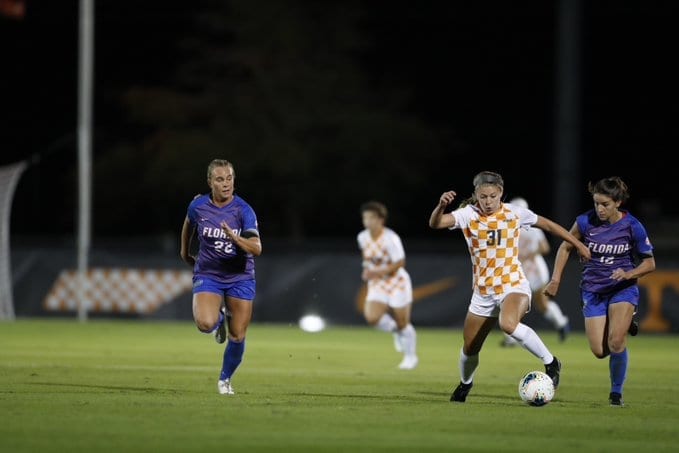 On Oct. 24, the Lady Vols (8-5-2, 2-4-1) defeated the No. 20 Florida Gators (10-5-0, 6-1) at home 1-0, knocking its rivals out of a first-place tie in the SEC and down to third.
The Lady Vols exhibited a level of dominance and physicality that was fitting for this heated rivalry against the Gators, who throughout most of the contest appeared overwhelmed by the Lady Vols' pace and style of play.
In the first half, the Lady Vols set the tone that kept the Gators on their heels for most of the match. Both teams were even throughout the first half, but Tennessee's smothering defense kept the Gators off the scoreboard, leaving everything even after 45 minutes.
In the second half, the Lady Vols continued to take the fight to their opponent and assert their dominance defensively over the Gators who appeared mentally rattled after a hard-fought half that produced a total of 9 fouls by both teams.
The Lady Vols continued to push the pace and eventually found pay dirt after MA Vignola won the ball defensively and lead her team toward the goal, ultimately finding Katie Cousins in the center of the box and scoring on a cross.
"It's about making plays, MA Vignola played a great ball to Katie and she had some confidence in front of the goal and obviously some skill in front of the goal to put something away and we just held on," Brian Pensky, Tennessee coach, said.
The Lady Vols continued to disrupt everything the Gators threw at them. Gator Kit Loferski was ejected at 80 minutes of play after complaining to the referee about a call.  The 10 shots the Gators attempted in the second half were all for naught as freshman goalkeeper Lindsey Romig shutout the opposition by recording 7 saves for the night.
"We've really worked well together to come together even more with all of the injuries that we have had. The team just worked really well together tonight," Romig said.
This victory proves that the Lady Vols can be a problem for any opponent they face. They are coming together and clicking on all levels, and are taking advantage of key moments that are enabling them to capitalize against their opponent.
Edited by Christian Knox and Ainsley Kelso
Featured image courtesy of Tennessee Soccer Twitter (@vol_soccer)