Tennessee vs. No. 9 Florida game day preview
Coming off a 45-0 win against UT Chattanooga, Tennessee will travel to The Swamp to face No. 9 Florida for the Vols' first SEC matchup.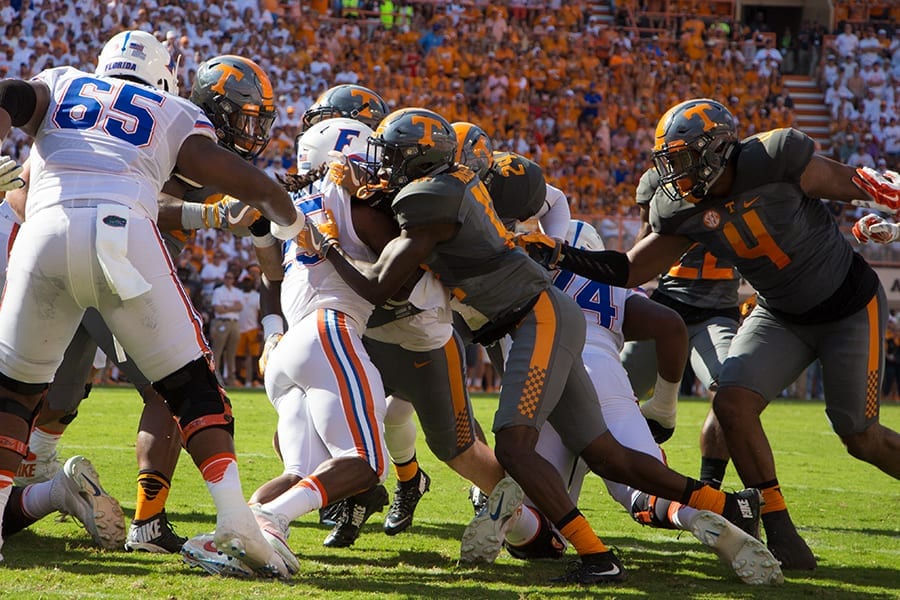 Though Tennessee (1-2, 0-0 SEC) beat UT Chattanooga last week 45-0, the Vols do not yet have a win against an FBS team.
On Saturday, Tennessee will open SEC play in Gainesville against the undefeated No. 9 Florida Gators (3-0, 1-0 SEC).
Last week, Florida pulled out a 29-21 comeback victory after quarterback Felipe Franks went down with a serious ankle injury. In his place, Kyle Trask went 9 of 13 for 126 yards.
The Gators had little success on the ground against Kentucky, as lead back Lamical Perine rushed 14 times for only 27 yards. However, Florida receiver Josh Hammond broke off a 76-yard scoring run on his only carry.
With Tennessee going up against a backup quarterback, Florida's rushing struggles could bode well for a Tennessee defense that gave up 151 rushing yards to only 76 passing yards against Chattanooga.
Florida may not lean heavily on the ground game after Trask played well in backup duty last week. The Vols may need to bring pressure on defense to shut him down. This could prove difficult against a Florida line that gave up just one sack to Kentucky. Tennessee had no sacks last week against Chattanooga. However, the Vols could end up blitzing more against Florida.
If they can pressure Trask, the Vols have an opportunity to force turnovers, as they had four interceptions against Chattanooga's quarterbacks.
On the other side of the ball, Florida allowed Kentucky backup quarterback Sawyer Smith to complete 23 passes for 267 yards and two scores.
Tennessee quarterback Jarret Guarantano threw for 142 yards and three touchdowns on just nine attempts. If he can even come close to repeating this performance, Tennessee should be in a position to win this week's game.
Kentucky was also able to get it going on the ground against Florida, as their two running backs rushed 30 times for 127 yards. Tennessee's backfield duo of Ty Chandler and Eric Gray rushed 18 times for 78 yards and a touchdown last week.
Not only will the Vols be facing a top-ten ranked opponent in Florida for their first road game of the season, but this will also be the first game where Tennessee is an underdog, as Florida is favored by 14.5 points.
Tennessee has improved as a team from week to week, but the Vols will need to be much better to come out on top in their first SEC game of the season against this strong Florida team.
Editors' Picks
Christian Knox, sports editor – Florida 23, Tennessee 16
Tennessee will give Florida their best game, but the Vols will be overmatched in Gainesville. Guarantano will be much improved in this game, but the Vols will struggle at the line of scrimmage against Florida's defensive line. Trask will move the ball from a clean pocket, and if Tennessee elects to go blitz-heavy the backup quarterback will hit open receivers for big plays.
Dusty Bryan, assistant sports editor – Florida 35, Tennessee 27
Look for Tennessee to go into Gainesville with something to prove heading into SEC play. However, the effort won't be enough. Florida's dominant defensive line play will be the difference. Although, Cimaglia should keep the Vols within striking distance.
Game Time and Coverage
Tennessee will face Florida in Ben Hill Griffin Stadium on Sept. 21. Kickoff in Gainesville is set for 12 p.m. Eastern and the game can be watched on ESPN. TNJN will have more coverage on Tennessee vs. Chattanooga following the game.
Featured image courtesy of TNJN archive
Edited by Ciera Noe and Dusty Bryan