Student activists call for climate action in global climate strike
Members of UT and community activists rallied to bring awareness to climate change as part of the Global Climate Strike.
In conjunction with the Global Climate Strike taking place this week, many of the University of Tennessee, Knoxville students, professors and community members gathered at the Humanities and Social Sciences (HSS) amphitheater to rally for action on climate change.
The Global Climate Strike is an organized movement of students and climate activists around the world hosting strikes between Sept. 20 and 27.
Students Promoting Environmental Activism in Knoxville (SPEAK) organized the event, which included several speakers, materials to make signs and a march through campus.
SPEAK's strike was one of the thousands of climate strikes taking place in over 150 countries. The worldwide movement comes days ahead of a United Nations emergency climate summit on Sept. 23.
According to UN Secretary-General António Guterres, representatives from countries around the world will meet to boost ambition and accelerate actions to implement the Paris Agreement on climate change.
"I wanted to participate in an event on campus," Co-president of SPEAK Kendall Wimberley said.
She and the other SPEAK members organized and led much of Friday's rally. Wimberley introduced speakers and leading chants. Later, she led the group through the campus.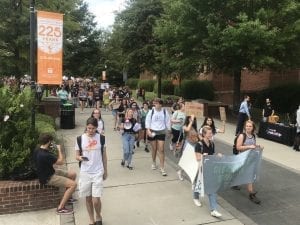 In August 2018, a three-week-long strike organized by then 15-year-old Greta Thunberg in Stockholm sparked a global movement among young people.
Thunberg's weekly strike in front of the Swedish Parliament, Fridays for the Future, has become an international event where students rally in public spaces across the world for climate action.
Since her start in Stockholm, Thunberg has gone from leading school strikes every Friday to traveling the world lobbying for climate action on stages as large as the European Union Parliament and the United Nations headquarters.
Thunberg is currently in the United States after sailing from Sweden to New York on an emissions-free sailboat for the U.N. Climate Action summit.
"[Thunberg] is such a big influence," Wimberley said. "I think she has provided young people with a voice which is so important."
Dr. Christina Ergas, a professor of sociology, was one of many UT professors in attendance who spoke to the audience.
Ergas spoke about what Thunberg has done for climate change awareness among youth across the world.
"I am amazed that she is a teenager and has the chutzpah to go and speak before all of our world leaders and talk to them about the problems of climate change," Ergas said. "And she's so well-spoken."
Featured Image by Jack Vaughan
Edited by Maddie Torres and Ciera Noe