Takeaways from Tennessee vs. BYU
The Vols lost their second straight game to an underdog opponent; this time the BYU Cougars who were able to execute when it mattered most.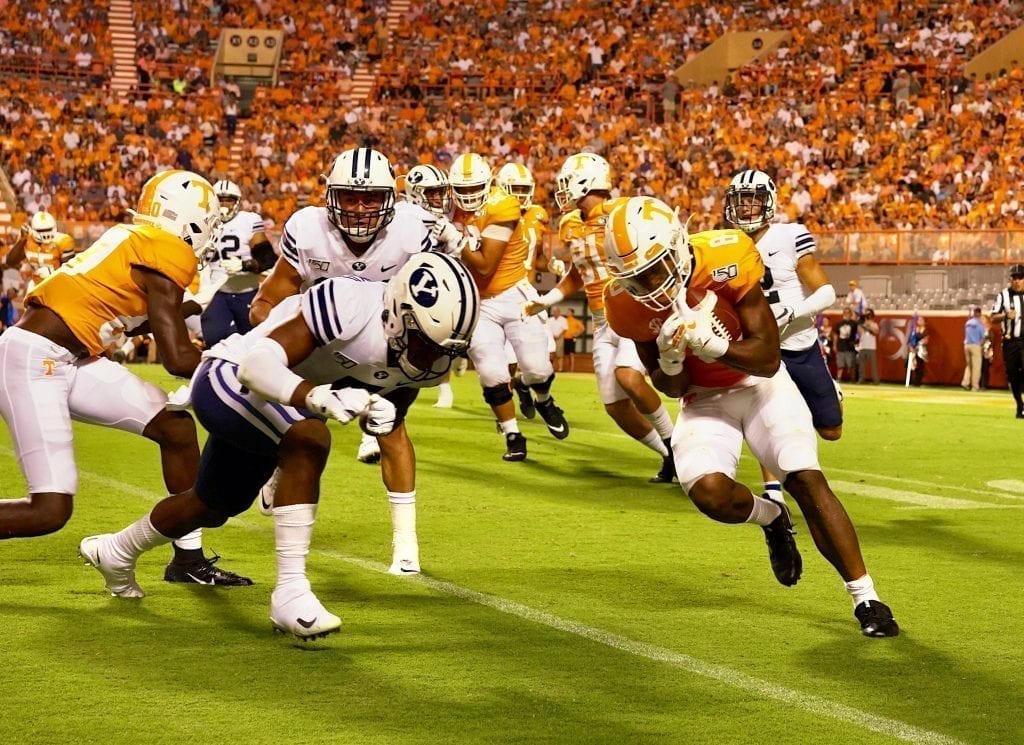 The Tennessee Volunteers are two weeks into non-conference play and still looking for their first win. 
Week one's loss to Georgia State could have been disguised as Tennessee overlooking the Panthers, but week two's double overtime loss to Brigham Young showed that the Vols were not the better team in Neyland on Saturday.
Turnover Differential
After both teams struggled with turnovers in week one, the key to Saturday's game was creating turnovers and not giving the ball away.
BYU did that, Tennessee did not.
Neither team forced a turnover, yet the Cougars got one when Jarett Guarantano threw a pass straight into the hands of BYU linebacker Kavika Fonua. Guarantano was somewhat saved when BYU only got three points after starting the next drive on the Tennessee 20-yard line.
Tennessee only gave up one turnover, so that is an improvement from last week's three turnovers. However, those three points could have been the difference in this overtime matchup.
Mistakes
In addition to his interception, Guarantano made a few questionable throws in the red zone. One of them was turned into a touchdown when it bounced off a Cougar and into the hands of Jauan Jennings, but others could have been picked off.
A late blown coverage also cost the Vols dearly. On third-and-6 with little time remaining, Cougar quarterback Zach Wilson found Micah Simon wide open for a 64-yard completion. One play later, Jake Oldroyd tied the game with a 33-yard field goal.
"It's hard to figure that one out," Tennessee coach Jeremy Pruitt said in a press conference after the game.
In the Red Zone
BYU was five-for-five on their trips to the red zone and came away with 26 points on those trips to show for it.
Tennessee was not able to execute as well, going only three-for-four for 17 points.
Pruitt pointed to Tennessee's running game as part of the problem inside the 20-yard line.
"We gotta knock them off the ball. We don't have really big backs, our backs weigh 200 pounds," Pruitt said. "We gotta have awareness of the down and distance. I mean tonight I thought there was three times on either the third or fourth down where there was just a little bit to go that the guy with the ball in his hand didn't finish the run the right way."
The final overtime came down to BYU being able to execute in the red zone.
"For the teams that are good in the red zone, lots of times they just line up and run through everybody," Pruitt said. "Kinda like that team just done to us on the last play."
A Battle of Wills
The Vols seemed to play this week with more energy than they did against Georgia State. However, as it often does, the overtime in this game came down to a battle of wills, and Tennessee lost.
"The last couple of plays there, basically they just willed their self there in my opinion," Pruitt said. "We got more than they can block, and they run the ball for, I don't know, five yards, six yards, whatever it was, twelve yards."
The Offense
Despite the loss, the offense had a few bright spots on Saturday.
The running game was very good, and it started with the Vols' running backs.
Ty Chandler had one of the best games of his collegiate career, toting the rock 26 times for 154 yards. True freshman Eric Gray, who ran for 77 yards, showed good vision and cut well.
"Eric is an elusive guy. He can do it all. He can catch the ball out of the backfield," Chandler said.
Though the offensive line still saw a rotation of players, the run blocking was solid and Tennessee's backs saw more than a few open lanes.
The offensive line was also pretty good in pass protection and only gave up one sack, though the Cougars rushed only three defenders a number of times.
The biggest star of the night may have been on the losing team, as Jauan Jennings made big plays at key times. The receiver, who finished with 88 yards and two scores through the air, was the only Tennessee player to find the end zone. He caught Guarantano's deflected pass in the first quarter and forced a second overtime with his second touchdown catch.
The Defense
Tennessee improved defensively from last week, and this was most obvious in the Vols' ability to pressure Wilson.
"I think we did good," defensive lineman LaTrell Bumphus said. "We're going to keep improving on it though, just work on the things that we might not have did as good."
The Tennessee defense was also able to create four sacks, two of which came from Bumphus to BYU's one.
Kicking
Brent Cimaglia is still perfect on the season.
On Saturday, the Tennessee kicker made two extra points and all four of his field-goal attempts, including a 51-yard boot that tied his career long.
In Closing
Pruitt put it best himself:
"We had a lot of guys that fought, now, a lot of guys that fought, that played really, really hard," Pruitt said. "The bottom line is there's a couple of errors that we made in the game that you can't do."
Next Saturday, Tennessee will have another chance to beat an underdog in Neyland when they face the University of Tennessee, Chattanooga. It is anyone's guess what changes will be made this week to turn the Vols around.
Edited by Ciera Noe and Ainsley Kelso
Featured image courtesy of Ben Gleason