Tennessee falls to BYU in double-overtime heartbreaker
Tennessee fell 0-2 with their double overtime loss to BYU on Saturday.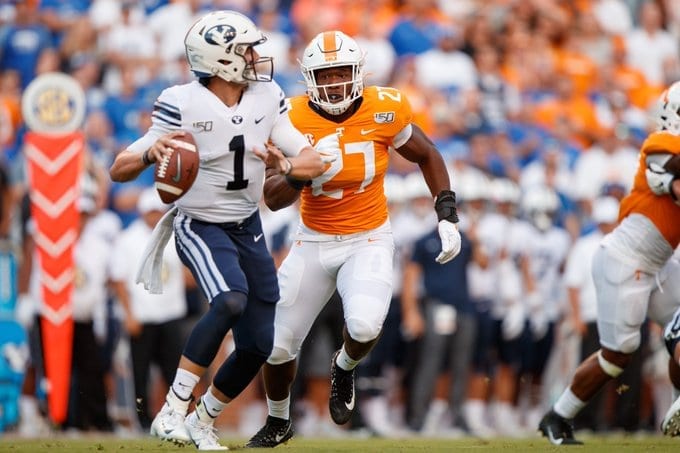 Less than a minute. That was all that stood between Tennessee (0-2, 0-0 SEC) and a much-needed victory in Neyland Stadium Saturday night.
Then disaster struck.
Backed up inside his own 20 with 17 seconds left and no timeouts, BYU quarterback Zach Wilson connected with Micah Simon for a 64-yard gain to set up Jake Oldroyd's game-tying field goal.
Regulation ended with a 16-16 tie, and the game headed to overtime where BYU (1-1) ultimately handed Tennessee its first 0-2 start since 1988.
"That was a great football game," Tennessee coach Jeremy Pruitt said. "We obviously came out on the wrong end of it. It's hard to figure out how do you lose a game like that."
The Vols took an early lead when Tennessee quarterback Jarrett Guarantano connected with Jauan Jennings on a 5-yard touchdown pass with 4:53 remaining in the first quarter; a lead that they would hold until the waning seconds of the fourth quarter.
Tennessee went into halftime with a comfortable 13-3 lead.
Things started to unravel early in the second half when Jarrett Guarantano threw an interception. The pick set up BYU's only touchdown in regulation. Shortly after the interception, Ty'Son Williams carried the ball 16 yards to pull the Cougars within three points (13-10).
Tennessee's offense only generated three points in the second half. Those points came when Brent Cimaglia connected on a 22-yard field goal to give the Vols a 16-10 lead with 11 minutes left in the game.
BYU kicker Jake Oldroyd's two fourth-quarter field goals allowed the Cougars to knot the game at 16-16 and rally to win in overtime.
Tennessee outgained BYU by 79 yards of total offense (418 to 339). However, the Vols failed to capitalize on several opportunities and lost the turnover battle.
"We'll coach them up, get them where we understand situations better," Pruitt said. "We've got to execute. One thing I'll say, there were some guys that were fighting out there on both sides of the ball. It was a heck of a game. A competitive game. And we didn't make the breaks there at the end."
"We have to get back on our feet this week and get going. Have to give BYU credit. They never gave up. Kept fighting. Done a nice job and won the game," Pruitt said.
Tennessee will try to bounce back next week when UT Chattanooga visits Knoxville. Kickoff is scheduled for 12:00 p.m. and the game will be broadcast on the SEC Network.
Edited by Christian Knox and Ainsley Kelso
Image Courtesy of Tennessee Football Twitter @Vol_Football.