Video and Recap: Brady Hoke and players speak to the media
Interim head coach Brady Hoke, running back John Kelly, and offensive lineman Jashon Robertson spoke to the media on Wednesday in Ray and Lucy Hand Digital Studio.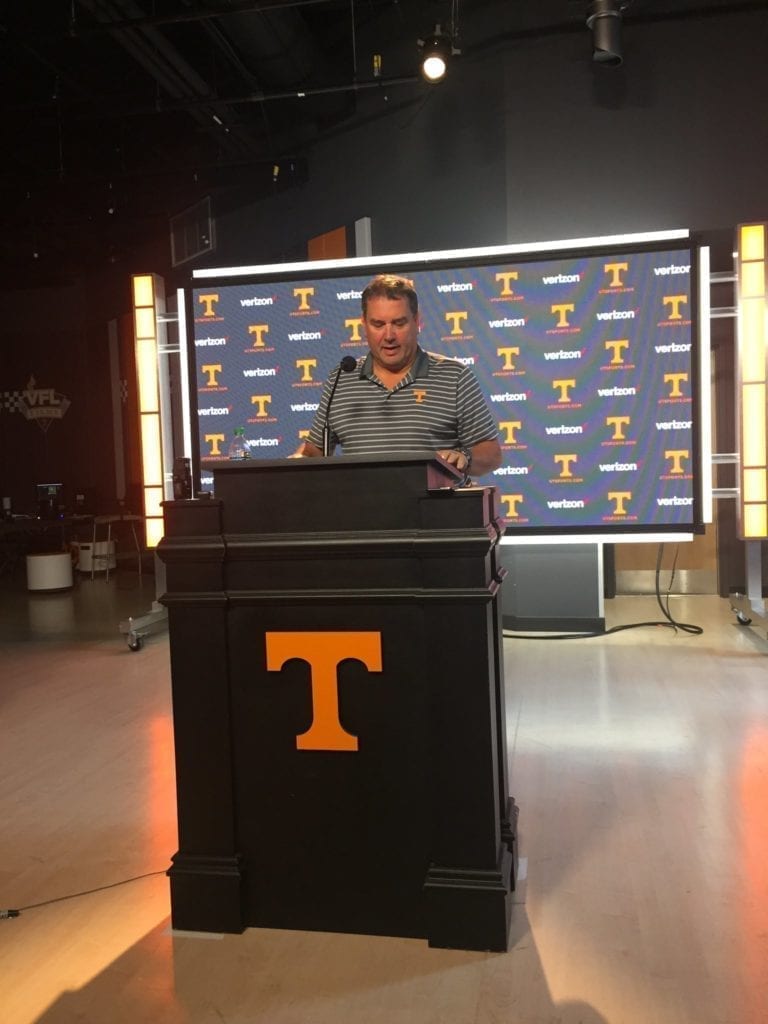 Tennessee Volunteers head coach Brady Hoke addressed the media in his second press conference since being named an interim. Hoke starting by commenting that the attitude of the players was "very good" following the Vols 50-17 loss to Missouri and the firing of Butch Jones.
"I think yesterday was a very good day. I told you on Monday that we would tweak a couple of things that fit more of my style," said Hoke. He says the tweaks came in the style of practicing that he likes, and more specifically the amount of physicality. Hoke stated that he would not give a full injury report until the end of this week. However, he did note that the offensive line was "trending" towards being healthy.
Hoke was hesitant to call the quarterback situation a competition between Will McBride and Jarrett Guarantano. "Its got to be competitive. So we'll let this thing play out, we've only had one practice," said Hoke. Offensive lineman Trey Smith received high praise from Hoke following his switch from guard to tackle, "He's kind of a special guy in a lot of ways, he handled it well".
Hoke noted that offensive coordinator Larry Scott wanted to be on the sideline for Saturday's contest with LSU. Also, defensive coordinator Bob Shoop will continue to have full reign over the defense.
Watch Hoke's full press conference below:
Offensive lineman Jason Robertson and running back John Kelly noted the difference between Jones and Hoke at head coach. Also, Kelly revisited his high school days when Hoke was recruiting him at Michigan, and Robertson noted something unusual about Hoke's practicing technique.
Watch the full interviews of Robertson and Kelly below:
Jashon Robertson https://t.co/ZDy06c5iUu

— TNJN Sports (@TNJNsports) November 15, 2017
John Kelly https://t.co/si44FZNhyi

— TNJN Sports (@TNJNsports) November 15, 2017
Featured image courtesy of Seth Raborn
Edited by Ben McKee