Tennessee men's basketball MVP of the week: Grant Williams
Despite the Vols' disappointing 1-1 record last week, Grant Williams still performed well. For that, he's our Vol MVP of the week.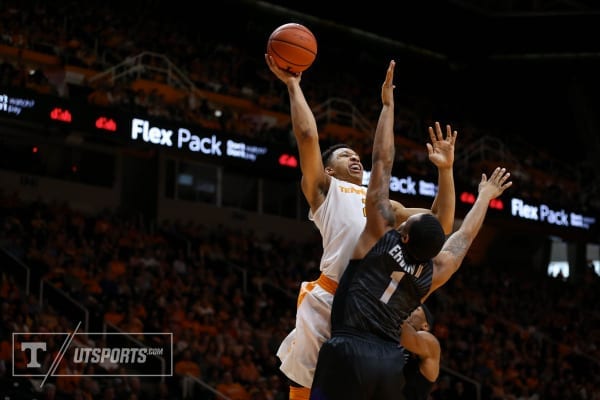 The Tennessee Vols basketball team headed into the week coming off of a pair of huge wins over Kansas State and Kentucky. After these wins, the Volunteers appeared to be part of the "First Four Out" in the NCAA Tournament watch. However, following this past week, the Vols tournament chances took a huge hit after a loss to an average Mississippi State team.
However, one player managed to stand out despite that heartbreaking loss, and that was Grant Williams
Tennessee's week composed of a two-game road trip that started against the Auburn Tigers. In that contest, the Vols won, 87-77, and Williams collected 17 points and five rebounds in only 18 minutes due to foul trouble. The Vols also received help from others, but in this convincing, Williams showcased his consistency on the offensive end of the floor. Before foul trouble forced him to the bench, Williams was on pace to collect a career-high in points after dropping 15 in the first half.
In the game against Mississippi State, Williams' performance couldn't overcome a Vol collapse. In the 64-59 loss, the Bulldogs used a 25-9 run at the end of the game to overcome a 19-point deficit to win. Only two players for Tennessee finished with double figures in scoring, with one being Jordan Bone (13 points) and the other Williams, who recorded 11 points and grabbed five rebounds. The Vols were outplayed in a number of categories, but despite the loss, Williams is still showing signs of consistency, as he now has scored at least 10 points in five straight games.
It's safe to say that Williams is crucial to Tennessee's success. When Williams scores at least ten points, the Vols are 10-3 on the season. Overall this past week, Williams recorded 28 points and 10 rebounds. Next week, look for Williams and the Vols (13-10, 5-5 SEC) to bounce back as they take on Georgia at home and No. 8 Kentucky at Rupp Arena.
Edited by David Bradford
Featured image by Craig Bisacre, courtesy of Tennessee Athletics