SEC men's basketball reactions of the week
A giant appears to be falling, an up-and-coming team drops a critical road game and Missouri didn't…lose? Here are the reactions to this past week's action in the SEC.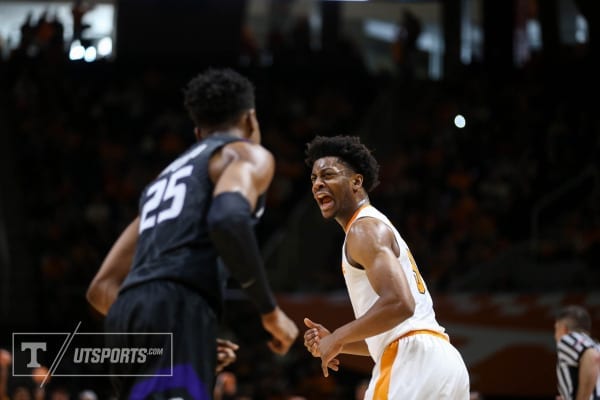 This past week's slate was a big one across SEC basketball. Here are a few reactions.
Is Tennessee "back?" Not just yet
The Volunteers reeled off four straight wins prior to Saturday's 64-59 loss at Mississippi State.
During that streak, Tennessee pulled off wins over then-No. 4 Kentucky, Kansas State and Auburn before falling to the Bulldogs. Given this program's recent surge, what seemed most surprising wasn't the loss itself, but instead, the way the Vols lost. Rick Barnes' team held as much as an 19-point lead over the Bulldogs before succumbing to its own turnovers and lack of production.
Robert Hubbs III, a playmaker as of late, put up just four points in 32 minutes of play, while Jordan Bowden led the team with 13 points.
Despite the loss, Tennessee's RPI actually rose.
To get a much-desired bid for the NCAA Tournament, however, the Vols will have to get back to winning, and fast. Otherwise, this team's only "Road to the Final Four" will be in the NIT.
Kentucky is Overrated
Falling to the No. 24 team in the nation isn't bad if you're an up-and-coming team.
But if you're the Kentucky Wildcats, and you lose by 22 points on the road….well, that's a bit of a different story.
One week ago, the Wildcats fell to a potent Kansas team in Rupp Arena, and before that, they dropped a matchup against Tennessee in Knoxville.
Calipari's team is the usual collection you'd expect: several young guys and a sparse few veterans, all of whom must be corralled into one cohesive unit in order to perform up to the Wildcats' standard.
That hasn't been done on a consistent basis so far, though, and until it is, Calipari's 'Cats will continue to fall short.
Georgia is Underrated
The Bulldogs are just 13-10 at this point, but they've played many talented teams much closer than many would think given their record.
Georgia lost by just four against then-No. 23 Florida, dropped a winnable matchup to then-No. 8 Kentucky and fell to No. 19 South Carolina, 77-75.
The Bulldogs are a good team, but much like Tennessee earlier this season, they've yet to get over that ever-elusive "hump" that will transform a season.
Mark Fox's team faces No. 24 Florida once more on Tuesday in Athens, and a win just might jumpstart Georgia.
Wait, Missouri actually won?
Much to people's surprise, the Tigers clinched just their sixth win of the season on Saturday in a five-point win over the Arkansas Razorbacks.
Coming into this season, the Hogs had high hopes, while the Tigers had far less.
Missouri pulled out a much-needed win, though, and while it isn't anywhere close to being on the bubble, the players can at least say they knocked off the Razorbacks with their backs against the wall.
That isn't something to scoff at, especially not this close to March.
Arkansas will need a big rebound, while Missouri at least has a solid morale boost heading into the remainder of the season.
Edited by David Bradford
Featured image by Hayley Pennesi, courtesy of Tennessee Athletics
Sports editor Jake Nichols has been part of the TNJN staff in two different capacities. His freshman and sophomore years, Jake worked as a staff writer before moving on to write for Rocky Top Insider, and he also worked with VFL Films and the SEC Network for a semester his junior year. When asked the summer before his senior year to return to TNJN as the sports editor, Jake jumped at the chance to end his time in Knoxville working with the organization he first began with as a freshman. Jake is excited to help lead younger writers, much like former editors Cody McClure and Jordan Dajani aided him. Jake also does freelance sports coverage and photography for The Mountain Press in Sevierville, Tenn., and in his spare time, he can be found with family, his girlfriend or driving his Jeep, most likely with his Canon in tow. Be sure and follow Jake on Twitter and Instagram at @jnichols_2121, and keep up with TNJN Sports on Twitter as well!