Mess or Success: 'Harry Potter' edition
Alley Loope serves up some magical treats on this week's Mess or Success.
"Anything off the trolley, dears?"
If you're a complete and total Harry Potter nerd like me, every time you've heard those words spoken on the Hogwarts Express and watched your faves grab all kinds of wizard treats, you've wished you could join in the fun.
Well, now you can! With a simple online search you can find hundreds of Harry Potter duplicate recipes for most of your favorite snacks, and you can make them right in your own home.
This week on Mess or Success, we're diving right into the wizarding world and treating ourselves to a snack of Pumpkin Pasties and the ever so popular Butterbeer.
Will they be as tasty as J.K. Rowling imagined? Let's find out.
For Pumpkin Pasties, everything you need to have and the steps you are supposed to follow are listed here.
These were actually pretty simple, which is not what I expected. For the dough, you just have to mix your dry ingredients and then throw in your butter and cream cheese. After you mold it up and chill it for a few minutes, it's quite easy to work with!
After heating your pumpkin puree and spices in a saucepan then mixing in the rest of the ingredients, you're left with a pumpkin pie-esque filling.
Once the pasties are baked, they're actually quite tasty. I had a bit too much dough to filling ratio, so they were unfortunately a little bland. I tried rolling them in some cinnamon and powdered sugar, and then they became pumpkin-y treats that would earn even Harry Potter's seal of approval.
Next up is perhaps the most sought after wizarding delicacy of all: Butterbeer. Despite the name, it doesn't actually contain any alcohol, but I'm sure there are some different options on Pinterest if that's something you wanted to add in yours.
For such a great tasting drink, the recipe for Butterbeer is actually so simple that it's almost like magic (hey, maybe it actually is).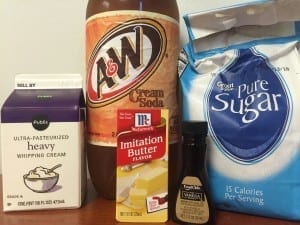 After making the creamy foam according to the steps in this recipe here, you just pour some imitation butter flavoring and cream soda into a glass, top it off and viola! You're sitting in a little corner booth at The Three Broomsticks in Hogsmeade village enjoying an ice-cold glass of Butterbeer served by Madam Rosmerta. If you would like it even colder, there are also recipes online for frozen Butterbeer as well, however the ingredients may differ from recipe to recipe.
So, do these two magical snacks live up to the hype and bring a dash of wizarding wonder to the muggle world? I say yes! These treats are definitely a success!
So, call up your pals, pop in the Sorcerer's Stone on DVD, don your Hogwarts robes and have yourselves a "Harry Potter" themed party complete with the perfect drink and snacks.
Both of these recipes, and recipes for past Pinterest ventures can be found on my Mess or Success pin board.
That's all for now ladies and gents (or should I say witches and wizards). Tune in next week to see what other Pinterest-y fun we can get ourselves into.
Oh, and one more thing…
Mischief managed.
Photos by Alley Loope
Edited by Taylor Owens
Alley is a junior at UT majoring in journalism and electronic media. She has a passion for pop culture like no other and hopes to one day work on red carpets interviewing all of her favorite celebrities. When not writing for the Tennessee Journalist, you can probably find Alley live-tweeting award shows or sharing photos of her cat, Hedwig, on Twitter.