Beauty Blog: Quick and easy spring look
In this week's Beauty Blog, Somayea breaks down a quick and easy spring look to help you look fresh after studying long hours.
The semester is nearing to an end which means late night studying and then presentations the next day. Don't worry because I'm here to help you look like you got the recommended eight hours even if you only slept four. We've all been there, and sometimes the next day you have to look good for a presentation or plans to hang out with friends.
This is a quick five (or six) products look with using one product for two usages.
Make sure you've washed and moisturized your face. Then add a primer.
Next apply your favorite concealer. Here I'm using the NARS Radiant Creamy Concealer. It's hard to tell with the picture, but I've applied it under my eyes and extending it out to my cheeks into an upside-down triangle. I also put some down the bridge of my nose and a little in the space between my brows.
Here is where it can go one of two ways. Take your favorite foundation brush. I am using a buffing brush (Real Techniques Mini Face Brush from their Mini Brush Trio). You can just blend it out as normal; however, I used a setting spray (L'Oreal Infallible Pro Matte Setting Spray)  and sprayed my brush before I blended it out.
Why?
Well it's easier to blend out the concealer since this particular concealer is a tad bit drying. I could have used just water, but I find that using a setting spray helps to set the concealer, so I won't have to go over it with a separate powder. Also since it is a mist, my face does not feel cakey or like I have a ton of makeup on since I skipped foundation and powder.
Here is the glorious face after I've blended out the concealer. You can see that most of my acne marks are covered up. However, makeup isn't great at covering up texture, so if you have bumps (like me), then it will still be noticeable. Ah, science should get onto that. We need to work on the important stuff!
Next do your brows. I've done mine here, and it is not noticeable. That is the point. Forget what you know and have seen on YouTube or Instagram. Your brows should be natural when paired up with a simple look like this. There should not be a huge difference when it comes to the shape and color of your brows. Even if you have sparse brows, try to make it as realistic as possible. Otherwise everyone will notice that you filled them in. I used the NYX Micro Brow Pencil.
Here comes the two for one. Take your favorite lipstick and make sure it is a matte finish (aka no shimmer or sheen) and then take some onto your finger and put three dots onto your cheekbones. Then grab your foundation brush that you used earlier and blend out the lipstick. This is to give you flush of color. It is not meant to be overdone or overbearing. You can add more lipstick followed by more blending until you get to your desired capacity. With darker skin tones, you may have to layer a bit more, but don't worry. You'll look fabulous in the end.
See that hint of color? That is what I'm aiming for.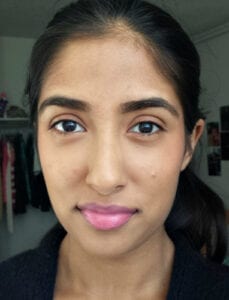 Let's move onto the lips which are the star of this show. I took the same lipstick I used as blush and mixed it with some clear lipbalm. You could just use a tinted lipbalm, but when using a opaque lipstick, it is easier for you to apply this later on to get a simple night look without having to pull out an eyeshadow palette. Feel free to either increase or decrease the opaqueness of the color depending on your plans.
Another option is to take a nude lip liner or lipstick and mix it with your bright lip color of choice to tone down the color but still have a full lip color on.
Add some mascara and you have your fresh spring makeup look in 5(or 6) products.
Let me know what more tutorials you'd like to see? A bronze look? More color or less? Tweet suggestions to @tnjn on Twitter.
Edited by Maggie Jones