SGA candidates debate policy, platform
The SGA debates that took place on March 30 included seven candidates in three different debates; Student Services Director, Student Body Vice President, and Student Body President.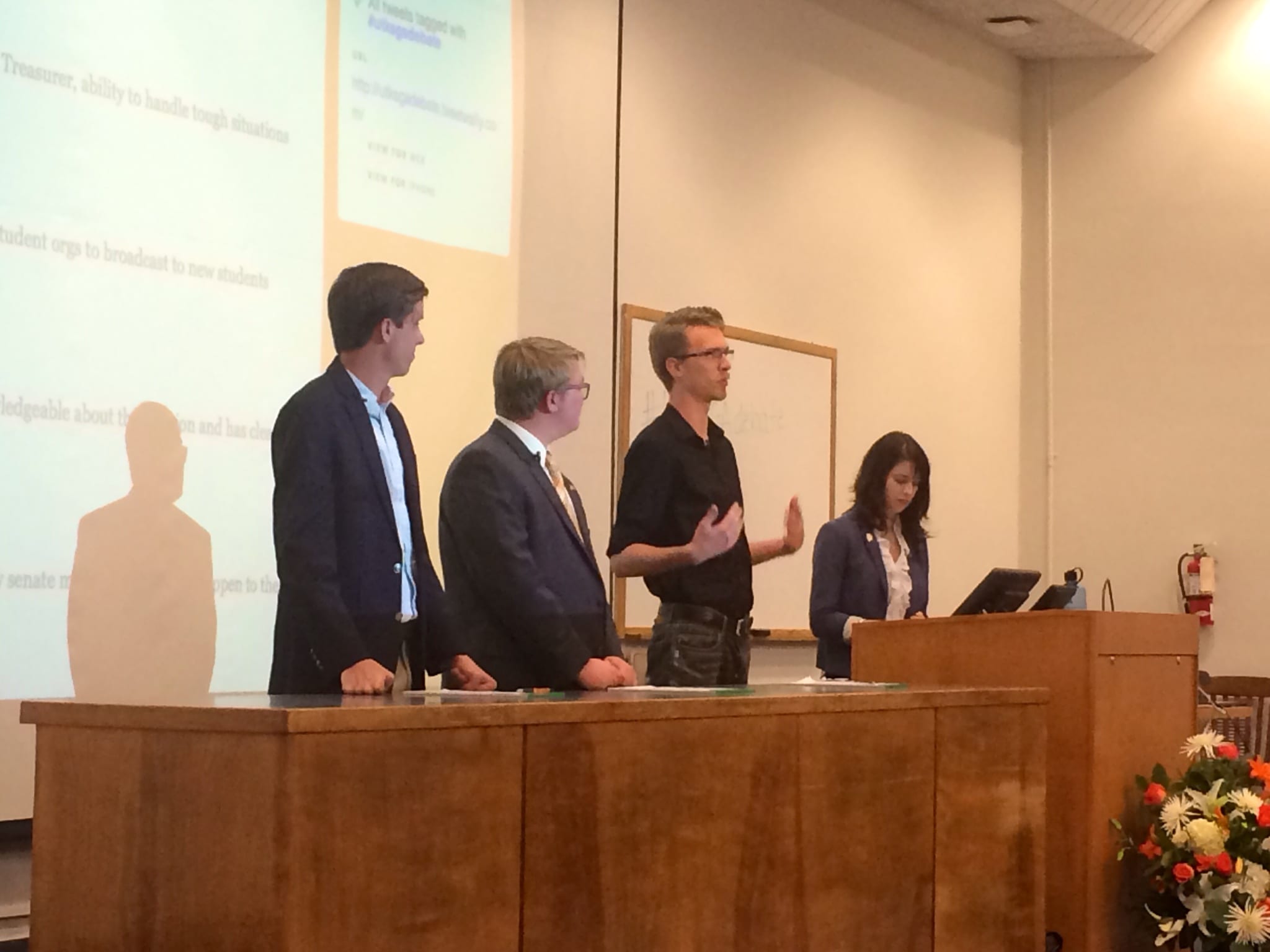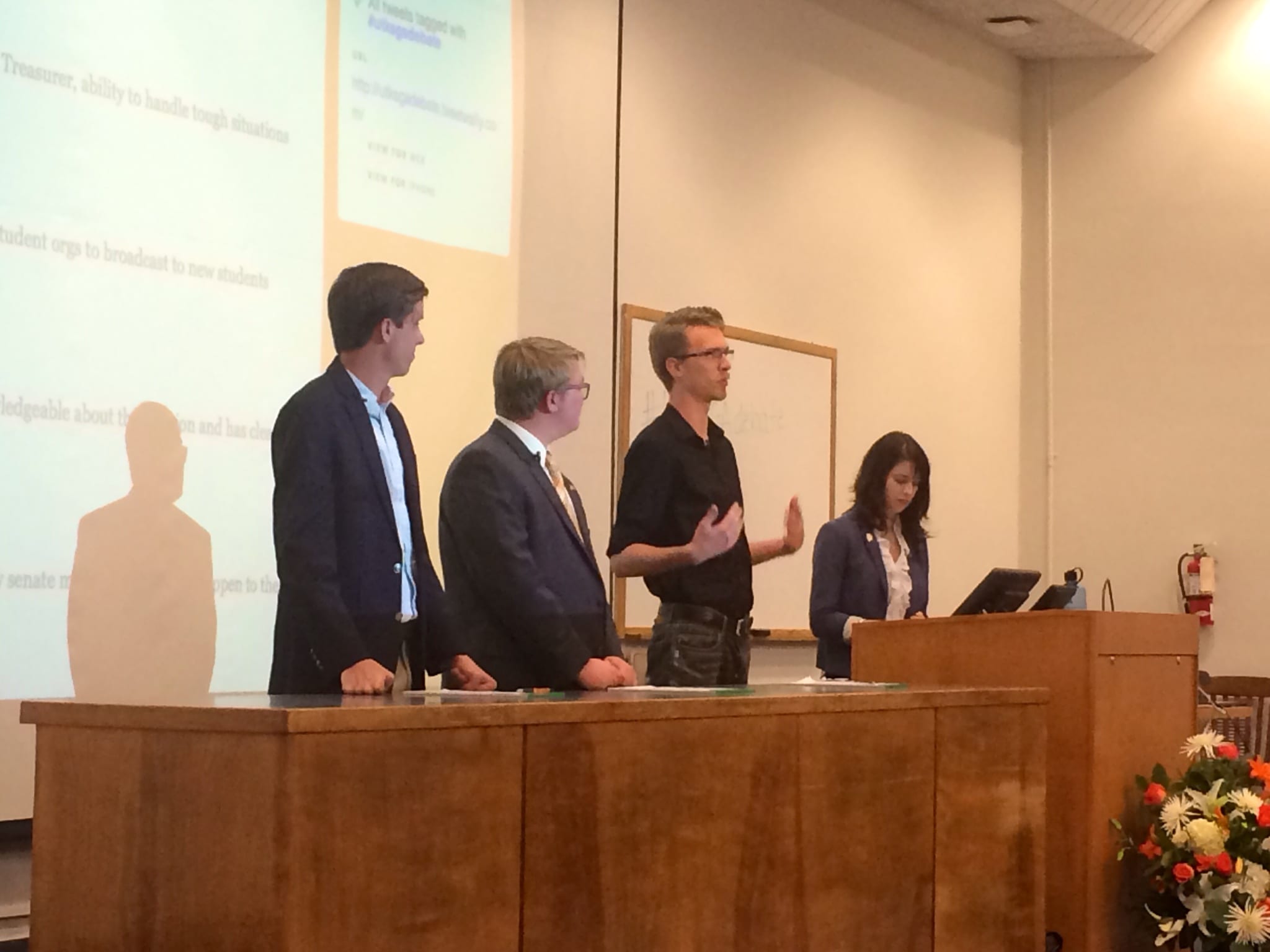 Ashley Sharp also contributed to this story.
On Monday night, Student Government Association candidates debated live from McClung Museum on their platform topics and campaign strengths.
Hopefuls from the three campaigns, Connect UT, Seth-Leala-Willie and Hawkins-Kiefer represented their teams and their individual opinions by answering student generated questions from a moderator and engaging in debate among their competition.
The first to debate were the two candidates for Student Services Director, Mariah Beane, representing Connect UT, and Willie Kemp, representing Seth-Leala-Willie.
Beane is a student government veteran, as she has served on student services for three years. "I'm running for Student Services Director because I love being a part of those critical moments in student's lives," she said.
Further, Beane proposed the idea for a Health and Wellness committee to be added to the student services organization. She also looks to revamp existing committees, and said, "I would like to see each committee reach out to organizations to better serve the student body."
Kemp defined the role of student services as being an organization to oversee a broad range of topics and help students get involved, then commended the current student services committees for doing an excellent job.
He added that he does not wish to add or decrease committees, but he suggested that student services committees should have a more active role in orientation and Ignite programs to plug-in first year students.
The second round was for Student Body Vice President candidates Madison Kahl and Leala Anne Marlin. The first question was about the candidates' strongest qualities, to which Marlin said it was her open-mind, and Kahl responded that it was her communication skills.
The topic then switched to their personal agendas, to which both were concerned about engaging students more effectively.
Marlin said she hopes to represent the student body by serving the students. "My first priority is to be a student. My second is to the students."
When talking on being active in service, Kahl said, "Collaboration with other organizations is key when writing legislation. I'd like to see more of that."
The third round was for Student Body President, and this time there were three candidates: Will Freeman, Seth T. Watkins and Grayson Hawkins. The Presidential debate deviated from the previous two because there was more discussion, and each candidate's goals were clearly laid out.
The first question of this round was about what the biggest issue with the university is. Hawkins said that it was the sexual assaults on campus, Watkins said that it was overall safety on campus, and Freeman said that it was the need for SGA to reach out to students more.
This was followed up with a question asking how SGA will try to engage more with students and become more involved in students' lives. Freeman advocated for more transparency, and Watkins advocated for the same, proposing an email notification option as a way for SGA to get their ideas across to more students.
The focus then shifted to whether or not it is feasible for the University of Tennessee to become a top 25 university. To this, Hawkins said, "We can't go into the top 25 with us being voted the 14th least friendliest university to LGBT students."
However, Watkins and Freeman focused more on the beautification of the campus as a way to make public perception of the university to be more positive, thus making it easier to enter the top 25.
Perhaps the most fascinating aspect of the debate was the presence of a live Twitter feed displayed behind all of the candidates. Although a few joke tweets were sent, many people tweeted out their own thoughts on the various debates. Many tweets during the first two debates commented on the lack of discussions that the candidates were engaging in.
#UTKSGAdebate Hoping one of the candidates addresses voter turnout. I'm interested in an SGA that is supported by more than 15% of students

— Julianna B (@jhburchett) March 31, 2015
Really like @mariahhpaige_'s Health and Wellness Student Services committee idea. #utksgadebate

— Thomas Carpenter (@tfcarpenter) March 31, 2015
That changed when the presidential debate started, with many tweets now focusing on the dynamics of each of the candidates, quotes and opinions on each of their viewpoints.
Top things that should be on your list: sexual assault, helping minorities feel welcomed, & bridging ppl together #utksgadebate

— D e s i a Bri (@DesiaWasHere_) March 31, 2015
Watkins says there should be more places all students can come together besides football games. #utksgadebate @SethLealaWillie
— UTK SGA (@UTKSGA) March 31, 2015
Grayson Hawkins says reducing sexual assault on campus is the top priority of policies. Seth Watkins agrees. #utksgadebate

— UTK SGA (@UTKSGA) March 31, 2015
Freeman says SGA can help students understand where admins are coming from & vice versa. #utksgadebate @Vote_Connect

— UTK SGA (@UTKSGA) March 31, 2015
Voting is now open, and the deadline to vote is by 5 p.m. on Wednesday. Voting can be done online at UTK's website.
Edited by Maggie Jones and Hannah Hunnicutt