Opinion: Whole Foods is a magical place
TNJN writer Taylor Owens fell in love with Whole Foods and has deemed it a magical place. Read more about her adventure at the newly opened grocery chain.
Retail giant Whole Foods opened up its first Knoxville location on March 24. Though I've heard much about it, I've never set foot in the actual store before. Not until this past weekend, when I decided to brave the crowds and see what Whole Foods really has to offer.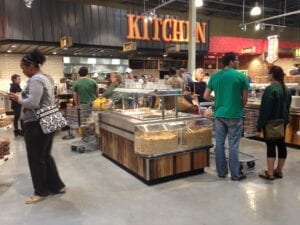 First things first: it's an incredibly busy place. It's new and exciting, so you can expect large crowds for some time to come. Possibly forever.  However, if you can power through and make it inside, you'll be delighted by the shiny glory that is Whole Foods.
The store itself has an inviting atmosphere. It's nice and bright with a sort of pleasant scent about it. Plus, the employees are very willing to help you locate something if you find yourself aimlessly strolling down the baked goods aisle.
I found myself the happiest among the beautifully decorated cakes and fresh breads.
Another big selling point for Whole Foods is that it also acts as a sort of restaurant. You can enjoy some fresh sushi, a sandwich or even a few slices of pizza. Overall, it's relatively reasonably priced.  Plus, there's even a seating area called "The Rocky" where you can sit down and eat your food, and it's a pretty happening place. Also, Whole Foods makes a big point of promoting local businesses and growers. I thought that was
very special, and also makes each store a little unique. Also a little bit more expensive, but if you're willing to shell out a little more cash, it's worth it to support your community.
I was convinced that everything was going to be overpriced at Whole Foods, and sure, some things were, but a lot of their prices were pretty comparable to Kroger or Publix. However, I couldn't see myself doing all of my grocery shopping there. I think it's best if you go in there for something specific or if you need something sort of unique.
Additionally, it's good if you want a variety of something. For example, there were more types of olives to choose from at Whole Foods than I've ever seen in my life. Seriously, I didn't even know that many kinds of olives existed.
Whole Foods is also a good place to go if you want food that caters to specific dietary needs. If you're vegan or vegetarian, you can enjoy some tufu ice cream or a vegan cupcake. If you have a gluten allergy, you're not left out either. The public might not understand what it means to be gluten free, but Whole Foods does. They understand, and they want to help you.
All in all, I was really impressed by Whole Foods. I thought it was an interesting place that clearly cares about where they get their food and the quality of their products. It's unique, and exactly what Knoxville needs to get people excited about their food.
You can visit Whole Foods at 6730 Papermill Drive in Knoxville and learn more at their website.
Edited by Jessica Carr
Arts and culture editor, Taylor Owens, recognized her passion for writing at a young age. As an avid talk show fan, Owens found journalism to be the perfect way to combine her love for interviewing and writing. She is now a sophomore at the University of Tennessee majoring in journalism and electronic media. When she isn't writing for the Tennessee Journalist, Owens is most likely catching up on the latest reality television show.