Red Cross funding affects Clinic Vols
The American Red Cross cut its funding for Clinic Vols over the summer due to a national funding issue and a conflict with its mission statement, as addressed in an e-mail.
The American Red Cross did some math this summer and due to a national funding issue and a conflict with its mission statement, the program that included the Clinic Vols was cut. An e-mail was sent to inform student volunteers of the current situation and to not volunteer at their assigned schools.
ARC Tennessee Region Communications Director Benjamin Prijatel explained this is because Clinic Vols' mission statement did not match the five core statements of the Red Cross, and ARC had to hire a full-time employee to run all aspects of Clinic Vols from their office.
"This program requires a lot of responsibility, which kind of distracted from the core mission," he said.
Clinic Vols President Brian Connor and Vice President Campbell Reynolds were shocked.
"We were pumped," said Reynolds, a senior in BCMB. "We had all the training dates set; this was going to be so much better."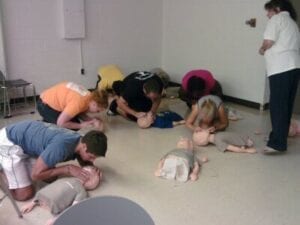 However, Prijatel said an unnamed organization is currently doing exploratory research to see if Clinic Vols will fit in with their goals and missions.
Further, he said that a hospital would be able to run Clinic Vols better than ARC.
"There is no discounting how great this program is; there are just better people to run it than us," he said.
Even if the hospital chooses not to fund Clinic Vols, Connor and Reynolds remain optimistic, saying they can be self-sufficient if necessary.
"Volunteers have said that they'd be willing to pay more for the necessary training to stay certified," Connor said.
Connor and Reynolds will continue to operate the Clinic Vols during the fall semester in an inactive state. Recruitment, fundraising and awareness will continue as planned. Reynolds hopes that everything will be in functioning order once the spring semester begins.
If this un-named hospital takes over the program, it just may end up that way.

Share This Link on Facebook
Share This on Twitter
Edited by Hannah Hunnicutt and Maggie Jones