Campus organizations push to register student voters
September is known as National Voter Registration Month. Several campus organizations led a voter registration drive on campus Tuesday. There will be one more push Wednesday evening in the Presidential Courtyard from 6 p.m. to 9 p.m.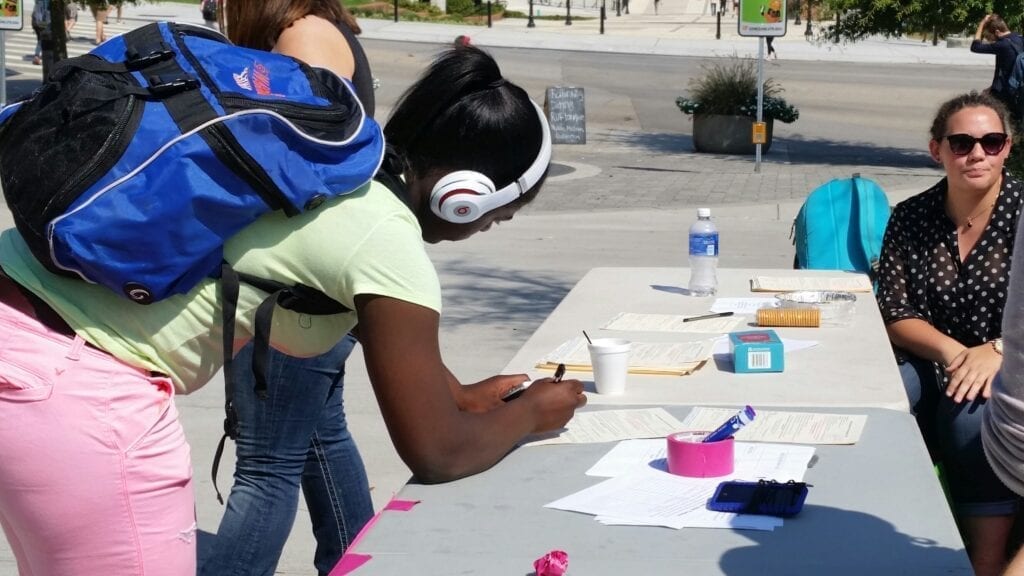 If you are an active voter, you know that the November elections are right around the corner. For many students who live on campus, it can be difficult to go back home to vote. Many freshmen, if they do remember to vote by absentee ballot, discover that their first time voting has to be in person.
College Democrats president, Mitch Thompson, a junior majoring in Economics, wants to change that.  The College Democrats, along with the Progressive Student Alliance, the Sexual Health Advisory Group and the Feminist Majority Foundation have teamed up to register as many students as possible.
"The University of Tennessee has a population of around 27,000 students. A good portion of them that are from other parts of the state or country live either on or around campus," said Thompson. "During the last election cycle, only eight students voted at the University Center."
One of this drive's major influence is  last year's controversy involving former Republican representative Stacey Campfield and "Sex Week," the week of sexual education programs put on by the campus organization SEAT. Campfield served in the Tennessee State Senate as a senator in the 7th district, which covers Knoxville, Farragut and the University of Tennessee. He, along with other state politicians, pushed to put restrictions on student fees that fund visiting or guest speakers for events at public universities or colleges in the state.
Campfield and the rest of the state senate passed a resolution in March condemning UT Sex Week.  UT president Joe DiPietro wrote a letter to Campfield's office promising to create an "opt in" feature, where students and parents can decide if their student fees can be used for possibly "controversial or objectionable" programming. Later that week, Campfield dropped his legislative battle against UT.
"Students need to understand that, what they do in the voting booth, helps affect policy in Nashville," said Thompson. "Him [Campfield] being voted into office was a result of students voices not being heard due to them not voting."
Cliff Rodgers, Knox County Election administrator, is "truly delighted by the voter registration drives on campus." Rodgers also encourages students to not only register, but to participate in the upcoming election.
"The best way to do that, quite frankly, is to vote early and to not wait until election day when an exam, a paper, or additional study may interfere with the exercise of a student's right or duty—if not privilege—to vote," said Rodgers.
The drive continues Wednesday evening at Presidential Courtyard from 6 p.m. to 9 p.m. Students who register will be offered free food, enjoy live music and get to listen to several guest speakers.
The last day to register to vote for the November elections is Monday, Oct. 6. If you don't get a chance to register at one of the drives on campus, you can go to the Old Knoxville Courthouse and register at the Knox County Election office.
Edited by Courtney Anderson